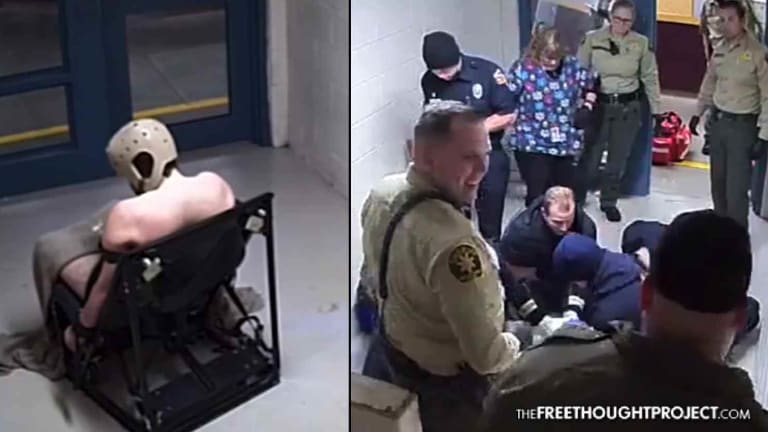 WATCH: Cops Torture Mentally Ill Man in Restraint Chair for 2 Days, Laugh as He Dies in Front of Them
Disturbing footage has just been released showing the horrific torture of a mentally ill man who was strapped in a restraint chair for two days before he was left naked on the floor to die as officers laughed.
San Luis Obispo County, CA — Terrifying video of an in-custody death has recently been released confirming police officers tortured a man for days in a restraint chair and then laughed as he spent his final moments alive suffering in agony in his jail cell.
The footage, obtained by the San Luis Obispo Tribune, not only shows the graphic death of Andrew Holland in January 2017 but it also proves cops told the public a story that did not happen.
Holland was pronounced dead in his jail cell on Jan 22, 2017, only one hour after he was released from spending nearly two entire days strapped in a restraint chair. The Tribune received more than 100 hours of footage from the jail showing the horrific abuse Holland endured prior to his death.
Holland, 36, was a diagnosed schizophrenic who spent much of his adult life in and out of jail for minor offenses related to his mental illness. Prior to his death, he'd been locked up for resisting arrest. He spent most of this time locked in isolation in a tiny cell barely big enough for a twin mattress and a toilet.
According to the 'official' police report, Holland was "found unconscious and unresponsive" in his cell and prior to dying and he was "under the continual care of a physician" at the time. However, according to the video obtained by the Tribune, Holland was not unconscious at all. He was seen writhing in agony only moments before he lost consciousness and died. What's more, no physician was constantly present during his 47 hours of torture. Had they been present, Holland may still be alive.
As the Tribune reports:
Jail video shows Holland striking himself in the face while sitting on his bed in the isolation cell around 6 p.m. on Jan. 20. Blood can be seen pooling on his mattress.

At about 6:30 p.m., a group of riot-armor-clad deputies and what appears to be jail medical staff transport a naked Holland face-down on a gurney to the jail's main intake area and into a glass-door cell used to house intoxicated inmates.

Five minutes later, Holland is strapped into a plastic restraint chair.

He is left there for nearly two full days, with deputies and medical staff entering the cell every 1 1/2 to 2 1/2 hours to rotate his arms and legs and offer him a cup of water and food.
During Holland's last moments alive, deputies can be seen laughing at multiple points during the video.
According to the county medical examiner, Holland died of "natural" causes due to a pulmonary embolism, when a blood clot traveled from his leg to his lungs. However, being tied to a chair for nearly two entire days creates the potential for blood clots to form, which can be fatal.
It is for this reason that official policy requires officers to regularly rotate an inmate's extremities to prevent clotting. Disturbingly enough, although officers were seen moving his arms and legs, Holland was never allowed to stand up—even to use the bathroom—for 46 hours as he remained strapped in the chair.
Last week, County Administrative Officer Wade Horton released a statement and called the video "extremely painful to watch."
"What happened to Andrew Holland was a tragedy that impacts our entire community," Horton wrote. "Although we can't bring Andrew back, our county has made and continues to make changes in response to this terrible event."
These alleged 'changes' cannot happen fast enough. The San Luis Obispo County Jail has been responsible for a dozen in-custody deaths in just the last six years—which is three times the national average.
Exactly what this 'change' will consist of remains unclear as well. While the taxpayers of San Luis Obispo County have paid for the death of Andrew Holland—to the tune of $5 million—none of the officers seen in the disturbing footage below has received so much as a slap on the wrist.