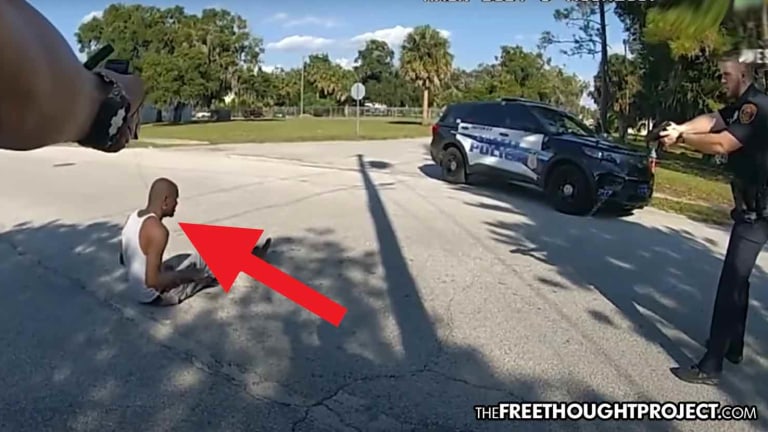 WATCH: Cops Mistake Man's Severe Autism for 'Resisting', Taser Him in His Head, Sending Him to Hospital
Cops mistook a non-verbal severely autistic man's disability for resisting and proceeded to taser him in the neck and head for no reason.
Eustis, FL — In his neighborhood, Louis Grahai, a 20-year-old with severe autism and the mental capacity of a 4-year-old, is known as a kind and lovable person who has never hurt anyone. When he wandered too far from his home last weekend, however, those neighbors didn't know him and his tall stature and odd behavior led to a 911 call and subsequent excessive force incident by the Eustis police department.
"Everybody loves Lou. He's lovable, everybody knows he ain't going to hurt nobody," his mother, Roberta Crew, said.
According to Police Chief Craig Capri, "the perfect storm" unfolded last Saturday when Grahai was apparently lost in another neighborhood and tried to walk into a home that wasn't his. The resident rightfully became worried and dialed 911 to report the incident.
"I don't know if he was slamming it…. But I heard the knob on the door shaking," she told police.
When police showed up on the scene, they quickly found Grahai who fit the description the caller gave 911 dispatchers. When police approached Grahai, they didn't know he was severely autistic and when they began yelling commands, he didn't respond.
Grahai, whose autism is so severe that he wears diapers and cannot speak, was likely very frightened and confused when police began barking orders at him. He was barefoot and in a tank top and did not pose a threat to the officers at all, yet force was quickly escalated.
As he attempted to walk away, Grahai was tasered in the back of the head, causing him to fall face first into the pavement. The video is hard to watch as force is continuously escalated despite Grahai clearly showing signs of a disability.
"Get on your stomach dude," officers are heard saying in bodycam footage. "I don't want to do it again, get on your stomach, roll over. Hands behind your back. Put your hands behind your back."
But Grahai had no idea why these men were doing this to him and had no idea how to comply with their commands — so they tasered him again, and again.
Eventually, officers put Grahai in handcuffs and his mother arrives to see her son bleeding out of his ears on the pavement. Police immediately tell her that he was caught "breaking into a home" even though he wasn't.
"And I seen my baby on the ground with Tasers. One Taser in the back of his neck, on the side of his neck, his eardrum is bleeding," Crew said.
The department is defending the officers' actions and claiming that the proper force was used because officers didn't realize they were dealing with a severely autistic man. The chief told reporters that the family is lucky it wasn't worse.
"De-escalation was used here, based on the knowledge they had at the time. Had they'd known this was a severely autistic person, I doubt any force would have been used," he said. "I think they did everything right. It could have been a lot worse. Thank god it wasn't."
Crew disagrees with police and said they did everything wrong, especially shooting him in the head and neck with the taser. She says her son now has neck and ear damage.
"He don't speak. I can't imagine. He can't even holler out and cry to tell you you're hurting him," Crew said. "If he didn't went down when you tell him to. What is the next thing you're going to to? Shoot him. That's my worst nightmare, something happening to him."
As TFTP reports on a regular basis, police often times mistake autism for criminal activity and use brutal and deadly force in response. Last year, we reported on the case of Linden Cameron, a 13-year-old little boy with autism was having a bad day when his mother called 911 to get him to a hospital. He ended up in the hospital that day, but not for the mental help he needed. Instead, it was for the 12 bullet holes cops put in his body as he ran away from them, unarmed.