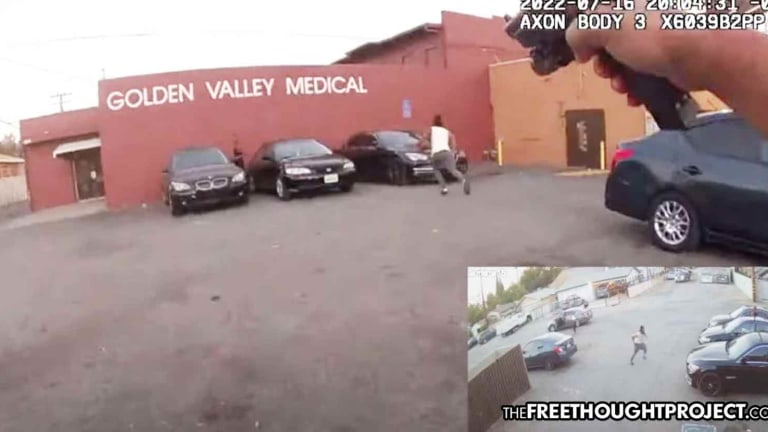 WATCH: Cops Pull Up in Unmarked Car, Jump Out with Guns, Immediately Execute Man as He Ran From Them
"The boy ran, the officer hunted him down like a dog."
San Bernardino, CA — The parents of 23-year-old Robert Marquise Adams are demanding answers and accountability this week after video showed two officers in an unmarked vehicle pull up in a parking lot and execute their son. From the video, it appears that Adams was not a threat to the officers and may not have known that they were police at all.
In a video statement this week, San Bernardino Police Chief Darren Goodman said officers were responding to a call of an armed Black man in the parking lot of a business. According to police, Adams worked as an unlicensed security guard at the business.
Police say that when they pulled up in the unmarked vehicle, Adams began walking toward them. When they jumped out, Adams was clearly frightened and turned to run away. Within just 15 seconds of police arriving, Adams would be dead.
As the video shows, Adams was talking with a friend before the unmarked police unit drives up. According to Tamika Deavila King, Adams' mother, Adams was celebrating the purchase of his friend's new car.
"He just got a new car, they both have twin BMWs," King told reporters.
It would make sense for Adams to walk toward the unmarked car if he was working as a security guard for the company — albeit an unlicensed one. And, it would also make sense for him to run since he was unlicensed.
Police claimed that they had no choice but to execute Adams, however, because they claim he was holding a gun.
"The officers exited their vehicle and gave Adams verbal commands, but he immediately ran toward two parked vehicles with the gun in his right hand. Officers briefly chased Adams, but seeing that he had no outlet, they believed he intended to use the vehicles as cover to shoot at them," Goodman said.
"Fearing that bystanders' or the officers' lives were in danger, one of the officers fired his gun, striking Adams."
Even if he was holding a gun, he never once pointed it at anyone and holding a gun is not offense which deserves an immediate death sentence. What's more, attorneys for Adams' family say he was holding a cellphone, not a gun, and that he was on the phone with his mother at the time.
"You can see my son dancing because he didn't know what was going on, he was dancing. And I was on the phone and all I heard after that was gun shots. He never told me goodbye. He never told me goodbye," Tamika King said.
"She heard the gunfire, she heard the shots in rapid succession and then she never heard her son's voice again," attorney Ben Crump told reporters, disputing the police account.
"Hey bro, you're going to be OK, man ... Stay with me, OK?" the officer is heard saying after filling Adams with holes. Sadly, Adams was not okay and died in that parking lot.
Police released a still image claiming it appears to show Adams holding a gun but this is disputed by attorneys for his family.
"This man was running away and was shot in the back multiple times," another attorney representing the family, Chris O'Neal said, pointing out that Adams was holding a cellphone, not a gun. "He was not given the decency and courtesy of emergency medical care in a timely fashion."
Adams family is now demanding murder charges against the officer who killed their son.
"The boy ran," said the victim's stepfather Audwin King. "[The officer] hunted him down like a dog. If [Adams] still had some life in him, the [the officer] probably would've finished the clip. So, when do we have justice for that?"
"We want justice. We want his badge. We want his job," said Audwin. "We want murder charges."
WARNING: Video is extremely graphic.