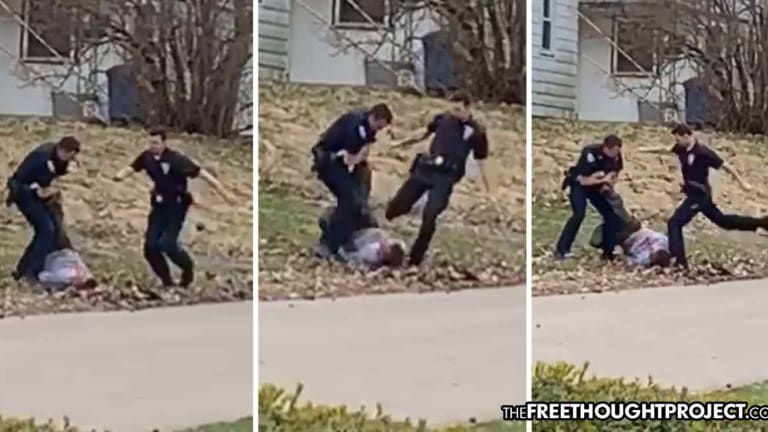 WATCH: Cops Repeatedly Kick Handcuffed Man Over Warrant from an 'Unlawful Syringe'
Disturbing video captured a police officer repeatedly kicking a handcuffed man over a warrant for failure to appear to face an "unlawful syringe" charge.
Marion, IN — A disturbing video of the arrest of an Indiana man was published to Facebook this week and has gone viral as it shows officers repeatedly kicking a handcuffed man. Although the video is only nine seconds long, it is extremely shocking and illustrates the horror of the American drug war.
After the video began to go viral, police were forced to respond to the incident. According to the Marion police department, the video was of the arrest of Julian Paegle, 28, who was wanted on an active warrant for "failure to appear."
When police showed up to the home where Paegle was staying, they found him trying to climb out of a window.
Officer Kyle Griffith "provided rear security" to the home while Officer Billy Cole knocked on the front door, according to police. When the homeowner told police Paegle was in the back room, that is when things took a turn for the worst.
When police found Paegle in the backyard, he allegedly struggled and tried to get away. However, according to the report, they were able to get him in handcuffs.
Police claim that as they walked Paegle to the patrol car in handcuffs, he allegedly resisted again. That's when the video picks up.
The two officers then escorted Paegle to the police car, but as they did, Paegle became "combative," according to the statement.
"Paegle broke away from the officer's grip, while secured in handcuffs, and took that opportunity to flee," police said.
Both officers caught Paegle again and tackled him to the ground where he flailed his legs around, which is when officer Cole began kicking him.
According to police, "after delivering those kicks, Mr. Paegle stated, 'OK, I'm done!' and stopped physically resisting."
Police claim Paegle became apologetic after he was arrested and said he was simply "fighting for his freedom."
Although police did not release the reason for the warrant other than failure to appear, the Free Thought Project pulled Paegle's arrest record and found that it was likely drug related. Last year, Paegle was arrested for a level 6 felony—for "unlawful possession of a syringe."
It appears that Paegle hadn't harmed anyone and simply tried to hide from police because he didn't think he should be in jail for "unlawful possession of a syringe."
Sadly, because this country treats drug addiction with militarized tactics, kidnapping, and violence, Paegle—who may have needed help with his drug problem—instead got the crap kicked out of him and thrown in a cage on the taxpayer's dime.
While there were certainly some folks supporting the officer for kicking Paegle in the video, many of the comments online called for officer Cole to be fired and noted that this type of violence is not justified.
"He should be fired," one person wrote.
"Warrant or no warrant, while you are restrained they don't have the right to kick him like that," wrote another. "All they did was give the dude the right to sue and get money."
"That lame line cops use of 'Stop Resisting' is what they are taught to say to justify their assaults on citizens," another person commented.
Neither of the officers involved has reportedly faced any discipline and the police department is standing behind their actions.
Below is a video showing the violent and depraved nature of America's failed war on drugs. If anyone thinks that treating drug abuse with actions like this is a good idea, then they are part of the problem.
Oh Marion, shits crazy

Posted by Nathan Smith on Saturday, April 6, 2019
[0]=68.ARCkXTFWNVdizOqei9ehfmyJUBxQ4rGGWQBt8Rje2XrFDT4FykKXK8_IxSQS0AGr-g2hSbzthm7Pdh6qvtl1gAV6N-x9Ev01dlrSW9vBONrTllQ3LmYetA1TDTg06KLMG8Z7GuO_tixAXa5opLAjArZV6hWS0tQy3hjMSazI_iowCuUfJTg82rdVHc1UFp1WqiIzSqgPzbv-l34TLiKmiF2XnOOd1s7HWQBjXdd6oGtI0FMb4hJlrvs2nzmLX8wkrxr6r7WrS6t2pYXgLrQDCqolXHDyM1hDB_51v8B2le9OnD4qtCFej1u7ZDWWi4oO_Me_V6JRxsD9ypszjsmk0VVe6KfbjCpCAGLBIQ&__tn__=H-R