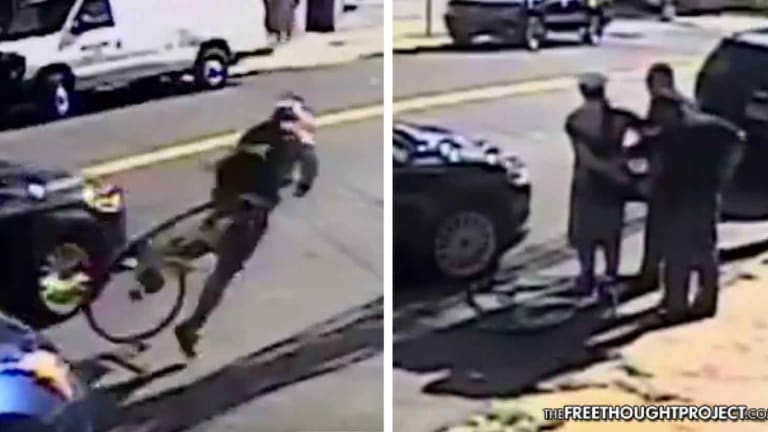 WATCH: Cops Knock Man Off Bicycle, Then Make Up Charges and Arrest Him to Justify It
Disturbing video shows a police cruiser appear to ram an innocent man on a bicycle and then fabricate charges against him to justify it.
Queens, NY — Dramatic surveillance footage caught the moment a Queens man was thrown from his bicycle as an unmarked police cruiser appears to ram or at least make contact with him as they chased him down for no reason. Once the man was thrown from his bicycle, however, that's when things took a turn for the worse.
Heins Rodriguez, 26, was minding his own business as he rode his bicycle down 43rd Avenue in August of 2015, when an unmarked police cruiser comes out of nowhere causing the him to go flying off of his bike.
When the officers got out of the vehicle, instead of making sure this man was okay, they fabricated a story and arrested him.
According to police, when the officers got out of their vehicle to allegedly ticket the man for riding with no helmet, Rodriguez began resisting them by "flailing around" and not allowing them to handcuff him.
Officers Zheng Zuopeng and Alan Chen wrote in court documents that Rodriguez was non compliant and fought with them as they tried to put on handcuffs. They also claimed that he was riding his bike the wrong way down the road. However, the video shows this official police description to be false.
The video shows that at no time did Rodriguez attempt to fight with the officers and peacefully complied with everything they asked. What's more, they had no reason to dangerously drive up behind his bicycle as he was travelling the right way and there is no law requiring adults to wear helmets in Queens. However, Chen and Zuopeng still arrested him on charges of resisting arrest.
Rodriguez has since filed a lawsuit against the department for excessive force and claiming that the charges were unjustified.
Police counter the claims by asserting that the footage is 'inconclusive' and talk of a cover up is 'speculation,' according to The New York Daily News.
As you watch the video below, you can clearly see that the claims made by the NYPD are entirely outlandish.
What's more, according to Rodriguez' attorney, the officers deliberately hit him, or at least came "unreasonably close to Mr. Rodriguez" before he was wrongfully assaulted and arrested.
The attorney added that Rodriguez had in his earbuds which caused him not to notice the officers driving dangerously close to his rear wheel.
After they arrested Rodriguez on the false charge of resisting arrest, police claimed to have found 12 bags of marijuana in his backpack. However, showing what little case they had against him, all the charges against Rodriguez were later dismissed.
Also as we can clearly see from the video, the officers had no problem fabricating lies to arrest Rodriguez on, so they may have fabricated the lies about the weed misdemeanor too.
Now, Rodriguez claims he is permanently injured from the fall and he gets scared when he sees cops.
"Like I don't feel the same way about them as I used to," he told the Daily News.
Gabriel Harvis, one of Rodriguez's lawyers, told the Daily News that the suit is about "dangerous pursuit tactics and officers who willingly lied in an effort to cover them up."
"When officers can manufacture evidence as we see here, no one is safe," Harvis said.
Rodriguez is now suing for unspecified damages and rest assured that the taxpayers of New York will be held liable for the actions of two of their finest—not the cops.