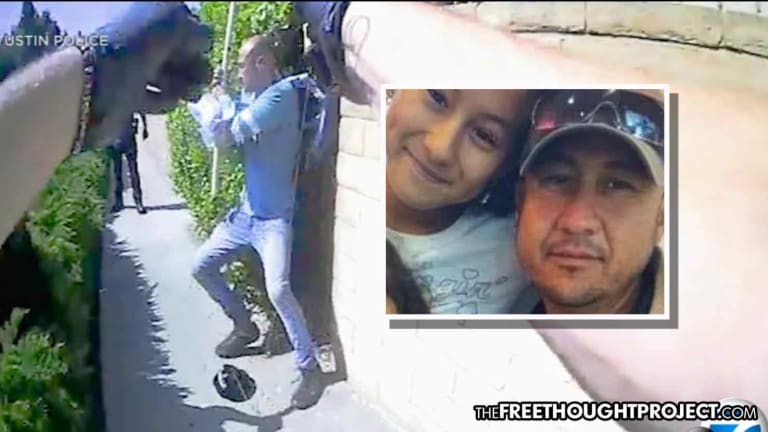 WATCH: Cops Shoot and Kill Mentally Ill Father of 3 for Holding a Broomstick
After waiting more than two months, the family of Luis Garcia is finally seeing the video of police killing this father of three for holding a broomstick.
Tustin, CA — Since August 9, the family of Luis Manuel Garcia has been demanding answers from police as to why they shot and killed their mentally ill family member. This week, body camera footage was released which provided them with some of those answers — but the footage does not justify the use of deadly force against him — leaving them with even more questions.
"He was an innocent person who had a hard time in his life and didn't give the police a reason to shoot him or kill him," said Christian Garcia, Luis' nephew.
She's right too, on the day he was killed, Garcia had committed no crime. According to Sgt. Matthew Nunley of the Tustin Police Department, they received a call about a man "acting suspiciously" which does not happen to be a crime.
When police arrived at the Saddleback Mobilodge, three officers responded to a bush, in which Garcia was hiding. He was clearly in a state of mental illness but instead of receiving help he needed, he received deadly force.
"A male subject popped out of the bushes at them, holding an object," Nunley told ABC 7 news after the shooting. "An officer-involved shooting occurred."
That "object" appeared to be a broomstick and at no time did Garcia ever attempt to swing it or attack officers in any capacity. Instead, he appeared to be frightened and seemingly hiding behind the stick as he tried to run away. He would not make it.
As Garcia stepped out of the bushes, one officer tasered him before another fired two rounds at him, killing him.
Christian Garcia told ABC 7 that his uncle, a father of three, struggled with mental health illness but was not aggressive.
"Yes, he was homeless," Christian Garcia said. "No, he did not bother no one. No, he was not violent. He was not the type to carry weapons or nothing."
Before seeing the body camera footage, the family asked why police didn't use less lethal means like a taser.
"They could've used other forms of protection -- Tasers, pepper sprays," Kiara Garcia, Garcia's niece said. "If there's three there and one got taken down, there would've been two more to help the police."
Now they have their answer. At least one officer tried to use a taser but another officer shot before it could be used properly.
The shooting is still under investigation and other than the body camera and the original statement back in August, police haven't released any other information. The status of the officers involved as well as their names remain unknown.
"I consider it murder," Christian Garcia said. "Just because you have a badge doesn't give you the right to take someone's life."
We agree.