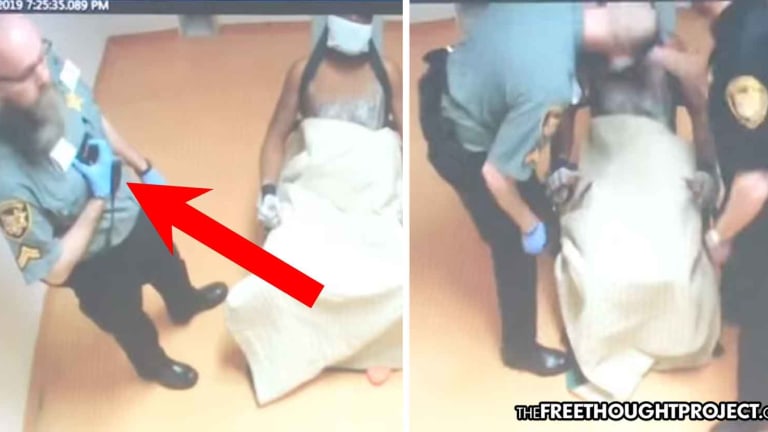 WATCH: Cops Turn Off Body Cams, Ruthlessly Pummel Defenseless Man in Restraint Chair
A mentally ill man was strapped to a chair before cops turned off their body cameras and proceeded to pummel his face in.
Cleveland, OH — In the last several weeks, TFTP has reported on multiple utterly horrific situations in which both men and women are being strapped into restraint chairs and beaten. Now, another video out of the Cuyahoga County Jail has surfaced, showing a similarly horrifying incident unfold.
The victim, Terrance Debose, 47, struggles with mental illness and addiction and was in jail that night for alleged cocaine possession. What landed him in the restraint chair was not clear. However, what happened to him after he was completely restrained and posing absolutely no threat at all—is entirely clear.
As the extremely disturbing video shows, Cpl. Nicholas Evans is standing next to the chair in which Debose is restrained. He then turns off his body camera—in a futile attempt to hide his actions due to the surveillance camera above him—before repeatedly punching the helpless Dubose in the face multiple times.
Debose, unable to lift his hands or anything else to defend himself is forced to endure the repeated blows to his face. After Evans doled out his torturous punishment, officer Timothy Dugan moved in and began hitting Dubose as well.
As Cleveland.com reports:
Evans punches Debose six times and Dugan twice. Evans faces a felonious assault charge that carries a potential eight-year prison sentence if he's convicted. Dugan is charged with misdemeanor assault, and both are charged with violating Debose's civil rights. They pleaded not guilty at their arraignments in early April.

The two officers are on unpaid administrative leave while the case is pending.
Naturally, the police union is claiming the video is out of context and that they fully support their officers and predict that they will beat the charges.
"While we can't run from the video, the evidence provided to us during the course of our defense does not appear to show serious physical harm to sustain a felony conviction in this case," said Adam Chaloupka, an attorney with the Ohio Patrolmen's Benevolent Association.
However, Dubose did experience harm and was left injured for weeks after this incident. What's more, Dubose is mentally ill, and this is how the police chose to deal with his special needs.
"As he got older he wasn't able to deal with it because he would stop taking his meds," Emanuel Debose, Terrance's brother said. "As long as he takes his medicine he's calm."
After Dubose was beaten by officers, he called his brother the next day, fearful that the jail was listening but knowing he had to tell someone.
"He said they beat him up bad," Emanuel Debose said. "He said he wasn't really able to talk because they're recording the calls from the jail. He asked if I could get him some help, but I really didn't know how to go about doing that type of stuff."
Luckily Emanuel Debose took the complaint seriously and looked into it. Then they saw the video.
According to Cleveland.com
The corrections officers who beat his brother are among the eight charged various incidents that are part of the Ohio Attorney General's Office ongoing probe of civil-rights violations in the jail. Also charged are former warden Eric Ivey and former jail director Ken Mills.

Emanuel Debose said the attack made him furious, and he hopes the officers charged in his brother's beatings are fully prosecuted.
"I want justice for him," he said of his brother. "They don't have the right to do that. You see so much police brutality. I just want justice served at this point."
Hopefully, both of these sadistic cops face the full consequences of their actions.