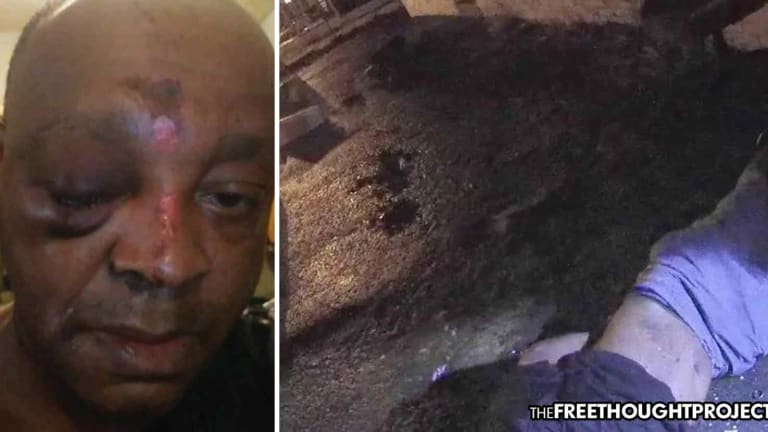 WATCH: 'Get Your Ass Out Here BOY!' Cops Rip Innocent Black Man From His Home, Literally Break His Face
An innocent man called police for help and he was subsequently pulled from his house and savagely beaten to the point of hospitalization.
Westover, WV — Andre Howton, 54, has no criminal record and actually thought the police were there to protect him when he called them for help on that fateful January night back in 2019. Howton quickly learned, however, that "help" was the last thing he would get from two Westover Police officers who pulled him from his home and beat him so badly that he suffered multiple breaks in his face, as well as having 3 teeth knocked out.
Howton committed no crime.
The incident unfolded on Jan. 1, 2019 when Howton called police because a woman was refusing to leave his home. Westover Police officers Zachary Fecsko and Aaron Dalton were the responding officers.
Howton simply requested that the officers remove the woman from his home — which they did. But this routine call quickly escalated when the officers set their sites on Howton.
"When you look at that video camera, the body cam, you can see pretty clearly what happened. He [Fecsko] pulled him out and started hitting him immediately," said Howton's attorney Beth Lebow.
As the officers loaded the woman into the police cruiser, Howton yelled at her, calling her a "crackhead" and other obscenities. This is not illegal, however, Fecsko took issue with the man over it.
Fecsko shouted back at Howton to "get in your house and shut up," and "come outside and start yelling," and "I'll be back down here tonight if you come outside again."
When Howton yelled "crackhead" Fecsko lost it and turned around to release his anger on the innocent 54-year-old man who was standing in his own doorway.
"It seems like a switch was just flipped in the officers," Lebow described in an interview with WAJR's Talk of the Town.
Fecsko then grabbed Howton by his collar while shouting "get your ass out here boy!" before throwing him to the ground.
Fecsko begins punching Howton repeatedly in his face, dropping fist after fist into the man's head and face. While watching his partner beat an innocent man, officer Dalton begins shouting at Fecsko to to "spray that motherf**ker! Spray him! Spray the motherf**ker!"
Once Fecsko's savage attack came to an end, he then blamed it on Howton.
"You asked for that Andre. You earned it," this tyrant cops said.
Howton was severely injured during the melee. Despite his injuries, police refused to bring him to the hospital, bringing him to jail instead.
When they tried to book him into the jail, he was too injured and, according to the lawsuit, the jail turned him away.
"North Regional turned him away. They said his injuries were too severe, he needs to go to the hospital," Lebow said. Except, Howton was still not taken to the hospital. Rather, the lawsuit claims Officer Fecsko took Howton back to his apartment and dropped him off.
"I don't know how they finagled that paperwork wise, but that's what happened," insisted Lebow.
Howton's daughter, after not hearing from her father for several days, then went to his home and found her father badly injured and unable to remember what happened to him. Only then was he brought to the hospital.
Days later, Howton finds out that he's been charged with four counts: disorderly conduct, disturbing the peace, obstruction and battery on an officer under Westover City Code.
For nearly a year, the charges hung over this innocent man's head as he stared down the possibility of several years behind bars for crimes he did not commit.
"I requested a jury trial and they had never had a jury trial before. There were a lot of continuances, at one point they switched prosecutors. Once it was time to file motions, we filed a motion to be involved in all the jury selection processes because we weren't certain Westover knew how to sit a jury because everyone was telling us they had never done so," said Lebow.
"The day we filed that motion I got a call from the prosector that they were going to drop all four charges."
Highlighting the severely dysfunctional vetting process within the Westover police department is the fact that both of these cops have tainted and even criminal pasts, but remain on the force.
According to WAJR:
Prior to working for the Westover Police Department, Fecsko was charged with domestic battery and burglary after in 2015. He allegedly broke into an ex-girlfriend's apartment in the middle of the night and destroyed her belongings. Fecsko also allegedly had a physical altercation with the woman and threatened her. The charges were ultimately dropped as part of a plea agreement.

Dalton formerly worked for the Fairmont City Police Department before signing on with Westover. According to the lawsuit, Dalton was sued for an unprovoked attack on two men at a party. The victims were wrestled to the ground, punched in the face, tased, kicked, beaten and sprayed in the face with mace.
This is the problem with policing in the United States. Literal criminals are given badges and able to dole out abuse with seeming impunity. How man other innocent lives have been ruined by these two cops? And this is just one department in one small town in West Virginia. It is high time we start implementing solutions that will fix these problems.