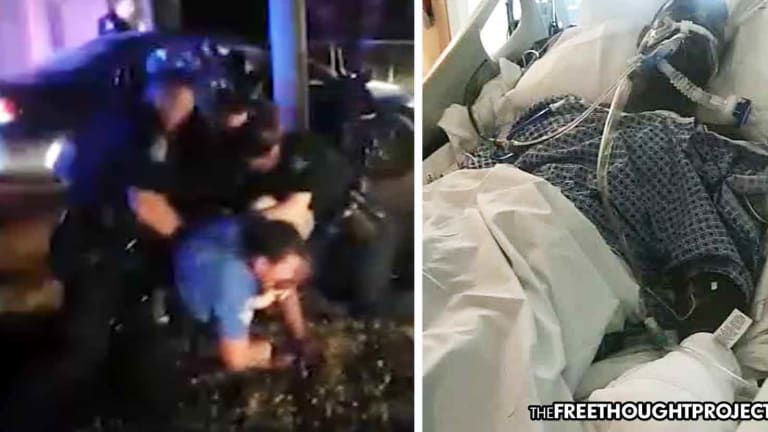 WATCH: Handicapped Man in a Coma After Cops Mistook His Disability for Resisting & Beat Him
An innocent passenger in a vehicle was subsequently dragged from the car and beaten by police because they mistook his disability for a threat.
Sarasota, FL — All too often, police officers—untrained in how to deal with people who have disabilities—will mistake those disabilities as criminal behavior and act accordingly. All too often, people with disabilities pay the ultimate price because of this incompetence. One family is learning this the hard way after police beat a man who is now in a coma.
The beating of 40-year-old Govinda Howell of Sarasota was captured on video which was uploaded to social media this week. It shows a clearly mentally disabled Howell being thrown to the ground, getting held down, beaten, and choked by six cops as onlookers pleaded with police for them to stop.
"You can hear me on there saying, 'The guy is handicapped, the guy is handicapped.' So from there on the cops ended up grabbing him, throwing him to the ground. I saw physical blows with six guys on one guy, punching him," said Jason Bradley, who watched the beating and is heard on the video.
According to police, Howell had not committed any crime and was merely the passenger in a vehicle they had just pulled over for a traffic violation.
Due to Howell's disability, he fidgets and rocks back and forth, according to his family. When police saw this behavior, they became suspicious, began barking orders, and then claimed to fear for their lives when their order barking had no effect on the mentally disabled man.
As WWSB reports:
When officers activated their lights, they say they saw Howell turn around from the rear of the vehicle to look at officers and then begin to make furtive movements around the seat in front of him. Officers say they told Howell to show them his hands, but he ignored their commands and continued to reach for something under the front passenger seat.

Police say that's when they told Howell to step out of the vehicle and put his hands up. When he didn't, for safety reasons officers say they removed him from the vehicle to pat him down.

In the video, you can hear Howell yelling at officers to "tell him why" throughout the whole process. Officers say Howell was extremely agitated and appeared to be under the influence of drugs and/or alcohol.
As the video below shows, Howell wasn't fighting with the officers, he was just nervous and locked up. This prompted the officers to use more force.
"He's handicapped! He's handicapped!" a family member is heard yelling in the video. "Please leave him alone."
For over three minutes, the officers had their knees on his neck and back as other officers doled out blow after blow. All the while the family was begging them to stop.
While dragging the innocent mentally disabled man from the car, police claimed he shoved drugs in his mouth and swallowed them—a claim his family denies. Backing up the family is the fact that officers never recovered any of these alleged drugs.
Howell was subsequently arrested and is facing charges of Resisting a Law Enforcement Officer without Violence.
Howell's aunt, Gilda Williams, who raised Howell, said the beating was so horrific that her nephew is now in a coma in the ICU.
"It's about that boy's life. I'm not standing here for any money. I'm standing up for him, that he gets better. I hope he wakes up; I hope he opens his eyes. That's what I want," she said.
The video was posted online after the beating which has since prompted backlash from activists in the community.
"Somehow they ended up brutally beating this guy so bad that he ended up in a coma and we don't know if he's going to survive," said Sarasota activist Bryan Ellis.
"We can stop this by demanding community oversight of the police, demanding real accountability and community control because that's what we need."
After they threw Howell in the back of the squad car, police issued the driver of the vehicle a traffic citation for failure to use a designated lane.
After the video began to go viral, the Sarasota police department announced that they had launched an internal investigation into the matter.
As you watch the video below, remember that Howell was merely a passenger in a vehicle who used a traffic lane improperly. And, because his mental illness was perceived as a threat, he was subsequently taken out. He had harmed no one.