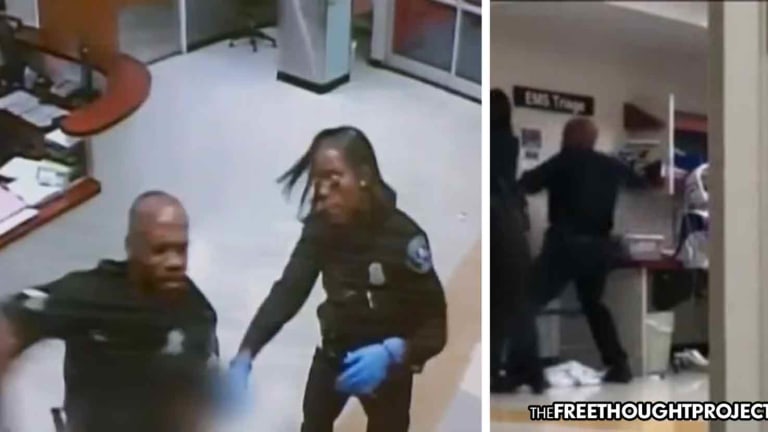 WATCH: 'I Punched Her 8 or 9 Times': Cop Beats Naked Mentally Ill Woman in a Hospital
Video of a police officer beating a naked mentally ill woman in a hospital was so disturbing that the officer was arrested and charged with multiple crimes.
Detroit, MI — An utterly shocking video—taken from inside a hospital—of a Detroit police officer savagely beating a naked mentally ill woman was so disturbing that Cpl. Dewayne Jones, 47, was charged with misconduct in office, along with misdemeanor assault and battery.
As TFTP reported at the time, the video was sent to local news station FOX 2 by a witness to the horrifying beating last August. What it shows is nothing short of barbarous abuse of a defenseless woman by a public servant.
"What's disturbing to me, she had her back turned toward him and he kept striking," Detroit Police Chief James Craig said.
The trial for Jones began last week and new video from hospital surveillance footage as well as body camera footage paints a disturbing image of a police officer who snapped when faced with a mentally ill woman.
"I punched her, like, eight or nine times," Jones said on the body camera footage played in the courtroom on Friday. "We treated her good. We treated her with the utmost respect," he said. "Then she spit on me. She spit on me."
As the extremely graphic video shows, the woman was naked and swearing as several officers attempted to restrain her. When she yanks away from the cop, he begins pummeling her, repeatedly.
The woman who recorded the video told the courtroom that she was visiting a relative at the hospital. She said it was clear the woman was mentally unstable.
The woman who took the video also pointed out that there were enough officers to get the victim under control but this officer took to beating her anyway. The witness also pointed out that out of all of these officers, not a single one tried to stop the cop from repeatedly slamming his fists into the naked woman's face.
"So many of them, they could have restrained her or tried to stop him. He was physically giving her blows to the face, to the body. The lady was screaming stop hitting her like that, don't punch her like that," the woman said.
According to the body camera footage, the woman, 29-year-old Shelby Smith was in an obvious state of mental distress when police found her walking naked down a neighborhood sidewalk.
In the video, Smith is seen standing on the street corner without any clothes. She says: "Sunday we're going to tear that God d____ church up. I want to marry y'all. I love you so God d____ much. I done took my clothes off. Daddy, I love you so much." Then she starts singing.
Craig explained that the woman was non-violent, not agitated, and entirely passive. Apparently the woman was so calm that officers didn't even feel the need to handcuff her. The lack of handcuffs was an apparent concern to Craig.
"We know from our training and experience anytime we transport someone, particularly if they are suffering from mental illness for their safety and for the officers' safety and the community's safety that we handcuff," he said.
The responding officers gave Smith a robe and then transported her to the Detroit Receiving Hospital for evaluation.
According to Craig, when the Smith got to the hospital, she took off the robe, became agitated, and began fighting with staff. At this point, according to Craig, that's when the officer began punching her.
Chief Craig noted that the officer's punches were in accordance to the use of force at first. However, when the naked woman turned her back to the officer and he kept pummeling her, this was an issue.
"At that point we have grave concerns for the officer's actions," he said.
Officers should not continue to use "hard hands" on someone who turns their back, Craig said. We tend to agree.
Despite the shocking footage in the video below, and in spite of the charges Jones is facing, the officer was reinstated to duty after the Detroit police commissions voted to overturn Craig's decision to suspend him.