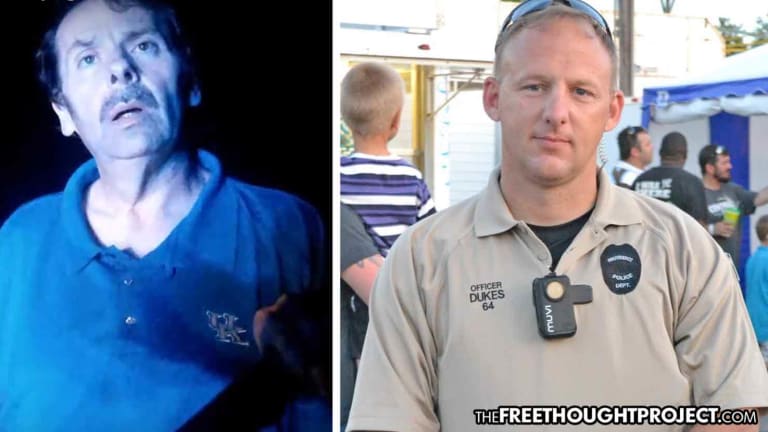 WATCH: Innocent 52yo Man Files Complaint Against a Cop, So He's Beaten, Tasered, and Kidnapped
An innocent man attempted to file a complaint against a Kentucky cop, who in turn went to his home, tasered, pepper sprayed, beat, and falsely arrested him for it.
Providence, KY — A case of police misconduct was so outrageous and so egregious that a police officer has actually been sentenced to prison this week. Former officer William Dukes Jr. of the Providence Police Department will spend the better part of the next four years in a cage for the horrifying treatment, abuse, and kidnapping of an innocent man—all for filing a complaint against him.
According to a press release from the Department of Justice, Dukes was sentenced Thursday to 42 months in federal prison and three years' supervised release for willfully depriving a Kentucky citizen of his constitutional rights under color of law. Helping to secure this sentence was the fact that this home invasion and assault was captured on video.
The incident happened in May of 2016 when Dukes pulled over Jeffrey Littlepage around 11:00 pm and was apparently so rude that Littlepage called the Providence City Dispatch and Kentucky State Police stating he wanted to make a complaint. Littlepage had committed no crime and was let off go after Dukes pulled him over. However, when Littlepage called to make the complaint, Dukes answered. Then, all hell broke loose.
According to the DoJ,
The jury heard evidence presented in court that when the victim called the Providence Police Department to complain about Dukes, Dukes responded by threatening to arrest him if he called back again. Still determined to file a complaint, the victim then called the local sheriff's office and the Kentucky State Police. When Dukes became aware of these additional calls, he drove to the victim's home in the middle of the night, without a warrant, to arrest him.

Upon arriving at the victim's home after 1 a.m., Dukes attempted to arrest the victim based solely on the phone calls he had made complaining about Dukes. When the victim insisted he had done nothing wrong and retreated into his home, Dukes entered the victim's home without a warrant. Dukes then tased the victim, sprayed him in the face with pepper spray, struck him repeatedly with a police baton, and punched him in the face, breaking the victim's nose. Next, Dukes handcuffed the victim and charged him with four crimes, including a charge of property damage because blood from the victim's broken nose got onto Dukes's police uniform. 
"Police officers have a duty to protect the rights of members of their communities and safeguard them from harm or injury," said Acting Assistant Attorney General John Gore. "Dukes abused his authority as a law enforcement officer by illegally arresting his victim and also by inflicting unwarranted physical harm, and the Justice Department held him responsible."
"Kentucky lawmen and women are among the finest in the nation," said U.S. Attorney Russell Coleman "But when they cross a clear line, as did Mr. Dukes, they will be held accountable like any other citizen of our Commonwealth."
Below is this most heinous criminal act captured on the officer's own body camera. Luckily for Littlepage, he was not killed. However, he was seriously injured, humiliated, and his rights violated.
Below are the three separate videos from the night Duke abused his authority and beat the hell out of an innocent man and then charged him with a crime.
WARNING: The video below is hard to watch as the innocent elderly man begs for help as he is repeatedly tasered, pepper sprayed and beaten.
Notice how in the two videos below, Duke—who just assaulted and kidnapped an innocent man—is praised and treated like the hero by the other responders. In fact, his own department never charged him with a crime and he was allowed to quietly resign. Luckily, the DoJ intervened.