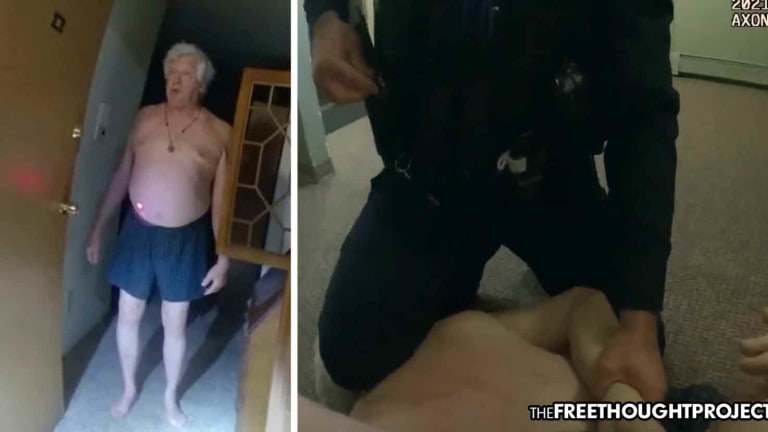 WATCH: Innocent 75yo Man Suffers Stroke As Cops Taser, Beat Him in His Own Home for No Reason
An innocent elderly man was the victim of a home invasion by two police officers whose abuse caused him to have a stroke and he is now in a nursing home.
Idaho Springs, CO — On May 30, 75-year-old Michael Clark had harmed no one, broken no law, and was asleep in his home when Idaho Springs cops barged in through his front door and attacked him without warning. For over a month, Clark and his family have been demanding answers and the release of the body camera footage and this week, it was released. What it shows is nothing short of a criminal home invasion by badged gang members and the subsequent torture of an innocent elderly man.
After the attack, Clark suffered a stroke, was hospitalized, and has been recovering ever since. The cop who tasered and attacked Clark — officer Nicholas Hanning, 35 — now faces charges of felony assault of an at-risk adult.
Before the attack, Clark had been well enough to live on his own. Now, however, he resides in a nursing home due to the injuries and heart problems suffered during the attack, according to his attorney Sarah Schielke.
After releasing the video Thursday, Schielke released the following statement condemning the actions of the officers that night and noting how this abuse is so horrific that once viewed, it cannot be "unseen."
"We knew it was going to be bad from the affidavit for Officer Hanning's arrest. But that affidavit, it turns out, did no justice to the level of injustice seen on these videos. They need to be seen to be believed. Finally being able to view the videos has been vindicating for this family on some level, since they confirm all that Mr. Clark has said, but, seeing the horrors that they contain, after fighting for so long to get them, has been traumatic in its own right. The tragic, needless abuse of this man in his own home cannot be unseen. There have been a lot of tears and a lot of anger over these past few days as the family grieves and attempts to process all the perverse abuses of power seen on these videos."
According to police, they were at Clark's residence that night, claiming a woman reported that he punched her. As Clark was not charged with a crime, we can presume the claim held no merit.
When Clark heard the officers — who did not announce themselves as police — banging at his door that night, he assumed the worst and grabbed a saw-toothed sword to answer the door. As Clark answered the door, his assumptions came to fruition and he was immediately attacked by Hanning.
Once Clark realized they were police officers, he put the sword down and began to explain to the officers what had happened. However, the officers wanted nothing to do with Clark's explanation and without justification or warning, Hanning tasered the elderly man in his stomach.
The taser caused Clark to fall backward and he immediately fell unconscious. Despite the fact that Clark was lying motionless and unconscious on the ground, Hanning continued the assault, kneeling on the elderly man's neck for several moments before handcuffing him.
The taser strike and assault caused Clark to have a stroke and he was hospitalized for weeks, according to Schielke.
Clark says that despite the humiliating nature of the video, he wanted it released to show what two bad cops look like.
As for these bad cops, Hanning was fired from the department on July 16 and the other officer in the video, Ellie Summers, who let the abuse and assault of an elderly man go unchecked, remains on the Idaho Springs Police Department.
Below is a statement from Clark that is utterly heartbreaking:
"How I was brutally attacked, and almost murdered… Has really affected me in a lot of
ways. The memory of how I was treated, and not just how I was treated by the police
force, but also then after that by the district attorney, like I was the aggressor, that has
severely affected me.

Some people may wonder why I would be so set on the public
release of these videos, when releasing them means that everyone I know is going to
see me in my skivvies, stripped of my dignity, and assaulted in my own home.
But what the world will see in these videos is not me at my worst, but a police
department at their worst. I am a patriot. I love my country.

There are a number of good people out there, of good police officers. These are not them. People like this should not be police. What they took from me that day, I can't put into words. I'm going to do whatever it takes with what little time I have left to stop this from happening to anyone else ever again."