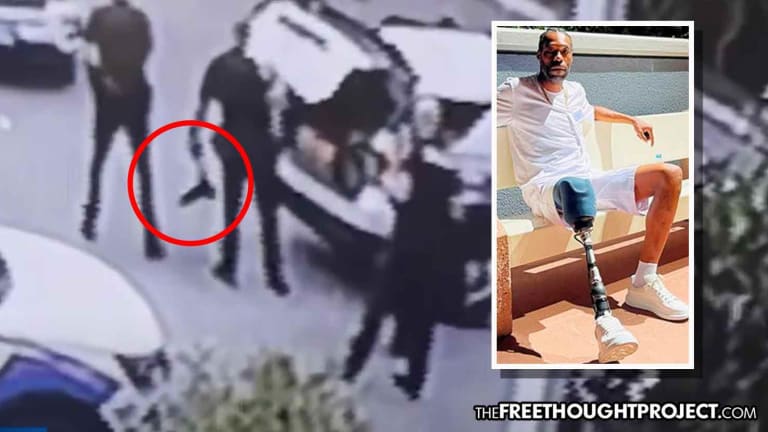 WATCH: Innocent Disabled Man Attacked by Cops Who Rip Off His Prosthetic Leg
As crime runs rampant in the state of New York, how is it that cops can devote so many resources to violently arrest a one-legged man who had harmed no one?
Suffolk, NY — On the day he was attacked, according to his attorney, Waverly Lucas, 48, had committed no crime, had harmed no one, and was merely attempting to walk into a convenience store. However, as readers of the Free Thought Project understand, innocence in the land of the free, is no defense against police violence.
Lucas is now suing Suffolk County after he was left with a fractured orbital bone, blurred vision, a broken wrist, and severe emotional trauma, thanks to Suffolk's finest.
"What happened to Waverly is an example, a small example, of what happens every single day in Black and brown communities at the hands of the police," said Lucas' attorney Heather Palmore of Melville.
Though police have announced an internal investigation into the incident, they have refused to release any other details about the stop. According to Lucas, however, the officers falsely accused him of urinating in public. We know this was false as well, due to the fact that he was not charged with anything related to urinating in public.
According to the lawsuit, after falsely accusing Lucas of urinating in public, the officers demanded to see his ID. When he refused to show it, one of the officers moved in for the kill and began choking Lucas.
Part of this interaction was captured on video. Lucas was then handcuffed and dragged to the police car where he was shoved in and his leg ripped from his body. By the time the debacle was over, four cop cars had pulled into the store parking lot.
"Not only was Mr. Lucas purposefully elbowed by one of the officers in his right eye, fracturing his right orbital, but Mr. Lucas' prosthetic leg was violently ripped off and thrown into the trunk of the police vehicle," the notice of claim said.
Lucas told NBC New York that the pain was just as bad as the humiliation.
"To rip that off, it's like someone ripping off your skin," Lucas said, speaking of his prosthetic leg. "Because it's like it's almost glued to my skin."
Once Lucas was in the back of the police car, police fabricated charges, according to the lawsuit. He was charged with possession of narcotics — for which he had an actual prescription.
Palmore told reporters that Lucas takes the pills for pain related to his lost leg.
After his arrest, Lucas was taken to the hospital where he refused treatment. When he was finally brought to jail, police issued him a ticket and he was released. His car was impounded as well and he was forced to pay $800 to get it back. After he was released from jail, he went back to the hospital where he was treated for a fractured orbital and a broken wrist.
Lucas now faces charges of criminal possession of a controlled substance, resisting arrest and obstruction after the Aug. 18 altercation. He is due in court on Feb. 24 and has pleaded not guilty.
As crime runs rampant in the state of New York, ask yourself while watching the video below, how is it that cops can devote so many resources to violently arrest a one-legged man who had harmed no one.