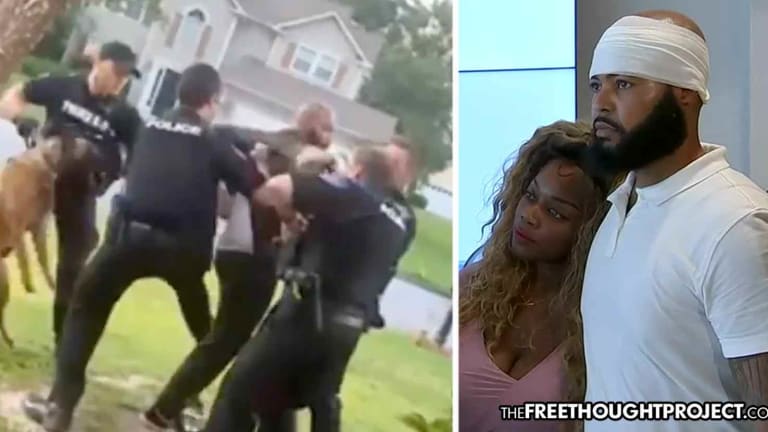 WATCH: Man Who Needed Medical Help Held Down by 4 Cops as Dog Forced to Maul Him
A family called for an ambulance to help a man and instead received eight cops who participated in the savage attack on an innocent man.
Alpharetta, GA — As TFTP reports on a regular basis, families who dial 911 for medical help with their loved ones often times receive police instead. The results of sending cops to medical emergencies have been utterly catastrophic over the years with innocent people in need of a doctor receiving fists, batons, pepper spray, and even bullets instead. Travis Moya is the latest victim of this gross incompetence and his violent punishment for needing medical help came in the form of a K-9 mauling him in his front yard.
Attorneys representing Moya are now pushing for the officers involved to be criminally charged for their actions that day. In a statement on Thursday police said that "at this time, no complaint has been filed in relation to this matter, however per our policies, a use of force investigation is being conducted in this matter, as is performed for any instance of a use of force incident by one of our Officers."
The incident unfolded on Sunday as Moya "was having a mental health crisis and awaiting an ambulance" at his home in the Atlanta suburb of Alpharetta, according to his lawyer, L. Chris Stewart. But when the police showed up, "A K-9 was set loose" and attacked Moya, who Stewart said "was unarmed, non violent, and was not resisting arrest."
Cellphone video taken by Moya's wife shows the attack unfold as police throw Moya to the ground, jump on top of him, hold him down, and then force the K-9 to maul him.
"He couldn't move, he couldn't kick. He couldn't fight the dog off. He had to lay there while the dog ripped him apart," attorney L. Chris Stewart said.
Video from the hospital shows just how bad the injuries were to Moya's arm and upper shoulder. Warning, they are graphic.
Remember, as you watch the video below, Moya had committed no crime, had harmed no one, and needed medical help — not cops.

After forcing the dog to maul a helpless man, instead of getting him the help he needed, police arrested him, and charged him with a felony. For needing medical help and getting mauled by a police K-9 instead, Moya is now facing felony obstruction, despite being innocent.
"There was no reason for him to even be detained or arrested. But instead of an ambulance showing up, eight officers showed up," attorney Gerald Griggs said.
"We're also asking her to open an investigation into these officers and their actions. And if she finds criminal culpability, to charge each and every one of these officers," Griggs said.
Even though they have their own video, the family is demanding to see the officer's body camera footage as well, to back up their own evidence.
"They need to release the body cam videos today. Because that won't lie, back up this video. They were all wearing body cam, even the K9 handler," Stewart said.
As TFTP has pointed out, and as this case illustrates, even cops who voluntarily attend Crisis Intervention Training (CIT), have shown that they are quick to the trigger when dealing with the mentally ill.
The list of unarmed and often completely innocent mentally ill people severely injured or killed by police is immense. TFTP archives are full of tragic stories in which police were called to help someone in a crisis and end up murdering them. People are killed even when they aren't in a crisis and simply act differently like Elijah McClain, who was on his way home from buying groceries and was murdered by police because he was an introvert and wore a ski mask.
This is why some municipalities have begun removing cops from the situation entirely.
On June 1, 2020, Denver began the Support Team Assistance Response (STAR) program, which sends a mental health professional and a paramedic to some 911 calls instead of cops. When we first reported on the program in October 2020, their results were fantastic. Now, it seems that departments who continue the old way are doing a disservice to the mentally ill.
According to their latest data, STAR has responded to more than 2,500 calls to 911 in which police would have normally been sent out. The STAR team — armed only with experience and compassion — has never once called police to back them up and no one was ever arrested.
They have settled every single call without killing someone, beating them, ruining their lives, or using violence. Imagine that.