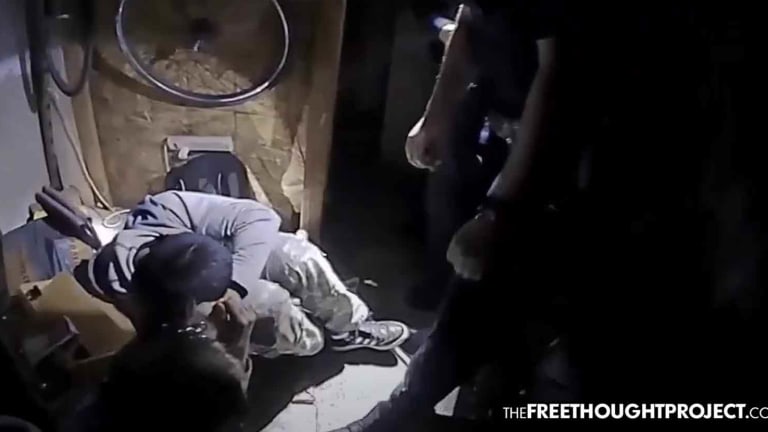 WATCH: Innocent Man, Asleep in His Home, Wakes Up to Cops Forcing K-9 to Maul Him
An innocent man was asleep in his own home when police entered it and mistook him for a kidnapper, forcing their K-9 to maul him.
Palo Alto, CA — When Joel Domingo Alejo fell asleep in his backyard, he never expected to wake up to a police K-9 shredding his legs to pieces. Unfortunately for Alejo, however, that is exactly what happened. Cops were looking for a kidnapper and when they spotted Alejo — who was innocent and sleeping on his own property — that was good enough.
The incident unfolded on June 25 of last year when officers with the Mountain View police department were searching for an alleged kidnapper in Alejo's neighborhood. During the search, Mountain View police requested assistance from the Palo Alto police department's K-9 team as they thought the suspect may be hiding somewhere in the neighborhood.
As police went door to door, they searched nearby homes and could not find their man. When they went to Alejo's home, they asked his niece, who answered the front door, if they could search the backyard. Knowing they had done nothing wrong, his niece let them in the side gate. In the report released by police, the incident unfolded as follows:
In the early morning hours of June 25, 2020, personnel from the Palo Alto Police Department (including a canine team) responded to Mountain View to assist Mountain View Police Department officers in locating a felony domestic violence / kidnapping suspect who Mountain View Police believed had fled into a residential neighborhood. After obtaining consent from an occupant of a home to search their yard for the suspect, officers entered the side yard and immediately encountered a person on the ground inside an open storage shed. Believing the person to be the hiding felony suspect, officers used the police canine to assist in detaining the person. Further investigation revealed the person was not the suspect and in fact was not connected to the criminal incident that prompted the search.
As the video shows, police were in a fury when they entered the backyard where Alejo was sleeping.
"Palo Alto police search with a police K9. Surrender now," Palo Alto police officer Nick Enberg said as cops rushed into the building where Alejo slept.
As soon as they noticed someone in the building, police immediately ordered the dog to attack. Alejo awoke to dog teeth tearing into his skin. He had no idea what was going on as cops yelled at him to "stop resisting" and to "give up!"
As the dog tears into Alejo, the innocent man tries to get the dog off of him — which is what any person in their right mind would do. However, this infuriated the cops who yell at Alejo to "let go of the dog!"
Only after they unleashed deadly force on an innocent man did cops bother to ask "who is this?"
Alejo was then forced onto his stomach as cops handcuffed him.
"I don't think this is him," officer Travis Herbek said after Alejo was attacked. "I think it's just a prowler."
It was no prowler, however and police finally realized their mistake after seeing the address on Alejo's ID.
As they interrogate the man who is bleeding profusely from the dog bites, police ask Alejo if he lived there and when he tells him that he does live their, they responded with , "Well, he didn't tell us that" — clearly ignoring the fact that Alejo was asleep when the dog attacked.
Police never found the alleged kidnapper that night as they were too busy forcing their dog to maul an innocent man. The kidnapper wasn't found until a month later.
According to the Police release video of dog attack
" target="_blank" rel="noopener noreferrer">Daily Post, the attack left gashes exposing fat cells on Alejo's leg. It caused him "emotional distress, fear, terror, anxiety, humiliation, loss of sense of security, dignity and pride, punitive damages, extreme pain," bleeding and bruising, according to claims Alejo filed against each city. The claims seek $20 million. If a city denies the claim, it allows the claimant to file a lawsuit in Superior Court, which could possibly lead to a jury trial.
None of the officers involved in the attack faced any discipline.
The next time you hear someone say, "if you don't break the law, you have nothing to worry about," show them this article.