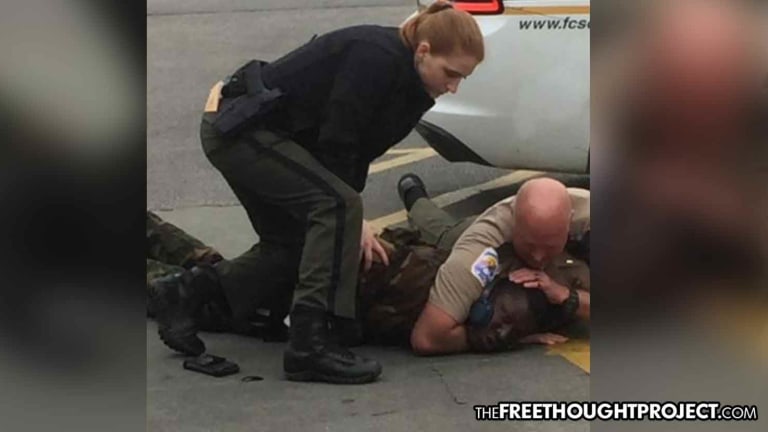 WATCH: 'They're Choking Him to Death': Cops Cuff, Nearly Kill Man for Asking For a Ride
After getting off a greyhound bus, a man asked police for a ride who not only denied him the request, but tried to choke him to death in the process.
Florence, SC — A disturbing scene was captured on video this week, showing police officers choking out a handcuffed man as he tries through a blocked airway to beg for his life. Prior to being handcuffed and nearly killed by police, the victim, Tyler Fleming said all he did was ask a deputy for a ride.
Rachel Buie released the video Wednesday during a press conference at the Florence County Sheriff's Office. Prior to the conference, Buie thought she only took photos of the incident, but then realized she actually recorded it. After the video was published on social media, police have launched an official investigation into the incident.
The National Action Network held the conference to call for the resignation of the two deputies seen in the disturbing video.
The aim of the Press Conference is to bring attention to this unprovoked attack and the shed light into inequities and bias treatment of Blacks in Florence County. While America is still trying to shed her horrific past, looks like Florence County still wants to hold onto hers.
Buie and another witness to the violence, Tony Esposito both spoke at the conference and explained how unprovoked and unnecessary this police violence was.
Buie explained that the man was simply talking with police officers before they put him in handcuffs and then began choking him.
"It looked so terrible to just stand there and do that. I could not believe the people that we are supposed to trust is about to kill this guy in front of us. I said the devil is a liar. That's when I began to move in. We got more than just pictures, there is a video. So I want to see what they got to say about that big. Because I know pictures say a lot of words, but videos don't lie. He began to choke this man. I saw when he even took this man, his face and try to put it in the cement . He choked that guy so long for a few minutes until he started kicking because he couldn't breathe. His shoe came off," said Buie.
"Then all of a sudden, I seen the police officer grab him around his throat. Slam him to the ground. And that police officer wasn't very detaining him in a proper manner. He was trying to kill this man. The female was standing over him pushing her foot into the back of his knee I took a couple of pictures of it. I took a couple pictures of a cop cars on scene," said Esposito.
Fleming also spoke at the conference and explained that he'd just gotten off a Greyhound bus and was trying to reach his family, who he's not seen in 10 years, in the nearby town of Mullins.
"I wasn't aggressive the whole time. I wasn't resisting the whole time. I was very still. I was asking questions. He decided to slap me from behind while I was in handcuffs. He slammed me to the ground. He proceeds to still choke me. I said why are you choking me? Why are you choking me? He said to me, 'I'm not choking you,'" said Fleming.
Police released a statement that read in part, backing up witnesses and Fleming.
Yesterday morning Florence County Sheriff's Office deputies were involved in an encounter with an individual at a convenience store located on East Palmetto Street, Florence, SC. According to the Incident Report, the subject approached a deputy at the convenience store acting strangely and asking for a ride to Mullins, SC. When the deputy told the subject that she was unable to honor that request, the subject was not pleased, but walked away. Shortly thereafter, a FCSO supervisor arrived and noticed the subject interact with a store customer, who looked at him as if he needed assistance as the subject walked back into the store. The supervisor approached the subject for a consensual encounter, at which time the subject repeated his request for a ride to Mullins, SC.
After he asked for a ride again, police then decided that they needed to detain him for questioning and run his identification. Police claim that Fleming then became disorderly and started yelling at them which apparently prompted them to handcuff him, throw him to the ground, and try to choke him to death.
For those that don't think the choke hold police applied to Fleming's neck can be fatal, one need only look at the case of Eric Garner, whose choking death was recorded on video as well—and he wasn't handcuffed like Fleming.
Below is the video which has since sparked an internal investigation.
RAW: Video shows alleged police brutality incident in Florence

WARNING: THIS RAW VIDEO CONTAINS STRONG LANGUAGE. Newly released video shows the incident in which allegations of excessive use of force by a deputy were made.Read the latest: http://bit.ly/2BO4uU9

Posted by WPDE ABC15 on Wednesday, February 20, 2019