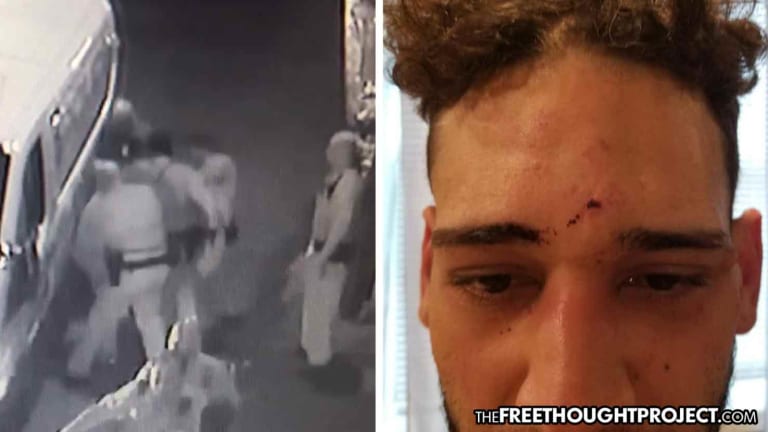 WATCH: Man Tells Cop He's Not So Tough Without a Gun, So 6 Cops Beat Him to a Pulp
After a man says cops began cursing him out, he challenged their authority and was seen on video getting the beat down of his life for it.
Allentown, PA — A video has gone viral on Facebook this week showing a half dozen Allentown police officers attack a man for challenging them. The video has since sparked an internal review in the department.
The video was captured on a resident's surveillance camera and although it has no sound, it does show that at no time did John Perez, 34, ever attack or otherwise become physically combative with police.
According to Perez, police were responding to a domestic disturbance near his home when he approached them to find out what was going on. As the video shows, Perez is seen walking up to the group of 8 officers and simply standing in front of them.
According to Perez, without provocation, the officers began hurling profanities and insults at him, so he suggested a fist fight to settle things. This was a terrible idea, but it was not a threat and only a request.
According to police, the officers were headed back to their vehicles when Perez started arguing with them.
"Out of nowhere the defendant showed up and mentioned something along the lines of 'you guys feel good about yourselves talking like that,'" Officer Jose Lebron said in the affidavit clearly indicating that Perez was reacting to how the officers were talking.
Perez then mentioned "something about our guns and took an aggressive step toward me," Lebron said.
Perez admits that he mentioned their guns, but only in regard to making a fair fight. This "aggressive step" is not visible on the video.
As the Morning Call reports:
Lebron told Perez to step back and get out of his face, according to the affidavit, which said Perez raised his arm and clenched his fist. An officer pushed Perez's hand away, Lebron wrote in the document, and Lebron again told him, "Get out of my face."

When Perez didn't back off, Lebron pushed him, according to the affidavit. Perez then "charged at me with both fists closed," Lebron said, adding that Perez was trying to pull him down. That's when other officers assisted Lebron in subduing Perez and handcuffing him.
As the video shows, Perez appears to have his arms out to his sides with open palms. At no time does he appear to physically threaten the officer before being shoved to the ground. When Perez jumps back up from the shove, however, this was perceived as a threat and street justice was promptly doled out.
Capt. Bill Lake said the department evaluates officers' use of force. Lake said the department will investigate the surveillance video to determine its legitimacy and to see what happened before the clip that was posted online, the Morning Call reported.
"Any incident like this, it is evaluated later," Lake said. "We'll be taking steps to evaluate this one."
Perez claims that the video shows officers clearly assaulted him.
"They just started beating me, hitting me, almost tore my arm out of place," Perez said, who was then arrested on charges of disorderly conduct and released on unsecured bail.
After Perez got out of jail 15 hours later, he went to the hospital who treated him for a broken nose, and injured shoulder, swelling, and scrapes and bruises all from the multiple officers who punched and kicked him repeatedly.
"You push my brother and then you're saying you were arresting him after you pushed him?" Eduardo Perez said. "And then you say he's resisting? How was he resisting, you never came for him?"
Perez said he is planning on fighting the charges and hiring an attorney to pursue a misconduct case against the department.
While challenging the officer was a terrible idea, it doesn't necessarily constitute a crime. As TFTP has previously reported, yelling and even swearing at police are protected forms of speech, so the officers' reaction to Perez in the video below appears entirely out of line.
"I feel like I was not in the wrong at all. To give me charges for something that I didn't do, and then on top of that for [putting me] through the situation and going through the pain and headache, I didn't have to go through that, you know," Perez said.
The moment when you ain't allowed to ask questions to Allentown police dept smfh ????????‍♂️????????‍♂️... this shit ain't right , Embrace the pain member assaulted by Allentown pd Instagram: https://www.instagram.com/p/BnehFmIgwow/?utm_source=ig_share_sheet&igshid=jydnknx3l7n5

Posted by Miguel Rivera on Saturday, September 8, 2018