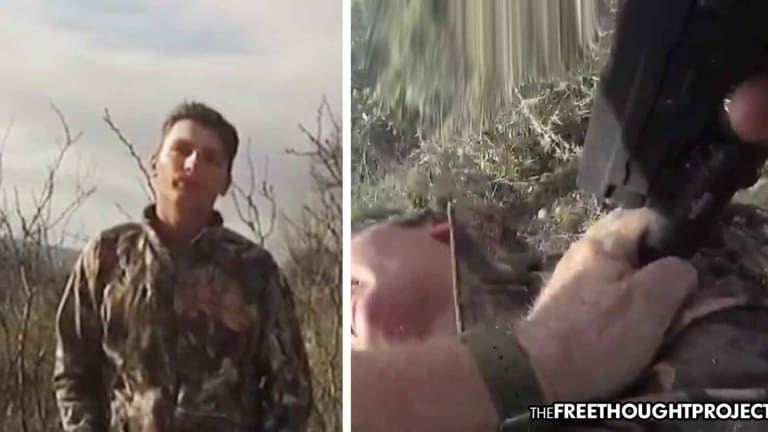 WATCH: Officer Tasers, Then Shoots Unarmed Man in the Heart as He Danced in a Park
The unarmed young man's only alleged "crime" was speeding down a dirt road in a national park. He had harmed no one.
Carlsbad, NM — On March 21, 2020, 25-year-old Charles "Gage" Lorentz was shot and killed by a National Park Ranger at Carlsbad Caverns National Park after he was pulled over for allegedly speeding on a dirt road. Body-camera footage of the incident was recently released, showing that Lorentz was unarmed and did not do anything to provoke the force used by National Park Ranger Robert Mitchell. He was merely dancing.
In the video, Mitchell is seen ordering Lorentz to spread his legs and he complies at first, but then he started dancing to music that can be heard playing from someone else's vehicle nearby. This act of defiance enraged Lorentz, who began commanding Lorentz to turn around and take his hands out of his pockets, and when Lorentz did not immediately obey, Mitchell shot him with his taser. At that point, the body camera cuts out for twenty-six seconds, and when the video resumes, Mitchell is on top of Lorentz and then fires his gun twice shortly after — once in the leg and once at point blank, directly into his heart.
Mitchell said that Lorentz punched him after he attempted to taser him a second time, which lead to the following scuffle and shooting. However, since those very important seconds in the film are missing, there is currently not enough evidence to confirm his story.
Furthermore, even if his version of events are correct, he still needlessly escalated the encounter. According to the police report, there were three witnesses who said that Mitchell lunged towards Lorentz with a taser but Lorentz fought back before being shot.
In the video, Mitchell can be heard explaining his side of the story.
"That's when I shot him with a Taser. It did nothing. I went dry stun, he hit me somewhere right here on the side of my head. The fight was on, he grabbed me around the neck, he tried to push my head into the push bar and I came up and fired one round. I don't know if I got him or not, but I definitely got him on the second one and he crumbled," Mitchell said.
It took Mitchell over eight minutes to get the first aid kit from his vehicle, and then an additional four minutes before he made any attempt to check out Lorentz's wounds.
Travis Lorentz, Gage's father, said that New Mexico authorities were slow to provide them with any information about the case and seem like they are trying to hide something.
"It bothers me. It makes me think that they are trying to cover something up," Travis Lorentz said.
No drugs were found in Lorentz' system which is usually a reason cops give for justifying deadly force. It appears he was killed for doing nothing other than speeding and holding his hands in his pocket. A tragedy indeed.
Lorentz death has since received the attention of several members of New Mexico's congressional delegation.
In a statement, Sen. Tom Udall said:
"There are no words to ease the pain that Gage Lorentz's family is enduring. Justice demands an immediate, full, and transparent investigation of this tragedy – for his family, and for all families who have experienced such devastating and unacceptable loss. The Lorentz family's pain and grave misgivings about how this case has been handled should be taken very seriously. And I am working in Congress to enact real reforms – like the Justice in Policing Act – to improve accountability and prevent law enforcement officers from abusing their power. I am also seeking answers about the status of National Park Service's handling of the tragic killing of Gage Lorentz. 
According to KOB4, Carlsbad Caverns National Park is in Rep. Xochitl Torres Small's district. She said Lorentz's death inspired her to co-sponsor the Justice in Policing Act.
"The Justice in Policing Act, if enacted, could have prevented Gage's tragic killing. His death requires a full and transparent investigation, and it is also long past time that we implement real change that ushers meaningful reform and accountability measures that keep our communities safe," Torres Small said in a statement.
Shannon Kennedy, a civil rights attorney in Albuquerque, represents Gage Lorentz's family, says that the family is planning on filing a lawsuit against the United States Interior Department and National Park Service.
"Let's start with the fact that this man takes a Taser and shoots Gage with no provocation from Gage whatsoever. There is no communication, there is no de-escalation. That park ranger is insane. He's out of his mind. What is he arresting him for? Driving too fast down a country road? And he takes his life over that? It's a citation. It's a warning. It's not a death sentence," Kennedy said.
Below is the original news story.