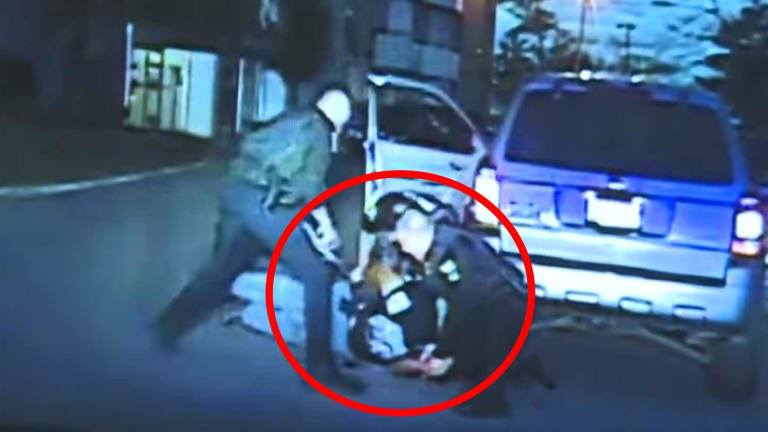 WATCH: After He Owned the Police Chief in Epic Rant, Cops Pull Over, Brutally Beat Veteran
After a community activist delivered an epic rant to the Euclid police chief in a viral video, he found himself surrounded by police, beaten and arrested.
Euclid, OH — Tensions among police and citizens in Euclid, Ohio have come to a head recently after police killed an unarmed 23-year-old man over stop for a marijuana roach and officers were seen on video pulverizing another man over a suspended license. In August, a video uploaded to Facebook captured an articulate rant by a military veteran about these recent events, directed at the police chief and mayor, which epitomized these tensions perfectly. After this video went viral, weeks later, the activist, Damian Parker found himself beaten and arrested by those same cops he wanted to hold accountable.
Friday night, Parker was swarmed by Euclid police officers who demanded he get out of his car. However, Parker, fearing for his life, refused.
"I get out the car and what? These guys jump on me and shoot me, plant something in my car?" Parker said.
As the stop progresses, officers quickly escalate force. Soon enough, Parker found himself being pulled from his car, forced to the ground, and beaten.
"When you've spent the better part of the last two three months trying to intimidate somebody, harassing somebody and all the sudden expect them to cooperate with you and play nice for the camera, that's not how it works," Parker said.
Police claim they were arresting Parker over threats he made on Facebook. In the report, Euclid police explain that they knew who Parker was because of some of his Facebook videos containing "threats against police."
"This is the same stuff that they said to the FBI," Parker said of these alleged threats. "The FBI reviewed it and said there were no threats."
The report also mentioned that because of "his history of possessing firearms, his military training and his failure to comply, it was necessary to protect the public."
According to Jeffri Riley, Parkers sister, the only thing Parker is a threat to is 'injustice.'
"He'll risk it all for anybody," Riley said.
As WKYC reported, Parker was charged with Obstructing Official Business, Resisting Arrest, Simple Assault on a police officer, Aggravated Menacing and Unlawful Transactions in Weapons.
In the video, it appears that one of the officers tries to stop his fellow officer from punching Parker by grabbing the cop's arm. However, he was unsuccessful.
This debacle began in March of this year after a Euclid police officer, responding to a call about a man sitting in his vehicle, shot and killed 23-year-old Luke Stewart. Officer Matthew Rhodes shot Stewart after Rhodes and officer Louis Catalani responded to a call about a suspicious vehicle on South Lake Shore.
Stewart, who left behind two children, was subsequently killed over a traffic stop and the officer was not charged. Naturally, the community was upset.
During a meeting over these events in August, Euclid Police Chief Scott Meyer announced the suspension of the officer who beat Richard Hubbard, noting that he will be suspended for 15 days without pay — the maximum number of days he could give officer Michael Amiott due to department rules.
After the announcement of such a weak punishment, Damien Parker confronted the police chief and the mayor to address the serious problem of corruption and brutality within their department. His well-worded rant was nothing short of epic.
"Whether or not you understand it, there are people like myself who have their hands on your reins," Parker said, noting he has every intention of holding the police and mayor's office accountable.
"I came up here to talk to you (mayor) and to you (police chief), so that those hands can still be on those reins," Parker asserts, noting how he's been respectful, before giving them an ultimatum.
"Now, if you think, for one second, that I am going to sit here and keep that same demeanor while you're kicking folks out, or telling them you're not going to speak or bring in your damn turtles (riot police) in here to start pushing people out, you got another thing coming," Parker, who is wearing urban camo and a tactical vest.
"I promise you, that as good as your guys are, as seasoned as some of your guys are," Parker explained, "my guys are that much better."
"Let's not do that," Parker said.
"Fire him," Parker says of the cop who beat up Hubbard. "He's a shit bag, and it's obvious."
After months of backlash, officer Micael Amiott was actually fired for the senseless beating of Hubbard. However, it appears that police may have retaliated for losing one of their own.