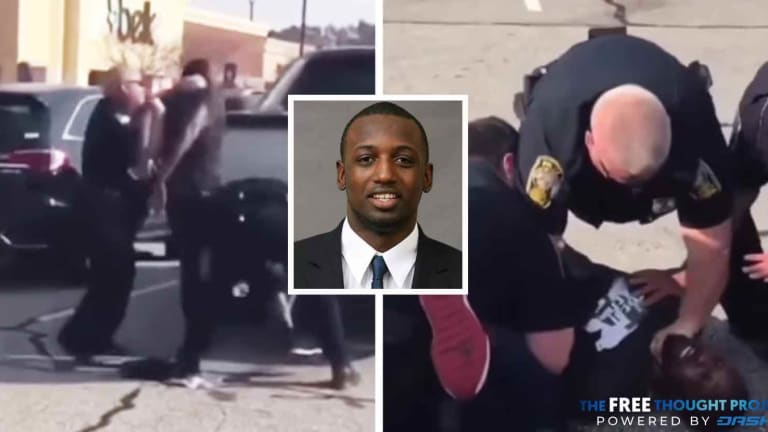 WATCH: Police Slam Handcuffed ex-NFL Player on His Head, Choke Him Out
Video of an ex-NFL player's alleged mistreatment by Georgia police has activist groups crying foul as it shows officers slam him to the ground and choke him, while he is in handcuffs.
Henry County, GA — Harrowing video posted by an ex-NFL player to his Facebook page this week is causing outrage in the community and has the alleged victim, Desmond Marrow, calling for justice.
Marrow is a former University of Toledo football player who also spent one season in the NFL as a member of the Tampa Bay Buccaneers. According to Marrow, he was unlawfully arrested after police mistook his cellphone for a gun.
"I Only Had My Cell Phone in my possession & they claimed to be scared for their lives . I had No type of weapon in my possession , I was arrested for having a Gun that turned out to be my Cell Phone . During the arrest the police knocked my teeth out, slammed me on my head and choked me out until I was unconscious," Marrow wrote. "In addition I suffered a shoulder strain and a concussion along with the heartache of my Wife leaving me during this Very Hard time for my short comings and careless actions."
As the video shows, police are walking Marrow to the cruiser as he tells them repeatedly, "I'm not even doin' nothin.' I'm not even fighting back."
All of a sudden, without clear provocation, police slam Marrow into the back of a pickup truck as one of the officers grabs his leg. The pair of cops then slams Marrow into the pavement causing him to scream out in agony.
Clearly upset that police are attacking him while he's handcuffed, Marrow continues to shout, "I didn't even do nothing to y'all!" as officers ask him to lie down. He then briefly flails in frustration from being attacked, prompting the officer to begin strangling him.
"I can't breathe," Marrow says as he struggles to inhale with the cop squeezing his throat.
"Settle down, just relax," another officer says, as if it is somehow easy to relax in handcuffs as multiple armed men pile on top of you.
After the officer took his hand from his throat, Marrow appears to be unconscious. "You okay?" asks one of the officers as he prods the handcuffed man in the shoulder.
"This is ridiculous," a witness is heard saying in the background.
While the video only shows a portion of the interaction, it apparently began over an instance of road rage and ended in a Target parking lot.
According to court documents provided to WATCH: Ex-NFL Player Desmond Marrow Slammed by Police During Arrest">Heavy by Black Lives Matter of Greater Atlanta, the incident happened on December 2, 2017, in a Target parking lot on Jonesboro Road in McDonough, Georgia. The incident began when Henry County Police were called to a report of a road rage incident involving Marrow. Dispatchers had told police that there was a "physical altercation," though police do not provide any evidence that any "physical altercation" occurred.
According to the redacted police report, Marrow told police that someone in a dark sedan tossed a coffee cup at his car as he was driving over Interstate 75, so Marrow followed them to "have a conversation."
"Marrow said that he was wrong for having chased the other car and that he should not have chased," Officer David Rose wrote in the report.
The person in the sedan told police that Marrow threatened to shoot him. However, a search of Marrow and his vehicle produced no weapons.
A witness said that he saw Marrow pursue the dark sedan by driving aggressively and attempting to block it in. The witness said the sedan then drove away and Marrow pursued it again. After hearing this testimony from the witness, that's when Rose decided to arrest Marrow.
I told Marrow that he was under arrest and told him to put his hands behind his back. He refused. At that point I pointed my taser at Marrow. I told him that he would be tased if he continued. Officer (Matthew) Donaldson and I then managed to get cuffs on him without me having to tase him. My taser was then out back into its holster. We attempted to search Marrow incident to his arrest. He was instructed to spread his feet apart to enable us to safely search him. He refused to spread his feet and he refused to comply with our verbal commands to do so. Officer Donaldson attempted to spread his feet and Marrow attempted to kick him. Marrow was also attempting to push himself away from the car he was standing beside. Marrow then kicked me with his left foot against my left.

Because he was struggling we attempted to put Marrow on the ground. He fought against this. He was attempting to turn away from my grip on him and was attempting to strike me with his left elbow. After several seconds of struggling he was put on the ground. Even so, he was still not complying with instructions to lay on the ground on his chest. I had to hold him on the ground as we repositioned ourselves. I had my left hand on the side of his shoulder but was still not able to keep him down. I told Marrow several times to stay on the ground and stop kicking. I was attempting to keep him from kicking Officer Donaldson or head-butting me as it appeared to me that he was attempting to do that.
This alleged head butt is not evident in the video below.
After he was arrested, Marrow, 30, was charged with making terroristic threats, reckless driving, aggressive driving and obstruction, records show. Tellingly, the former NFL player was not charged with resisting arrest.
Marrow's arrest could be entirely justified. However, that arrest is now in jeopardy because of the officers' decision to slam him to the ground and treat him with such violence after he had already been placed in handcuffs. Now, because of that senseless escalation of force, the taxpayers of Henry County will undoubtedly be shelling out money to pay for it.