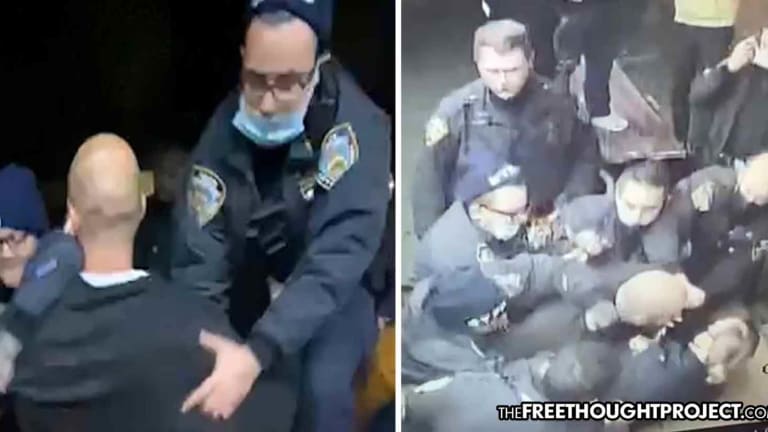 WATCH: 'Proud Police Supporter' Changes Mind After Swarm of Cops Beat the Hell Out of Him
A proud supporter of police, known for donating money to the precinct, has had a change of heart after cops on a power trip beat and arrested him.
Staten Island, NY — Awadeh Nemer, 30, is an outspoken supporter of police in New York — or, at least, he was one. That has since change, however, after he was beaten and arrested on what he says are false charges of disorderly conduct. According to Nemer, it was the cops who were disorderly, and he tried to tell them this.
Earlier this month, Nemer was sitting outside of his family's bagel shop in case there was unrest after the presidential election. Luckily for Nemer and his family, unrest did not impact their business — but thuggish cops certainly did.
As Nemer and several others sat outside the shop, they noticed a car in the parking lot with very dark tinted windows that was sending out "weird noises, like animal noises" from its speaker system.
Nemer, assuming the occupants of the vehicle were kids messing around, politely asked them to stop playing the weird noises.
"I'm like, 'Guys keep it down, it's 12:30 in the morning," he said he screamed, according to the NY Daily News. "I was being loud, yes. 'Guys, be quite — people are sleeping.'"
After telling the occupants of the vehicle to quiet down, the vehicle left for a moment, before circling back. When the vehicle stopped in front of Nemer again, instead of kids getting out, two cops jumped out and told Nemer he was under arrest.
Naturally, Nemer — who was a proud supporter of police according to the Daily News — was shocked when being told he was under arrest.
"Getting arrested?" Nemer asked with a laugh, thinking the cops he so proudly supports were clearly joking. "What crime?"
As the Daily News reports, Nemer said his family, which also runs a pizzeria and a food distribution company, regularly donates to police causes — and is aware how difficult police work can be. But he insisted he didn't do anything wrong and didn't want to hand over his ID.
That's when things took an ugly turn.
Nemer attempted to assert his rights, knowing that he had done nothing wrong and thought that the officers would understand this. However, the cops couldn't have cared less about Nemer's innocence and chose to escalate the situation instead. The officer threatened Nemer that he would call for backup and that is exactly what he did.
"I told you I was going to get the whole precinct here," the officer said as a swarm of cops arrived. "And look what I did."
When the officer attempted to search Nemer without his consent, Nemer pushed the officer's hand away. This was apparently justification for launching a full-on gang-style beating on the police-supporting bagel store owner.
"Not fighting," Nemer yelled repeatedly as the officers swarmed him like a pack of wolves.
Cops unleashed a fury of punches on the innocent man, injuring Nemer in the process, and sending him to the hospital. Nemer said that after he got home from his arrest, he spit up blood. He said his recent surgeries for a hernia and an ulcer were injured because cops repeatedly kicked him in the groin, causing internal bleeding.
This once proud supporter of police says that this attack has left him traumatized and when he sees a cop on the street now, he has to pull over because he panics.
"It's stressing me out," he said.
Eric Subin, an attorney for Nemer said they have since filed a complaint with internal affairs. The NYPD confirmed that they are looking into the incident and reviewing Nemer's charges of disorderly conduct, obstructing governmental administration and resisting arrest.
If you ask Subin, it wasn't his client who was being disorderly, it was the cops. And, if everything Nemer says about the unmarked car playing "weird animal sounds" is true, Subin is certainly correct.
"The cops were the ones being disorderly," Subin alleged.
Showing his level of support for police, when he was brought to jail, police reportedly apologized to him.
According to the News, while being processed at the 122nd Precinct, Nemer said a cop familiar with his family's police donations recognized him, and that the two officers who first confronted Nemer apologized for what happened.
"I just said, 'No, I'm good,'" Nemer said he replied. "It's too late now."
What this incident illustrates is that no one is safe from cops on a power trip. No amount of grovelling, obedience, innocence and even giving them gifts, will keep you safe from cops who are set on violating your rights.