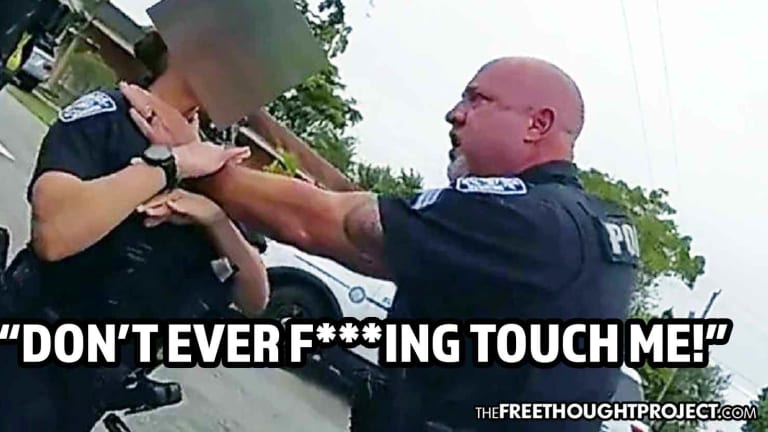 WATCH: Raging Cop Chokes Female Officer As He Demands All Other Cops 'Turn Off F***ing Cameras!'
Audio from a previously muted body camera video has been released documenting the crimes of a Florida cop who is still getting paid.
Sunrise, FL — Earlier this year, TFTP reported on the utterly shocking incident in which a massive cop grabbed a fellow female cop by the throat and choked her for trying to stop him from torturing a handcuffed man. That cop was never fired and though video was released it had the audio redacted because it was apparently too much for the public to hear — until now.
Veteran Sunrise police sergeant Christopher Pullease was the 21-year veteran of the department who strangled his coworker, and he was not fired. Instead, he has been on paid vacation for several months after he was captured on video strangling that female officer. Highlighting the lack of concern over his actions, Pullease remained on regular duty a week after strangling her and desk duty for two months after that.
The incident unfolded in November but he's yet to face any discipline other than the paid vacation.
Only after the video was released publicly did a criminal investigation ensue — months later. Had it not been released, we may never have known about it and Pullease could still be on regular duty. What's more, had a regular citizen grabbed a cop by the neck and thrown her against a police cruiser, they would most assuredly not remain free for months after the attack. They would have been beaten, arrested, and probably even killed. But Pullease simply gets to stay home and collect a paycheck.
"This (paid suspension) is a result of criminal allegations that have been uncovered due to the internal affairs investigation. The Sunrise Police Department is working in conjunction with the Broward State Attorney's Office during this criminal investigation," the department said in a statement.
As we reported, the incident unfolded on November 19, 2021 as Sunrise police were arresting a man at a local convenience store for allegedly assaulting people outside. When the video begins, the man is in handcuffs and being loaded into the police cruiser. Though the suspect, Jean Similien was putting up some resistance at first, eventually he sat down and got inside.
For months, we had no idea what anyone was saying as police released a muted video. Now, however, after the audio was released, Pullease's actions appear that much more egregious — including threatening the female cop and ordering other cops to engage in illegal activity.
As the video shows, the suspect's compliance was of no concern to Pullease, who pulled up to the scene after the suspect was in the back of the squad car. For no apparent reason, Pullease began threatening the suspect with a can of pepper spray.
Below is a transcript of the audio as reported by Local 10.
Jean Similien: "Alright, I'm getting in."
Sergeant Christopher Pullease: "Hey, look at me! Look at me! Look at me! You want to f***** play f****** games? You're playing with the wrong motherf*****!"
Similien: "Do what you gotta do man! You gonna mace me, mace me."
Pullease: "Look at me motherf*****. You want to play f****** games? You ever get disrespectful with my officers I will remove your f****** soul from you f****** body!"
Luckily for Similien, before Pullease "removed his soul," there was a good cop on the scene who was unafraid of stepping in to stop this bad cop in his tracks. As Pullease threatened the handcuffed man, priming the taxpayers of Sunrise for a lawsuit which they would be forced to fund, a brave female officer came from behind the raging cop and intervened and for this she was choked by the massive raging cop, twice her size.
Pullease reacts: "What the f*** you… don't ever f****** touch me again!" as he strangles his coworker.
Female officer: "No! . . Sir!"
Pullease: "Get the f*** off me!"
Female officer: "Sir!"
After choking the female officer, Pullease then threatens her, saying he'll be back.
Pullease: "And I'll f****** see you in about 5 minutes!"
When he comes back, Pullease made the unlawful order saying "Everybody turn off their f****** cameras."
No one knows what happened after except for the people on the scene.
Despite this clear act of assault captured on video, Pullease has been collecting a paycheck as the department investigates. in January, 7 News asked why that was the case.
"If one of us had ever grabbed an officer by the throat, we would be arrested. We would be put in jail. Why is that not happened with him?" 7 News asked the chief as he dodged the question.
"So there's some details of the investigation that I've not disclosed, that I'm unable to disclose right now, and if any of the information that comes up during the investigation rises to a level of criminal behavior or criminal conduct, then we'll address it appropriately."
Imagine watching the officer's actions in the video below and not seeing criminal behavior.