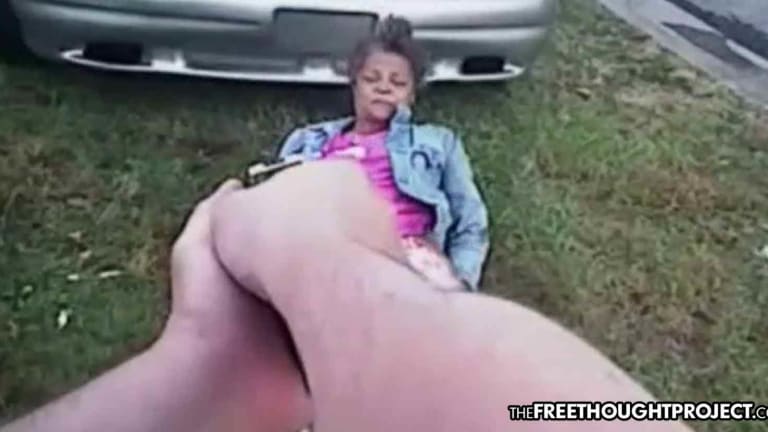 WATCH: Sadistic Cop Tasers, Kidnaps Innocent Mom and Dad as They Search for Their Children
A sadistic cop was captured on his own body camera torturing an innocent couple with his taser as they looked for their children.
Louisville, KY — The taxpayers of Louisville already paid a couple abused by a tyrant cop $50,000 for their ordeal which included false arrest and being tasered while compliant. But it took two years for the city and the police department to fire officer Gregory Satterly.
The conflict started when Statterly responded to a home where Stephon Beckam and his wife Nyshan Beckham were accused of trespassing. The Beckams were looking for their children who were involved in a custody dispute and maintain the home was a family member's. Satterly arrived and ordered the couple to leave the premises. They refused, still wanting to find out where their children were.
Beckam can be seen jerking Mrs. Beckham's court documents out of her hands. She wanted her documents back, presumably documents related to the ongoing custody issues. When the officer forcefully removed the documents from her possession, Mrs. Beckham fell out of the car, was then violently taken to the ground, and eventually ordered by Satterly to put her hands behind her back.
The apparently distraught mother was screaming for a supervisor and did, indeed, put her hands behind her back when Satterly chose to escalate his use of force and use his taser against her. He tasered the completely compliant woman. Shortly thereafter, Mr. Beckam was also manhandled, having his head slammed and pressed into the concrete. Both the man and his wife were illegally kidnapped, caged, and extorted for having broken absolutely no laws.
While seated like a common criminal, in handcuffs, in the back of Satterly's squad car. Mr. Beckam made a promise which he kept, although it took two years to do so. He told Satterly:
You think you are going to get away with that don't you?...I'm going to get you for assaulting my wife – and me.
Both Beckhams were charged with resisting arrest and trespassing but those charges were dropped in 2017 by prosecutors who apparently knew they did not have a case against the Beckams. They secured a lawyer and planned to sue for the apparent torture they received at the hands of a bully cop. Instead of suing, the family settled out of court for $50,000.
The Beckams and their lawyer, David Johnson, were miffed it took over two years for the internal investigation to be completed which resulted in Satterly's firing this past April. Johnson described what happened in the interim while a tyrant cop was allowed to continue policing. He said:
He continued to have a job and carry out two more incidents, that we are aware of...It's not clear how an officer could have a job after what happened in this body camera footage alone.
Police departments often run interference when complying with open records requests. Such appears to be the case within the LMPD and alleged abuses which Satterly initiated. Johnson requested body camera footage for Satterly's other alleged abuses of power involving use of force incidents. He was told by a LMPD spokesperson it could take months to produce.
Although a kid with a computer and access to the files could drop it onto a memory card within seconds. We have observed this delay in producing documents over and over again inside police departments. They must comply with the law and produce open records requests in a timely manner but they appear to be the ones who control the timeline.
In a rare move by law enforcement agencies, the Kentucky Law Enforcement Council helped change state law to prevent what TFTP refers to as "Gypsy Cops" — cops who get fired from one department and move on to continue working at another department within the state of Kentucky. Unfortunately for the public, the law did not take effect until this summer, months after Satterly was fired. The new law prevents officers from resigning amid an internal investigation. Satterly is now free to get another job as a cop somewhere else.
https://m.youtube.com/watch?v=iyLc124I-bg