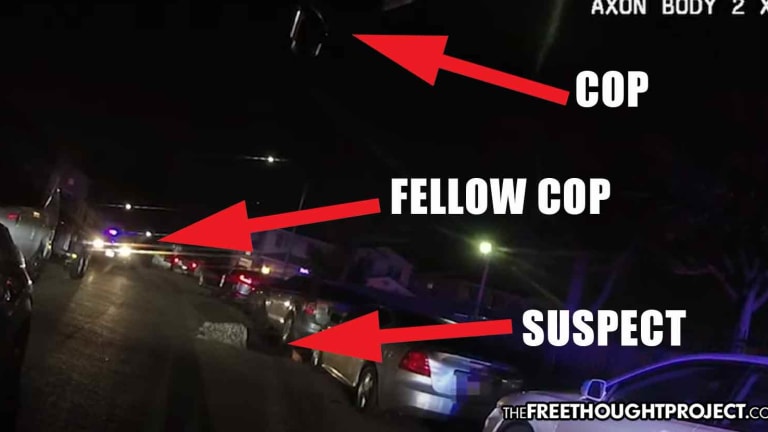 WATCH: While Shooting Wounded Man on the Ground, Trigger Happy Cops Shoot One of Their Own
While shooting at a suspect who appeared to be surrendering, two trigger happy cops shot one of their own who was in their direct line of fire.
El Cajon, CA — Body camera footage was released this week showing a graphic shooting that left a suspected trailer thief in critical care and a National City Police detective with a bullet hole in his body. The only folks who fired guns were police officers, Deputies David Lovejoy and Jonathon Young.
According to authorities, on Feb. 16, around 10:15 p.m., deputies with the El Cajon sheriff's department conducted what they referred to as a "high risk vehicle stop," for a stolen trailer. The driver of the van pulling the stolen trailer was 31-year-old Erik Talavera.
When police initiated the stop, there was no chase and Talavera pulled over in a cul-de-sac in El Cajon. According to police, Talavera exited the vehicle holding a knife and refused to drop it.
When the body camera footage begins, Lovejoy already had Talavera at gunpoint and is safely situated behind the door of his police cruiser. Moments later, Young arrives and assumes a similar position in which he points his gun at Talavera as well.
Talavera is over 30 feet away from the officers when they begin yelling at him to lie on the ground. As Talavera appears to be getting down on the ground, Young and Lovejoy open fire on him, dumping multiple rounds into his body.
As Talavera writhes in agony on the ground, the deputies continue to yell commands. When Talavera moves his hand forward, in the direction of the knife, one of the deputies fires two more rounds in complete disregard for the safety of anyone in the area, which were likely one of the rounds that hit their fellow cop.
After those two shots, Lovejoy can be heard saying, "I can't see what it is. He's got a small black object in his hand."
Young's camera records another deputy asking him if the item Talavera grabbed is a gun. Young responds initially that he "saw a black object," but a short time later, Talavera tosses the knife away as not to get shot again, and Young shouts that it's a knife.
They dumped over a dozen rounds from 30 feet away, in a populated neighborhood, into a man who was getting on the ground when asked to do so. As deputies approach Talavera, he is clearly injured and moaning in pain and despite the fact that Talavera himself threw the knife away, police offer no medical help, only handcuffs.
Officers then place him in handcuffs and continue to verbally berate him as he bleeds out on the pavement.
As the San Diego Tribune reports, authorities would later claim that the deputies "performed life-saving treatment on Talavera until they were relieved by paramedics." However, according to the body camera footage below, that was not true. The only thing they did was cut his shirt off and search him.
As the deputies are working on taking Talavera into custody, someone can be heard on the body camera footage saying that an officer had been shot.
"I got an officer down here," someone says, referring to the National City police detective who was shot by friendly fire.
The body camera footage did not capture the moment the officer was shot. However, early on in the footage, you can see an officer on the opposite side of Talavera from where Young and Lovejoy were positioned — meaning he was in their line of fire when they began squeezing off a dozen rounds at a man who appeared to be complying with their orders to get on the ground.
Both Young and Lovejoy have been placed on paid administrative leave, which is standard procedure.
The National City officer was shot in the leg and hospitalized and is recovering. According to police, Talavera is still in the hospital and has undergone multiple surgeries.
Earlier this month, we reported on a similar incident in which cops shot one of their own while pursuing a suspect. Unlike the National city police officer, Vancouver Police Officer Donald Sahota unfortunately did not survive the police bullets fired into him.