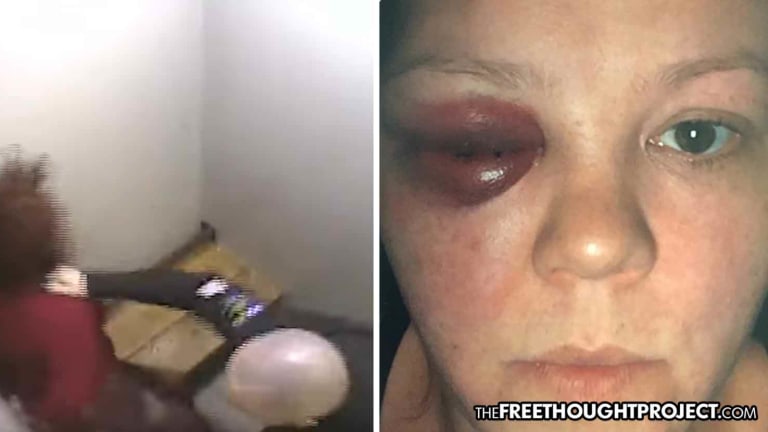 WATCH: Woman-Beating Cop Punches His Handcuffed Victim, Smashes Her into the Ground
A cop has been fired after disturbing footage showed him punch a handcuffed woman in the face for no reason and then slam her to the floor.
St. Albans, VT -- As TFTP has consistently reported, police officers in America beat and abuse their spouses and girlfriends at a rate far higher than the national average. Knowing that many officers have this propensity to beat women with whom they are in a relationship, it should come as no surprise that women they do not know are fair game as well. As the following disturbing video illustrates, even handcuffed non-threatening women can and will become the victims of woman-beating cops.
Sgt. Jason Lawton of the St. Albans police department was fired in March after it was discovered that he savagely beat a handcuffed woman for no reason and lied to justify the abuse. According to St. Albans Police Chief Gary Taylor, as reported by sevendaysvt.com, he's referred the incident to Vermont State Police to review for potential criminal charges.
"I think that his actions in this case are a poor reflection of the values of the people who make up this organization," Taylor said.
According to police, Amy Connelly, 35, was arrested for disorderly conduct on March 14 after she reportedly drunkenly ripped a man's shirt and refused to leave a bar. She was subsequently arrested and thrown in the St. Albans Police department jail.
As the video shows, Connelly was upset and kicking her feet against the door. Instead of simply ignoring the woman who couldn't harm anyone while handcuffed and locked in a cell, Lawton opened the door and shoved the woman against the wall.
According to Lawton's report, Connelly then jumped up and kicked him so he had no other choice but to deliver a fist to her face and slam her to the ground.
However, the alleged kick never happened.
As sevendaysvt.com reports, police video of the incident, captured from different angles and filed in court last Thursday, does not support the assault allegation, according to attorney Albert Fox. Rather, he wrote, in a motion asking the judge to throw out the charges, the footage shows Lawton assaulting Connelly, and represents "an absolute miscarriage of justice and a shameful abandonment of the duty police officers owe the public."
As the video shows, Connelly is sitting in a tiny room with her hands handcuffed behind her back. As she starts kicking the door in protest, Lawton opens the door and tells her to stop.
"No," she responded as she stood up.
To "protect" himself from the handcuffed woman, Lawton threw her against the wall, saying, "Don't come at me like that."
"How f**king dare you!" she yelled back. "He has hurt me!" she told another officer.
"Shut up!" Lawton yelled at her.
When Connelly stood up once more and raised her leg, Lawton reared back and delivered an uppercut to her face and then slammed her to the ground.
"You f**king kicked me!" Lawton said. "That was real stupid, real stupid, OK?"
"OK? You understand me?" he said. "So here's what we're going to do. Now you're gonna get an assault charge and now you're gonna go to jail. Is that clear?"
"Oh my God, you guys … You guys are brutes!" Connelly said as she's being held to the floor by multiple officers while she is still in handcuffs.
"Yup, sure. You just tried to take me," Lawton responded.
"You guys are animals," Connelly said crying. "Why would you do this? You guys have abused me!"
According to sevendaysvt.com, Lawton described the altercation in just a few sentences in his court affidavit, writing that he "delivered a front distraction strike to the right side of her face in an effort to gain control of her. This strike had the desired effect, as it distracted her from her aggressive behavior."
Lawton's report indicates that officers "immediately" called EMTs. She was handcuffed to a bar in the cell for about 10 minutes before medics came, the police video showed.
"She was eventually transported to the hospital," Lawton wrote.
"The video speaks for itself," Connelly's lawyer said, noting that they are pushing for criminal charges against Lawton before pursuing a civil case.
"I completely stand by the motion and believe that this charge was a miscarriage of justice," he said, referring to the simple assault case.
Fox is attempting to get the charges thrown out against Connelly, however, according to Seven Days, the state's attorney, James Hughes, told Seven Days on Monday that his office would likely still prosecute Connelly because "she was already arrested and in custody before this happened, so the facts of her actions were over and done by the time Jason came in on the situation."
"It was just abuse of power, abuse of force," Hughes said. "I now have to look into what happened in Shelburne to reassess that position, but until I do that, our plan was still to use him in at least a couple of the upcoming cases that he's got that look like they might go to trial."
Although he pointed out that Lawton abused his power, he was quick to praise the "drug recognition expert."
"He seemed to have a good head on his shoulders," the state's attorney said. "But I think his temper got the best of him."
ACLU of Vermont staff attorney Jay Diaz said that their organization requested the video back in May and questioned why nothing was done to stop it or to report Lawton.
"Why didn't the other officers there put in a complaint? Why wasn't this known about months earlier?" Diaz said. "Any use of force, especially one that required so many resources, should be reviewed by department leadership."
"I'm glad to see the officer is off the force and, hopefully, he won't be able to bounce to another location," Diaz said. "Clearly, his demeanor and the way he acted was so beyond the pale. It was immediately recognizable that this is a person who should not be a police officer."
We agree. If you can be okay with beating a handcuffed woman, you have no business being a free man much less a public servant.