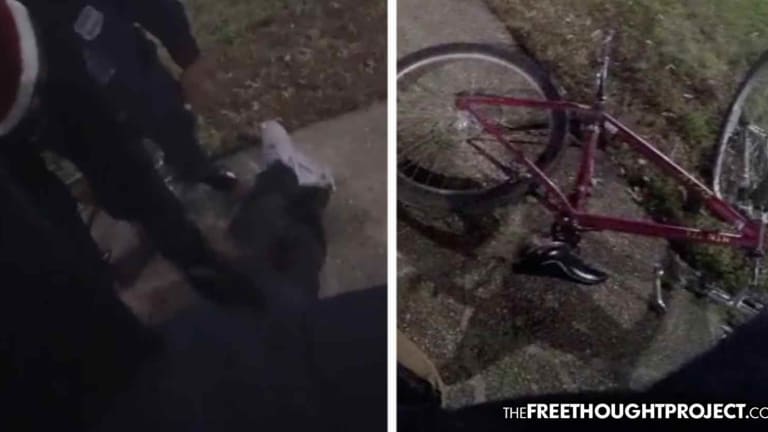 WATCH: 'You Have No Light!'—Cops Shatter Innocent Man's Leg for Missing Bicycle Light
For riding his bicycle on a sidewalk at night without a light on the front of it, an innocent man was attacked by police who shattered his leg.
Norfolk, VA — In the land of the free, police can and will detain and extort you for improper bicycle lighting. If you try to escape this extortion, you can be mowed down by a police cruiser, mauled by a police K9, or, as the following incident illustrates, you will be hospitalized with a shattered leg.
On the night he was attacked by police and hospitalized, Derrick Roundtree had harmed no one, committed no crime and was merely riding his bicycle back from a nearby convenience store. After leaving the store, Roundtree continued to his friend's house in the Tidewater Gardens public housing complex.
It was Christmas Eve in 2018 as Roundtree rode his bicycle home, passing a Norfolk police officer in the process. That officer, Aaron Christie, briefly flashed his lights and said something inaudible over the loudspeaker as Roundtree rode by.
Roundtree — as he was on a bicycle — was confident that the officer must have been going after someone else, so he continued to slowly ride back to his friend's house.
Clearly having nothing better to do than to attack and arrest people over bicycle lights on Christmas Eve, Christie initiated a pursuit and drove after Roundtree. The interaction was captured on body camera footage and is now the subject of a $1.5 million lawsuit.
As the body camera footage shows, officer Christie jumps out of the cruiser and begins running after Roundtree, who is not attempting to flee at all. Roundtree is slowly peddling down the sidewalk as Christie runs up behind him, never identifying himself as a police officer and only saying "stop" one time before waylaying the innocent man, sending him crashing into the concrete.
The fall broke Roundtree's leg in multiple places and as he writhed in agony on the ground, this innocent 43-year-old on his way to his friend's house, tried to figure out why he was just attacked by police.
"Why you do that to me, bro?" Rountree asks. "I ain't do nothing."
"You have no light (on your bicycle)," Christie responds. "We tried to stop you. You tried to run."
"For real?" Rountree asks in complete disbelief. "You serious man? I didn't know you had to have a light for a bike."
In excruciating pain and in clear shock from the attack, Roundtree is still blown away that he was attacked for not having a light on his bicycle. After the stop, police charged Roundtree with a headlight infraction and obstruction — falsely claiming that he tried to flee from them.
In a deposition earlier this year, an attorney for Christie asked Roundtree why he didn't stop when the cruiser he passed flashed its lights and spoke over the loud speaker.
"Because I'm on a bicycle," Rountree said. "What would he stop me for?"
As the Virginian-Pilot points out, the lawsuit, filed in U.S. District Court in Norfolk in December 2020, argues Rountree's actions on the video show he posed no threat to anyone, and was riding too slowly for police to claim he was fleeing from them.
As police themselves couldn't prove that Roundtree was fleeing, the obstruction charge was later dropped. Roundtree would be hospitalized for days with multiple breaks in his right tibia and fibula bones — for a $15 ticket for a bicycle light.
The department would later investigate themselves and determine they did nothing wrong and Christie was put back out on regular duty. Roundtree's lawsuit is scheduled to go to trial in March, although sadly, he will not be present.
Earlier this year, he was an innocent bystander near a grocery store when a drive-by shooting unfolded. A stray bullet killed him and as the cops are seemingly more concerned with catching folks without the proper bicycle lighting than catching murderers, Roundtree's killer is still at large.