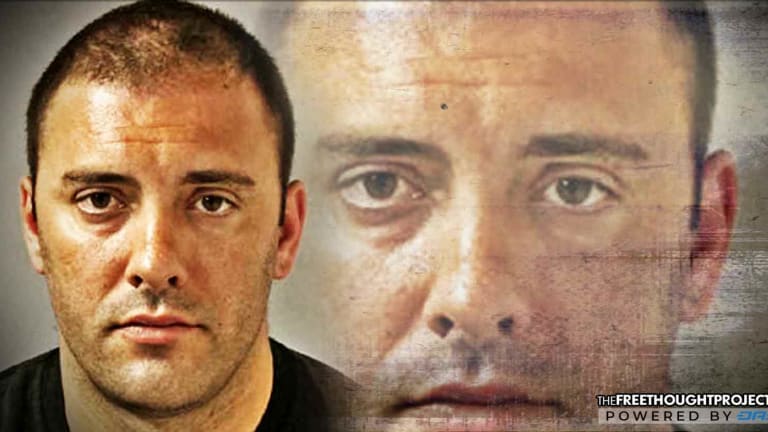 Witnesses Turn in Uniformed Cop After Watching Him Beat His Girlfriend in School Parking Lot
While attending their son's graduation from elementary school, a uniformed police officer and his girlfriend got into a verbal argument that ended with the officer's arrest after he allegedly beat her in front of witnesses.
Nashville, TN — A Bell Buckle police officer was arrested this week after multiple witnesses watched in disbelief as he attacked his girlfriend in the parking lot of their son's elementary school—while in his uniform.
According to police, on Tuesday, officer Ian Ray and his girlfriend attended McGavock Elementary School for a child's graduation when the two got into a verbal argument during the ceremony.
Ray was in uniform at the time and multiple witnesses reported seeing a police officer grab his girlfriend around the neck or hair and brutalize her. During the altercation, witnesses called police who showed up and then arrested the officer.
As is the case in so many domestic violence incidents, the abused spouse then attempted to tell police that it was their fault.
According to the report, "She stated that when they arrived at the school, she and Mr. Ray were yelling and the daughter ran into the school to get ready. She stated that once outside of the vehicle they were continuing to yell and she popped the hood of the vehicle and was trying to disable it so Mr. Ray could not leave."
The report continued, "She stated that Mr. Ray got in the driver's seat with the keys and when she thought he was going to leave, so she claims she jumped in Mr. Ray's lap to get the keys when she also bumped the horn and then exited after a brief struggle for the keys. She claims that it was her fault and she walked away upset and asked the secretary if there were cameras."
However, according to five independent witness, watching from multiple directions, it unfolded in an entirely different manner. All of the witnesses described the exact same scenario.
As WKRN reports, according to the affidavit, multiple witnesses said they saw Officer Ray grab his girlfriend either by the hair or the clothes, pulling her off her feet and into the car.
On Wednesday, the town's mayor responded to the incident with the following statement.
"I firmly believe in our justice system and they will take everything into account and do the right thing," she said. "Once they make their decision, then Bell Buckle will make their decision and we will do the right thing and wait for the court system to do their job."
On top of getting arrested for beating his girlfriend in a school parking lot, it was also revealed, according to the Department of Commerce and Insurance, that Ray's armed security guard license expired in January.
However, in response to the expired license, the department said, "Ian Ray was certified in April 2018 and attended Walters State Community College. He has been with the Bell Buckle Police Department since September 2017."
As TFTP has reported, police in the US beat their wives and girlfriends at nearly double the national average. And, a report by a government-appointed watchdog group shows that most of them do so with seeming impunity.
A study conducted by the Domestic Violence Task Force called Domestic Violence in the Los Angeles Police Department: How Well Does the Los Angeles Police Department Police Its Own? revealed that performance evaluations of cops with a history of domestic violence are largely unaffected. The study of the LAPD examined 91 cases in which an allegation of domestic violence was sustained against an officer.
Over three-fourths of the time, this sustained allegation was not mentioned in the officer's performance evaluation.
Twenty-six of these officers (29%) were promoted, including six who were promoted within two years of the incident.
The report concluded that "employees with sustained allegations were neither barred from moving to desired positions nor transferred out of assignments that were inconsistent with the sustained allegation."
Sadly, it is estimated that many of the abused women never come forward as they know the likely result -- which is getting shamed by the department for reporting it and potentially more abuse.
Diane Wetendorf, a specialist on police abuse, points out the most common fears when reporting police domestic abuse in her handbook:
If your abuser is an officer of the law, you may be afraid to:
Call the police — He is the police.
Go to a shelter — He knows where the shelters are located.
Have him arrested — Responding officers may invoke the code of silence.
Take him to court — It's your word against that of an officer, and he knows the system.
Drop the charges — You could lose any future credibility and protection.
Seek a conviction — He will probably lose his job and retaliate against you.
These fears can make someone feel incredibly trapped and feel like there is no way out.
If you or someone you know is a victim of this type of abuse we encourage you to no longer remain silent. As long as people go unpunished for their abuse, they will continue their abuse.