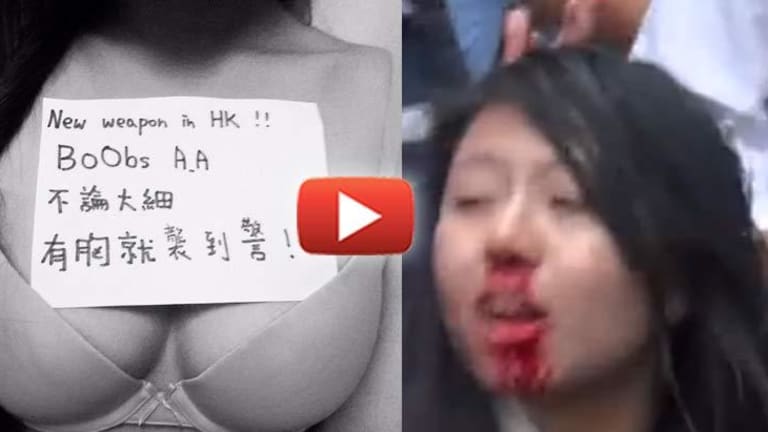 Woman Charged with Assaulting an Officer -- With Her Breasts -- After a Cop Assaulted HER
A young woman was accused by police of assaulting a cop with her breasts after being roughed up by police.
A 30-year-old woman from Hong Kong was recently arrested and convicted for assaulting a police officer with her breasts.
Ng Lai-ying was arrested by a police officer during a protest this March after the officer allegedly grabbed her breasts "by accident." The woman began yelling "indecent assault" but was arrested and taken in by the officer anyway.
When the case turned up in court, the magistrates accused her of using her "female identity to trump the allegation that the officer had molested you."
It was reported that the officer had no visible injuries, so it is unclear how the woman could be charged with assault. It also seems somewhat impossible to injure or assault someone with your breasts. Even the officer who was allegedly assaulted claims that she "bumped" his arms with her chest, something that does not seem like it would cause any injury.
The woman, however, was injured, and can be seen in photos with a bloody nose during the protest, just after her encounter with the officer.
A similar situation occurred during the Occupy Wall Street protests years ago in New York City, when activist Cecily Mcmillan was assaulted and groped by police, and then was later charged with assault herself.
Apparently it's not just U.S. cops who have a problem keeping their hands to themselves.
John Vibes is an author, researcher and investigative journalist who takes a special interest in the counter culture and the drug war. In addition to his writing and activist work he organizes a number of large events including the Free Your Mind Conference, which features top caliber speakers and whistle-blowers from all over the world. You can contact him and stay connected to his work at his Facebook page. You can find his 65 chapter Book entitled "Alchemy of the Timeless Renaissance" at bookpatch.com.