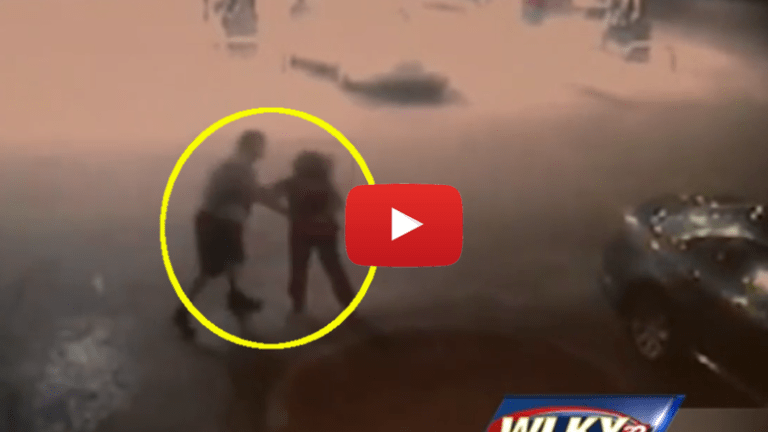 Power Tripping Off-Duty Cop Brutalized Woman In Front of Her Child For Parking Crooked
Antwynette Houston, of Louisville, Kentucky is suing an LMPD officer who can be seen assaulting her on security camera footage.
The officer was off-duty and in plain clothes at the time of the attack, and according to Houston, the altercation began because the officer did not like how she parked her car.
Late one night, Houston pulled up at a local convenience store near her home and was approached by off-duty officer Scott Sturgeon who began to confront her about her parking job. According to the police report, Houston first parked in a handicap space without realizing it, and then moved her car to another space when Sturgeon told her to move.
When Houston moved her car, Sturgeon was not satisfied because the car was allegedly crooked, and touching the painted line on one side of the parking space. Next Sturgeon became aggressive with Houston, accusing her of being drunk and demanding her ID. Frightened, Houston called 911 to request backup and told the off-duty officer that she was going to wait for them to arrive because she was afraid of him.
"I asked him why are you harassing me, I haven't done anything," Houston told WLKY News.
Next, Sturgeon reached inside the car and opened the door from the inside so he could grab Houston and rip her out of the car. Sturgeon then attacked the woman and drug her over to his car. Houston's 9-year-old son was in the car the whole time, and witnessed the entire incident.
"He separated my shoulder and I had to have surgery and I had over 30 bruises on my body," Houston said.
The attack occurred late last summer, and Houston has still not fully recovered. She says that she suffers from PTSD as a result of the attack, and that the physical injuries sustained in the attack kept her out of work for over a year. Recently, after security camera footage of the incident surfaced, officer Scott Sturgeon was investigated by the police department, and while he was formally reprimanded, he was exonerated of excessive force charges.
The lawsuit against Sturgeon is still pending.
"She's continuing to suffer and so I'm just trying to get justice for her. Whatever that may be," Aubrey Williams, Houston's Attorney told reporters.
John Vibes is an author, researcher and investigative journalist who takes a special interest in the counter culture and the drug war. In addition to his writing and activist work he is also the owner of a successful music promotion company. In 2013, he became one of the organizers of the Free Your Mind Conference, which features top caliber speakers and whistle-blowers from all over the world. You can contact him and stay connected to his work at his Facebook page. You can find his 65 chapter Book entitled "Alchemy of the Timeless Renaissance" at bookpatch.com.