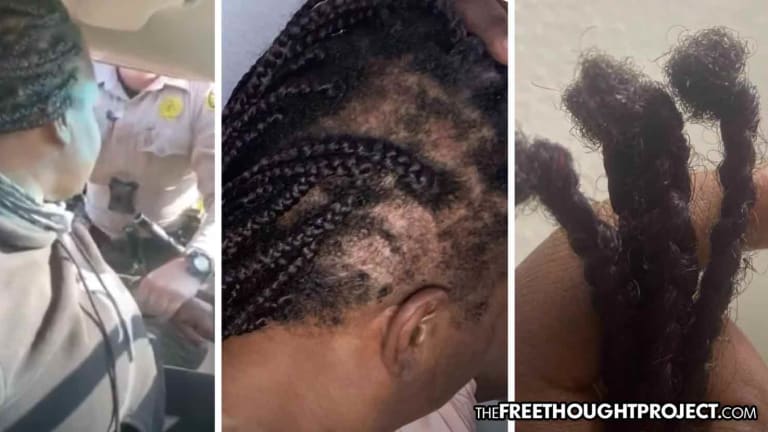 Cop Rips Woman's Hair from Her Scalp Over Broken 'Third Brake Light' That Was WORKING
A stop over working "third brake light" escalated to the point that a woman was dragged from her car and her hair ripped from her scalp.
Lakeside, CA — Shynita Phillips Abu was "jamming to music" in her car after a trip to a post office earlier this month when a San Diego County Sheriff's deputy targeted her for extortion. His reason for pulling her over and eventually assaulting her? He claimed her "third brake light" was out.
In the land of the free, petty traffic violations like third brake light bulbs can and will lead to innocent people being assaulted and kidnapped. While it is technically an infraction if your third brake light bulb is out, according to Abu, when she picked her car up from the impound lot after the deputy took it, the light was actually working.
Abu has since filed a complaint against the department alleging excessive force. The department is now investigating.
According to Abu, who filmed the interaction, the officer became belligerent during the stop when she disputed the reason for the stop. Abu says the officer apparently didn't like the fact that she was filming the arrest which made him angry.
"He started to yell 'put the phone down now,'" she said. "And at that point, I became afraid"
For a simple traffic ticket, the officer proceeded to escalate force and is seen on video dragging the woman from her car. He allegedly pulled on her with so much force that her hair was ripped from her scalp.
"He pulled me by my hair and yanked me out of my car by force," she said. "It was like he wanted to see me suffer."
Over a stop for an allegedly broken third brake light, the officer then handcuffed and kidnapped Abu, bringing her to jail for suspicion of resisting arrest and refusing to sign a citation.
"I had my hands behind my back for 6 hours straight," she said. "My body was so swollen and bruised."
After sitting in the jail for six hours, the LA Times reports that a "certificate of release," reviewed by the San Diego Union-Tribune, showed a deputy — whose signature is not legible — indicated there were insufficient grounds for booking charges.
Abu was then set free and the cop who abused her dumped her off at a local trolley station. Her car had already been impounded.
"It was uncalled for, it was abuse of power, [and] it was racially [motivated]," Abu said, and her supporters agree. They are now calling for the deputy — who has not been identified — to be suspended while the department investigates. They are also calling for the body camera footage to be released.
"We are tired of excessive force and no accountability," activist Tasha Williamson said at a press conference outside the police station. "We are not anti-police. We are anti-rogue officers."
The department now claims they are investigating the incident.
"We are aware of the incident and have initiated an investigation into the matter. We do not want to come to any conclusions until we have all of the facts," Sheriff's Department spokesman Ricardo Lopez said in response to Abu's complaint.
Abu said this experience over her brake light has helped her understand "exactly what happened to Sandra Bland." In Bland's case, the United States got a glimpse into the deadly nature of the police state and how a traffic stop over failure to signal can and will lead to death. Bland — who died in jail after being arrested over failure to use her blinker — became the symbol of America's horrific problems of in-custody deaths over ridiculous arrests. It has been over five years since the death of bland and the family has yet to obtain justice outside of their civil suit.