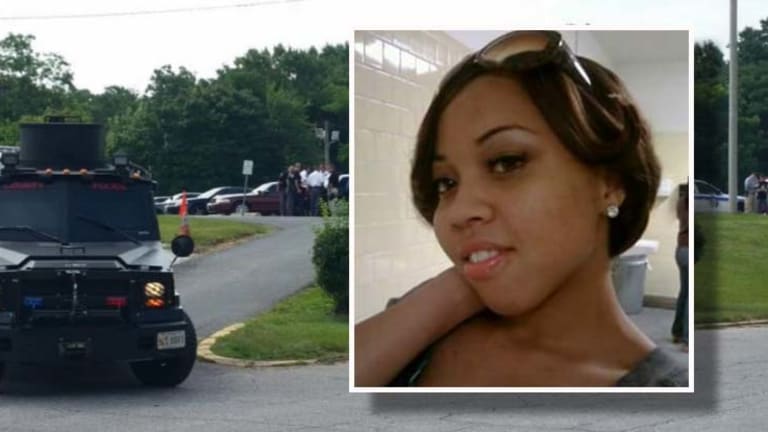 BREAKING: Baltimore Woman Killed, Her 5-yo Son Shot After Police Raid for Traffic Warrants
A young mother is dead and friends and family are crying foul after a Baltimore police raid to serve a warrant over traffic violations.
Baltimore, MD - A woman is now dead and a child shot after police raided a home to serve a warrant earlier today.
The woman was identified as 23-year-old Korryn Gaines, and it was stated by police that the child that was injured was a 5-year-old boy.

At 9:30 am, police arrived at Carriage Hill Apartments where the woman lived, and soon after police learned that there was a gun in the house, so they brought in greater force to deal with the situation. A standoff began which lasted throughout most of the day until the police decided to raid the home with guns blazing, killing Gaines and injuring the child. According to police, there was also a man in the apartment who attempted to flee, but was immediately captured while attempting to escape with a 1-year-old child.
The county made an announcement about the raid just after 5pm.
At a press conference hours later, police said that Gaines pointed a gun at them and threatened to shoot as they entered the home. Police opened fire first, and then she returned fire with two shots, but it was not mentioned whether any of her shots connected with their intended targets. The police have been very careful not to specify whether it was them or Gaines who injured the child, but it is obvious with the information available that it was likely the police. The police also claimed that Gaines pointed her weapon at them and threatened to kill them, but none of this can actually be verified, the only evidence is the statement from police. The police are refusing to reveal the most important detail of the case, which is why they were there in the first place and what the warrant was for. At a press conference police stated that she had failed to appear in court on charges of disorderly conduct and resisting arrest, however, this is not entirely honest. A quick search of the Maryland Judiciary Case Records shows that she was initially pulled over for littering, and then was given the other charges because of a resulting altercation between her and the officer. Reports have surfaced later in the week indicating that she was also charged with having an expired license plate, which she replaced with a piece of cardboard as many sovereign citizens often do, although she does not officially belong to the sovereign citizen movement. Gaines then failed to appear in court. All of these charges are incredibly petty reasons to raid someone's home in the first place, in spite of the fact that her actions during the raid may have been reckless. However, it does seem that the behavior that police claim she exhibited during the raid would be extremely out of character for her. Many of her friends have taken to social media to voice particularly concerning statements on this incident. According to one of her friends, Gaines was video recording the police when they were at her apartment, but then all of her social media accounts were mysteriously deleted.

The Free Thought Project will report on more information as it becomes available.
[author title="" image="https://scontent-dfw1-1.xx.fbcdn.net/hphotos-xlp1/v/t1.0-9/10527912_10208082564135735_1614536950516142179_n.jpg?oh=3a1f6b3e98ccb13c208591a8dd2bb9b3&oe=574D87F3"]John Vibes is an author and researcher who organizes a number of large events including the Free Your Mind Conference. He also has a publishing company where he offers a censorship free platform for both fiction and non-fiction writers. You can contact him and stay connected to his work at his Facebook page. You can purchase his books, or get your own book published at his website www.JohnVibes.com.[/author]