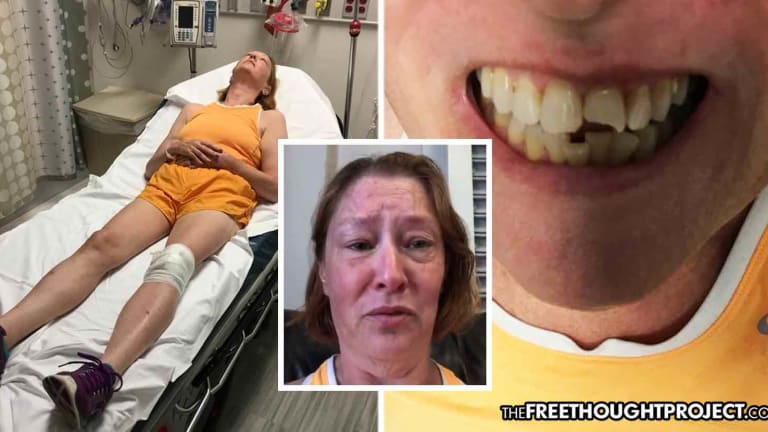 Cops Shatter 53-Year-old Woman's Teeth, Fracture Her Skull After She Tried to Film Them
A 53-year-old software developer says she was savagely attacked and beaten, shattering several teeth in the process, for filming the police.
Rock Hill, SC — A game developer thought she was doing the right thing last week when she witnessed an arrest at a local gas station and tried to tell police that they had the wrong man. However, when she attempted to film the arrest, according to the woman, she was attacked, slammed to the ground, her teeth broken, and her skull fractured.
The incident began last Wednesday evening as Patricia Pizer, who is a software and game developer, stopped at a Quik Trip in Bedford. According to police, they were responding to a domestic call at the gas station around 5:00 p.m.
The two stories then differ greatly after police arrived. According to a post on Pizer's husband's Facebook page, her husband claims that he watched the surveillance footage and it backs up his account as detailed below:
Video of the incident shows OFFICER Hernandez Talking to Patricia. He tells her to Walk away or be Arrested. She walks away and starts filming with her phone in Selfie mode. Cop runs up behind her and hits her like a football player. She leaves her feet and goes face first into the glass door of the gas station[.] cop then punches her in the head, Picks her up and slams her. AT NO FUCKING TIME DID SHE HIT THIS BITCH ASS COP. UGH!!!!!! Her teeth were on the ground. I actually found one on the scene[;] a piece of tooth. Blood as well [sic]
According to police however, they claim Pizer got in between them and the man they were attempting to handcuff, saying the man didn't do anything wrong.
Police then claim that after Pizer tried to stop the arrest, she allegedly hit and kicked the officer. Below is their statement:
The officer approached Ms. Pizer to place her in handcuffs when Ms. Pizer punched the officer in the head twice and kicked the officer once. The officer then attempted to put Ms. Pizer on the ground, however she grabbed the handle of the door to the store. The officer pulled Ms. Pizer to break her grip on the door. The officer then put Ms. Pizer on the ground and continued to attempt placing her in handcuffs.
As Arstechnia points out, one part of the story that all parties appear to agree on is that Pizer turned on her smartphone's camera and began filming the incident. RHPD's statements do not mention Pizer's allegation to WBTV that the arresting officer "saw that I was filming him, and he came up to me, and he smashed my camera out of my hand, and it went flying."
Pizer has since been charged with assaulting an officer while resisting arrest and she was cited for hindering police.
According to her husband, for attempting to film the police, Pizer suffered a fractured skull, five broken teeth, a dislocated shoulder, and several scrapes and bruises.
While we will certainly have to wait for the surveillance footage to be released before making any final judgement, the idea of police doing this and covering it up, is not far fetched. To those who may think smashing a woman's face into the concrete for filming is an outlandish claim, take a look through our archives at the horrific treatment people receive for simply trying to exercise their 1st Amendment rights. 
Update: Through a typo, the Free Thought Project reported this story to be out of Pennsylvania. This was a mistake and it actually took place in South Carolina. The story has been updated.