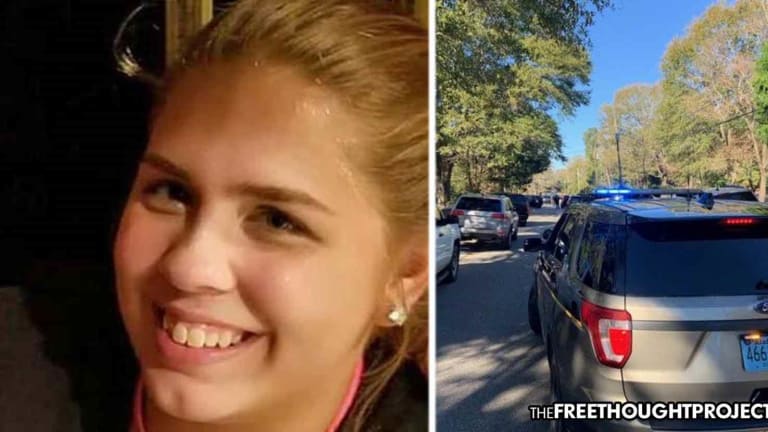 Innocent Teen Shot Defending Her Home from Cops Searching for Man Already in Jail
A 19-year-old girl was reportedly asleep in a recliner when police officers raiding the wrong home, broke in and shot her three times.
Mobile, AL — Ann Rylee, 19, had committed no crime, had harmed no one, and was sitting inside her own home last week when armed men — who happen to wear badges — broke in and shot her. Rylee is currently in the hospital fighting for her life after being shot by incompetent cops searching her home for a man who is already in jail — and who hadn't lived there for years.
Police entering the wrong residence in search of suspects is, unfortunately, quite a common occurrence. Sadly, most of the time the residents do not receive so much as an apology for the sheer terror they experience when it happens — if they come out uninjured. In the case of Rylee, however, police are blaming her because she defended herself.
Mobile County Sheriff Sam Cochran says officers opened fire because the woman pointed this shotgun at them — a fact the victim's fiancé disputes.
"This lady had armed herself with a shotgun and the entry team was giving her orders to drop the gun, put the gun down, drop the gun several times over a period of a few seconds it seems like," Cochran told WALA-TV.
She was hit "three or four times," he added.
While he was clear on this point, he was unclear on the reason for the raid and couldn't tell reporters why the cops were there in the first place as the man they were looking for hadn't lived in the house for years and was in jail at the time of the raid.
Rylee's fiancé, Christopher McLeod said authorities were at the home looking for his uncle, "who used to live at that house years ago."
Nicholas McLeod, the man authorities were looking for, was arrested on Wednesday — a day before the shooting — and booked at the Mobile Jail on charges of possession of drug paraphernalia and evidence tampering.
After blaming the victim for the three bullet holes in her body, police then blamed the botched raid on a "miscommunication."
"We've narrowed it down to one of two things: The investigators did not make one final check this morning to send teams out to make the arrests or warrants section did not communicate to the computer system — that the warrants were no longer active. We're running that down," Cochran told the news outlet.
The sheriff, who said it wasn't any of his own deputies who fired their weapons, added: "However, if she would not have pointed a gun at the agents — they would have determined all of that on the scene and would have bid her a good day and thank you very much."
However, Rylee's fiancé says the teen was asleep on a recliner in their living room when investigators showed up at their house on Thursday, according to FOX News.
He said he was outside emptying the trash with a friend before going to work when multiple officers, armed with rifles and wearing body armor, pulled up in vehicles and demanded they put their hands up.

He said they keep a shotgun in their living room for protection. Christopher McLeod said two federal marshals who had approached the home started yelling "gun" and fired multiple times before Rylee was shot.
"I just hope she's OK. That's my No. 1," Christopher McLeod said. "It's just so unfortunate because none of this needed to happen, it had nothing to do with us. We're just victims of an unfortunate situation."
Naturally, we will have to take the word of the officers in this situation because there is no body camera footage. However, Cochran says there is "video recordings" of officers asking Rylee to drop a weapon. Whether or not we will see that video is unclear.
As the Free Thought Project has reported numerous times, entirely innocent people are often shot or killed by police at the wrong home. The innocent home owner comes to the door with a gun to see who the intruders are and bang, they are met with a hail of gunfire from cops who failed to check their GPS or arrest records before assaulting completely innocent people.
Sadly, as it seems, none of the officers involved in this case will be charged as TFTP reported last year, cops can go to the wrong house, shoot or kill the innocent homeowner and face no charges.
A disturbing precedent was set in March of 2017 in a federal appeals court which ruled in favor of police who knocked on the wrong door at 1:30 am, failed to identify themselves, and then repeatedly shot the innocent homeowner until he died.
The homeowner, 26-year-old Andrew Scott had committed no crime when officers came to his home that night on July 15, 2012.
"Government officials insist that there is nothing unlawful, unreasonable or threatening about the prospect of armed police dressed in SWAT gear knocking on doors in the middle of night and 'asking' homeowners to engage in warrantless 'knock-and-talk' sessions," said constitutional attorney John W. Whitehead, president of The Rutherford Institute and author of Battlefield America: The War on the American People. "However, as Andrew Scott learned, there's always a price to pay for saying no to such heavy-handed requests by police. If the courts continue to sanction such aggressive, excessive, coercive 'knock-and-shoot' tactics, it will give police further incentive to terrorize and kill American citizens without fear of repercussion."
In the land of the free, those who claim they have sworn to protect you, can come to your house and shoot or kill you, and face no consequences by claiming you have no rights. This is why police in America kill more citizens than anywhere in the rest of the world. This is why people protest. This is why people are angry.