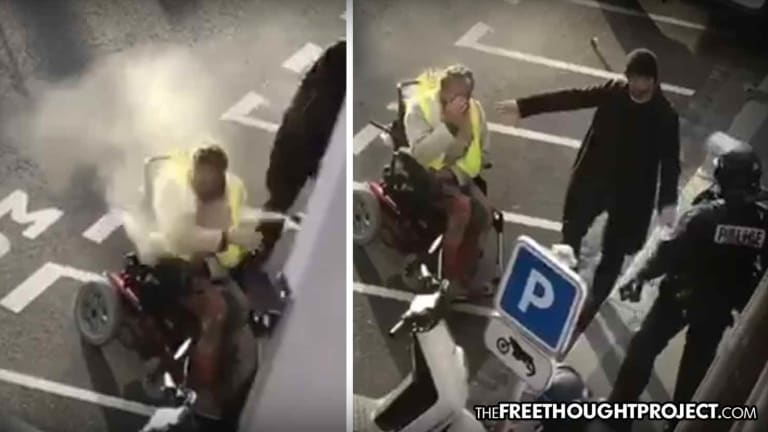 This is Why They Protest: Cops Pepper Spray Man in Wheelchair at Yellow Vest Protest
The French police showed why the Yellow Vests are protesting over the weekend when they pepper spray a disabled man in a wheelchair directly in his face.
Toulouse, France — A disabled French man in a wheelchair, who was participating in Saturday's Yellow Vest protest in Toulouse, France, proved the necessity of the protest after he was sprayed in the face at point blank range with pepper spray. The entire disturbing scene was captured on video.
The Yellow Vest protests in France have entered their 16th week as the populist movement continues to sweep the country and other parts of the globe. The protests have not been short on violence as police have been seen savagely beating single protesters as well as protesters fighting police.
According to the person who uploaded the video, Marie Pnose, the man in the wheelchair was interacting with police because they had taken his protective eye wear. As you can see in the video, the officer is holding a set of goggles.
The video shows the man arguing with the officer, who appears not to want to give him back his goggles. As the man in the wheelchair followed the officer, the officer—who could've simply stepped up on the curb—pulled out his riot control pepper spray and doused the man in the face.
The man did not appear to be attacking the officer in anyway and merely just pursuing him to get back his goggles. Despite posing no threat, however, he was dealt punishment in the form of a chemical weapon. This prompted a bystander to intervene and question the officer's tactics. The video then ends.
The video was uploaded Saturday by Pnose with the following caption, (translated from French to English.)
Even the disabled are not spared.

This astonishing scene tour in Toulouse has nothing to use the justified force.

"I have never seen any policeman attack a protester" are words out of Mr. Castaner's mouth.

If this scene is not an attack on the part of a policeman, but what is it?

There is no legitimacy behind this gesture, this policeman who has no dignity or a touch of honor and which allows to gas a person in wheelchair for no reasons must be punished.

Edict: yes this gentleman was looking to recover his protective glasses, and no he doesn't go on the legs of the policeman to ride him or what do I know, he was simply looking to recover his mask.
The policeman in front was not in defense in the face of a dangerous or violent element, the use of gas is therefore not justified.
[VIOLENCES POLICIÈRES] Même les handicapés ne sont pas épargnés. Cette scène ahurissante tournée à Toulouse n'a rien d'un usage de la force justifié. « Je n'ai jamais vu aucun policier attaquer un manifestant » sont des mots sortis de la bouche de Mr Castaner. Si cette scène n'est pas une attaque de la part d'un policier, mais qu'est ce donc ? Il n'y a aucune légitimité derrière ce geste, ce policier qui n'a aucune dignité ni une touche d'honneur et qui se permet de gazer une personne en fauteuil roulant pour aucunes raisons doit être sanctionné.Édit : OUI ce monsieur cherchait à récupérer ses lunettes de protection, et NON il ne fonce pas sur les jambes du policier pour lui rouler dessus ou que sais-je, il cherchait simplement à récupérer son masque. Le policier en face n'était pas en situation de défense face à un élément dangereux ou violent, l'usage du gaz n'est donc pas justifié.

Posted by Marie Pnose on Saturday, March 2, 2019
For those who have been paying attention, the violence at the Yellow Vest protests has been intense. Video after video has surfaced of police officers savagely beating unarmed protesters. In one instance, a protester was deemed a hero for fighting back against this violence. Christophe Dettinger, known as "The Gypsy From Massy," was recorded on video in January attacking riot police. In the video, the former professional boxer was seen wailing on an officer, punching through his shield and helmet.

After the video went viral, Dettinger was branded the "French Rocky," as police issued a warrant for his arrest.
While the video shows Dettinger as the aggressor, the former light heavyweight champion says those officers attacked him first.
"I was tear-gassed, with my friend and my wife, and at a certain point the anger just rose up inside me," said the 2007 and 2008 champion of France's light heavyweight division.
Dettinger turned himself into police and is currently still being held in jail. As TFTP reported at the time, a fundraiser was started for him and was highly successful, raising over $170,000. 
Dettinger has been held in prison since turning himself in and his trial began on February 14. The results of this trial have yet to be reported.
While Dettinger's attack on police is questionable, the idea that a man in a wheelchair should receive a punishment like the one in the video above is without a doubt uncalled for. As the violence against the French citizens continues, their case is made every day as to why they protest. It is no wonder the mainstream media is mum when it comes to reporting on it.