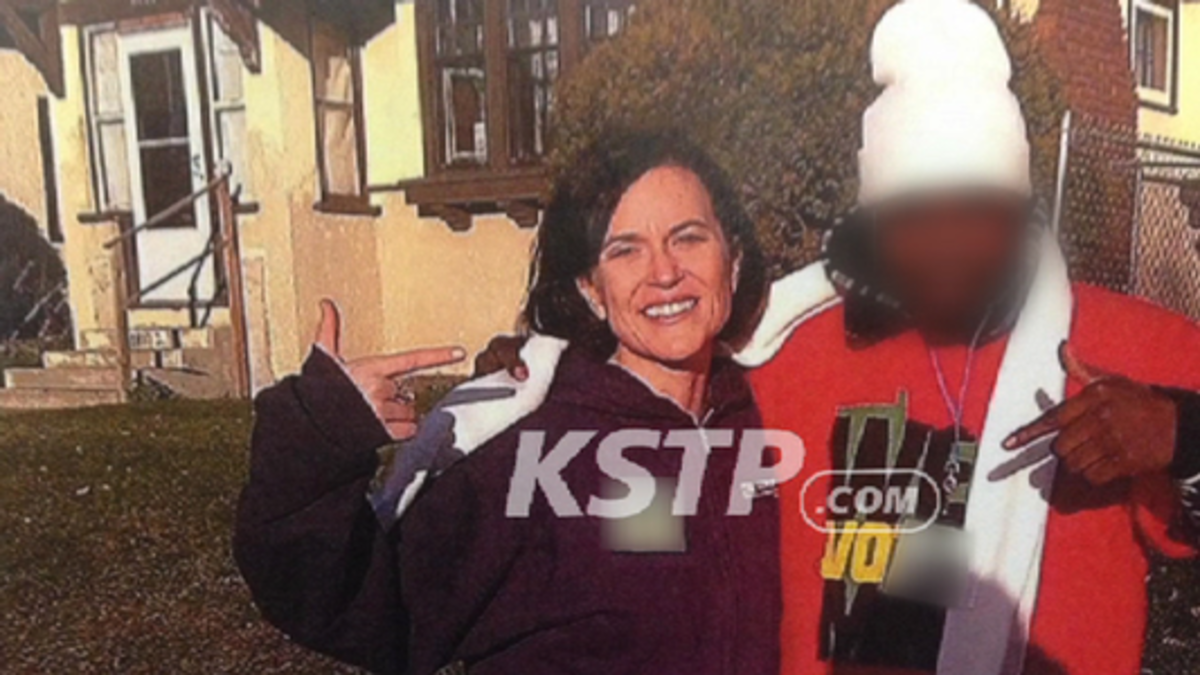 "She is legitimizing these people. She is legitimizing gangs who are killing our children in Minneapolis and I just can't believe it. It hurts"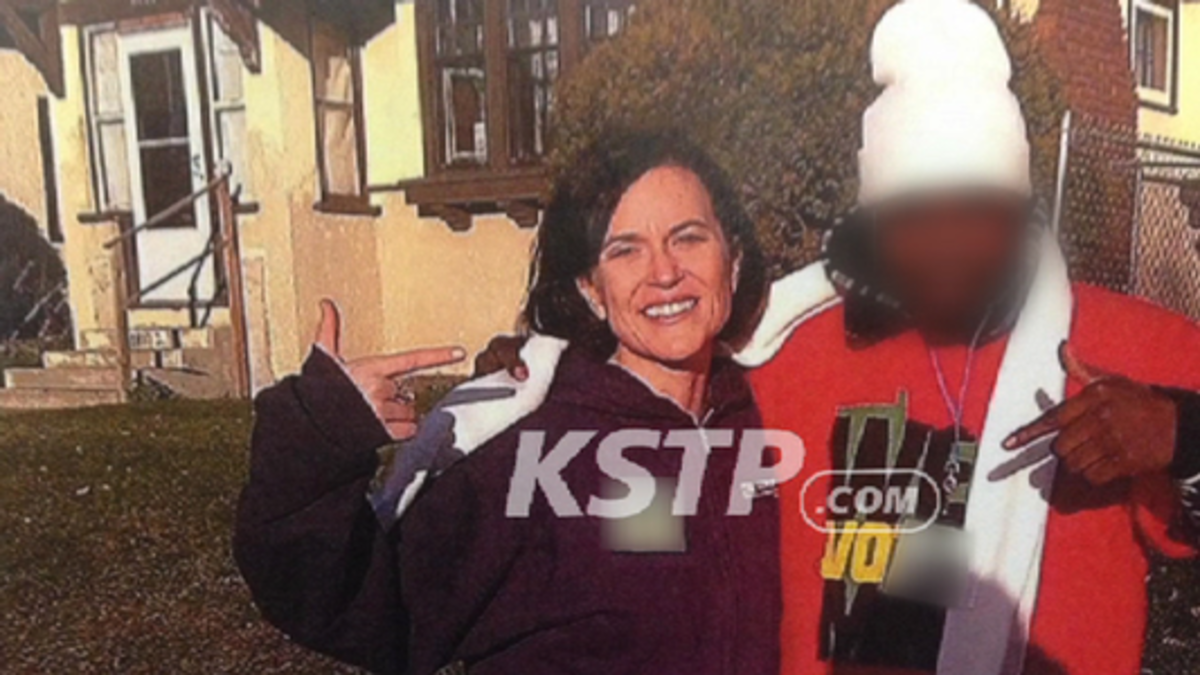 Minneapolis, MN — A photograph was obtained by a local news agency which shows Minneapolis Mayor Betsy Hodges posing with a convicted felon while flashing a "known gang sign."
According to KSTP, the man in the photo is a twice-convicted felon for drug selling and possession and illegal possession of a firearm. He is currently sentenced to five years at the St. Cloud Correctional Facility, with the prison term stayed for three years while he is under supervised probation until 2016. If he violates terms of his probation during that time, he will serve the five years behind bars.
Mayor Hodges was canvassing neighborhoods with a non-profit group when she posed for this photo a week before the November election.
Hodges declined to be interviewed by the news about this non-issue, however her spokesperson said that the mayor enjoys meeting many people who are organizing on the North side.
Her spokesperson also said that the man in the photo is employed by this non-profit and is "simply pointing at him" in this picture.
Now for the issue: Retired Minneapolis police officer Michael Quinn, who also managed the department's Internal Affairs Unit, says the photo is "disappointing because it puts police officers at risk."
That's right, he just said that a photograph of a woman and a man posing together, "puts police officers at risk." 
"She is legitimizing these people. She is legitimizing gangs who are killing our children in Minneapolis and I just can't believe it. It hurts," Quinn said.
Quinn says law enforcement agencies are "going to be pissed about this. They're going to be angry, and they should be."
Several law enforcement sources in separate agencies apparently voiced their concerns to KSTP and told them how they were outraged when they saw the photo and say the sign the mayor is flashing is known to be the sign of a gang on the city's North side.
This statement by Quinn and the reaction by police epitomizes the divide between law enforcement and those who are "served" by the supposed "justice system."
The mayor is actually treating the residents of this area like human beings. However, Quinn and the like, think that "these people" are the problem and taking photos with them in an apparent community outreach program is akin to throwing a molotov cocktail at the police station.
How dare Hodges treat people with dignity and respect?! Would law enforcement officials rather she run and dial 9-1-1 when seeing this man? Or perhaps she could have feared for her life and shot him?

DASH cryptocurrency and The Free Thought Project have formed a partnership that will continue to spread the ideas of peace and freedom while simultaneously teaching people how to operate outside of the establishment systems of control like using cryptocurrency instead of dollars. Winning this battle is as simple as choosing to abstain from the violent corrupt old system and participating in the new and peaceful system that hands the power back to the people. DASH is this system.
DASH digital cash takes the control the banking elite has over money and gives it back to the people. It is the ultimate weapon in the battle against the money changers and information controllers.
If you'd like to start your own DASH wallet and be a part of this change and battle for peace and freedom, you can start right here. DASH is already accepted by vendors all across the world so you can begin using it immediately.