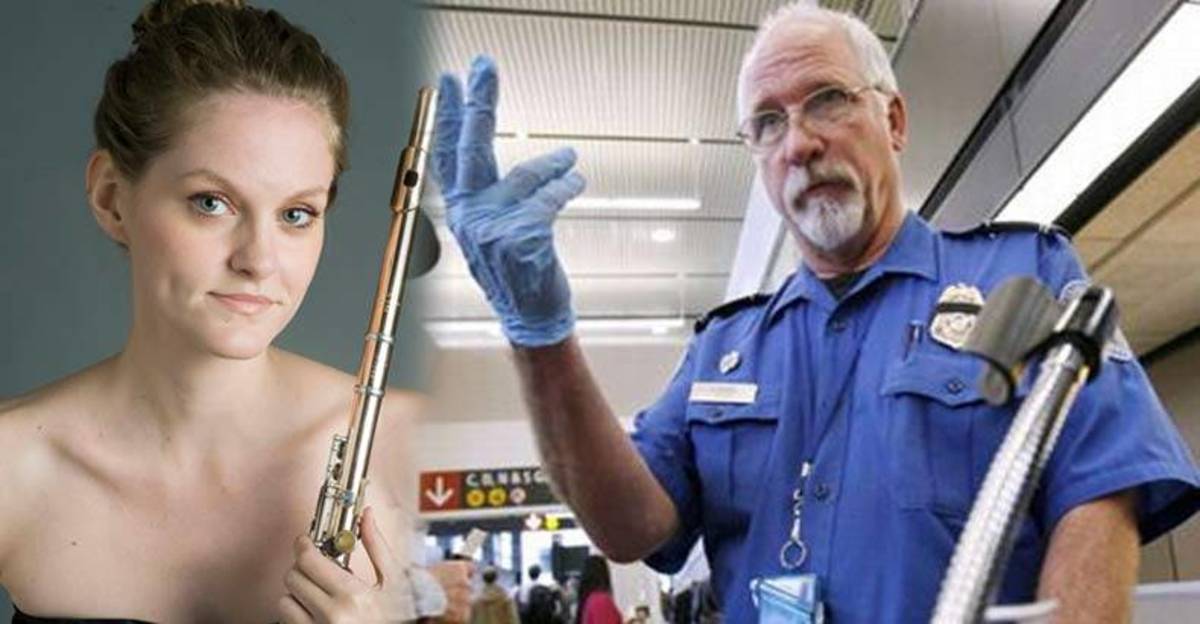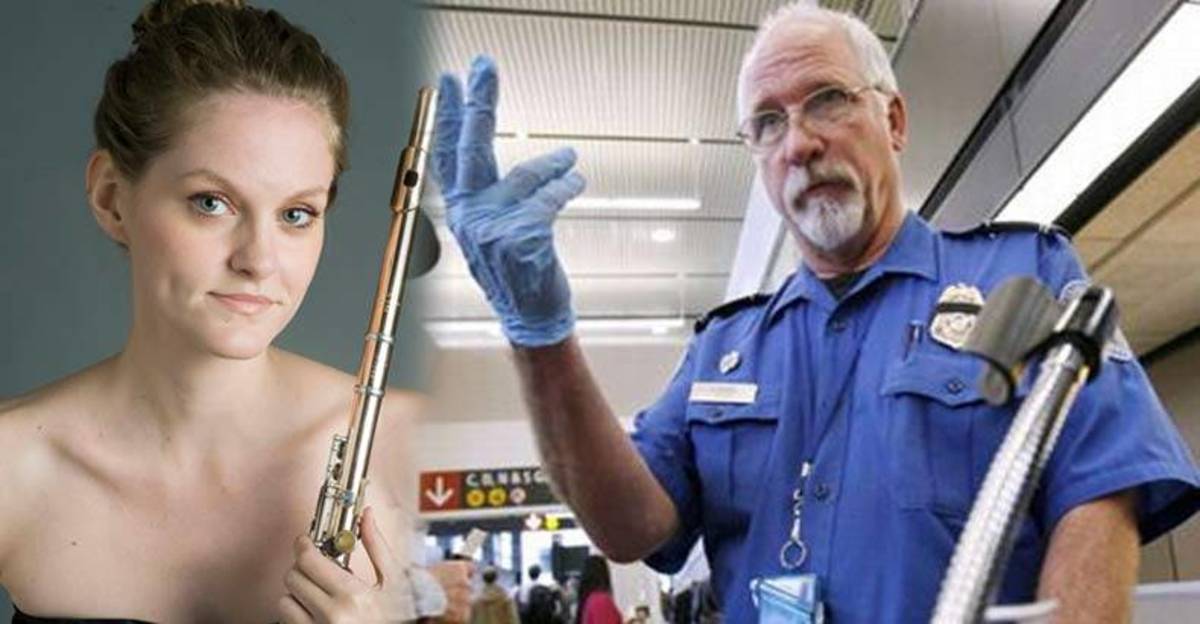 Chicago, IL — Jessica Schmitz is a musician, a flautist, to be exact. However, to the Transportation Security Administration, she is a potential threat to the very fabric of society — or at least they'd like you to believe it.
When this flutist, flautist…..flute player is not playing her beautiful flute made of gold, Schmitz is transporting it through airports on her way to gigs. However, in Chicago O'Hare International Airport, her usual routine of traveling unmolested would be brought to a grinding halt thanks to the TSA.
"I've flown with my flute at least a few thousand times, and it's frequent they ask to look at the case, even open it, to see what it is. But today a power-hungry agent decided to mess with me and said my flute head joint needed to be removed from its case and run thru the X-ray LOOSE in a bin," Schmitz explains to Slippedisc.com.
"I said this was absolutely not an option, despite three supervisors assuring me my flute made of gold 'would be fine' rattling around in a bin," she explained.
Refusing to curtsey oneself immediately to the blue rubber gloves gang, however, can land one in a world of hurt.
"And when I insisted that this was not, in fact, 'standard procedure' and closed the case so they wouldn't damage it, they called the Chicago Police department to have me removed from the airport," said Schmitz.
When Schmitz attempted to walk away, she says, "One agent told the police I tried to hit him, which I did not. He also detained me at the gate saying I was "not allowed to leave" until the police arrived."
I tried to take my flute thru security @fly2ohare & @TSA called the @Chicago_Police & threatened to arrest me: https://t.co/bglpcj3Ove

— Jessica Schmitz (@jsflutist) October 4, 2015
"As the Chicago police were taking my license and getting ready to escort me out, one TSA agent suggested wrapping the head joint in paper towels and then running it thru x-ray so it wouldn't be dented/ damaged. Since it was either that or be escorted out by the police, I had to agree. She was actually quite nice and felt horrible and let me put it in the bin and wrap it while the police and guards looked on," Schmitz explained.
Imagine that, a little forward thinking and no one had to be deprived of their freedom.
Ah, but the TSA madness wasn't over yet, they had to make sure that this vile citizen didn't make it through without their authority being diligently and aggressively asserted onto her.
Prior to being allowed through the gate, Schmitz says, "I had to get a full pat down, groin, chest and all."
Humiliation complete.
And this, ladies and gentlemen, is what traveling in a police state looks like.
On a positive note, looking at her Twitter account, it seems that Schmitz had a phone call with a TSA representative on Wednesday, who was apparently professional and apologetic.
1/3 Today I had a long conversation w/ @fly2ohare @TSA manager. Was not expecting to be treated w/ anything resembling professionalism…

— Jessica Schmitz (@jsflutist) October 7, 2015
2/3 … but the calm, respectful @TSA gentleman surprised me throughout our over 1 hour talk. Full account coming soon, but for now…

— Jessica Schmitz (@jsflutist) October 7, 2015
In one final tweet, Schmitz linked to one of the most hilarious skits about the insanity of the TSA that we've ever seen.
3/3 … I hope we can find common ground where ridiculousness meets humor. "Curse the brilliant @TSA!" https://t.co/QSTdprmL4p @fly2ohare

— Jessica Schmitz (@jsflutist) October 7, 2015
While we use humor to point out the authoritarian incompetence that is the TSA, the fact remains that their tactics and history are anything but funny. In case after case, we've seen everyone from babies to elderly women in wheelchairs assaulted and humiliated in the name of "freedom."
As Classicfm.com points out, Schmitz is the second musician in a week to feel the wrath of the almighty security state. Rachel Barton Pine had a similarly miserable experience at an airport, when she was forced to sleep on the departure lounge floor with her family.
Trying to get on a 5:30am flight home since the 11:59pm @USAirways one wouldn't accommodate my 1742 Guarneri. Suitcases on original flight.

— Rachel Barton Pine (@RBPviolinist) September 28, 2015
Outrageous. Risk your 275-year-old instrument in the luggage hold, or sleep on the floor: https://t.co/cIbD7hauJj

— Classic FM (@ClassicFM) September 30, 2015
DASH cryptocurrency and The Free Thought Project have formed a partnership that will continue to spread the ideas of peace and freedom while simultaneously teaching people how to operate outside of the establishment systems of control like using cryptocurrency instead of dollars. Winning this battle is as simple as choosing to abstain from the violent corrupt old system and participating in the new and peaceful system that hands the power back to the people. DASH is this system.
DASH digital cash takes the control the banking elite has over money and gives it back to the people. It is the ultimate weapon in the battle against the money changers and information controllers.
If you'd like to start your own DASH wallet and be a part of this change and battle for peace and freedom, you can start right here. DASH is already accepted by vendors all across the world so you can begin using it immediately.