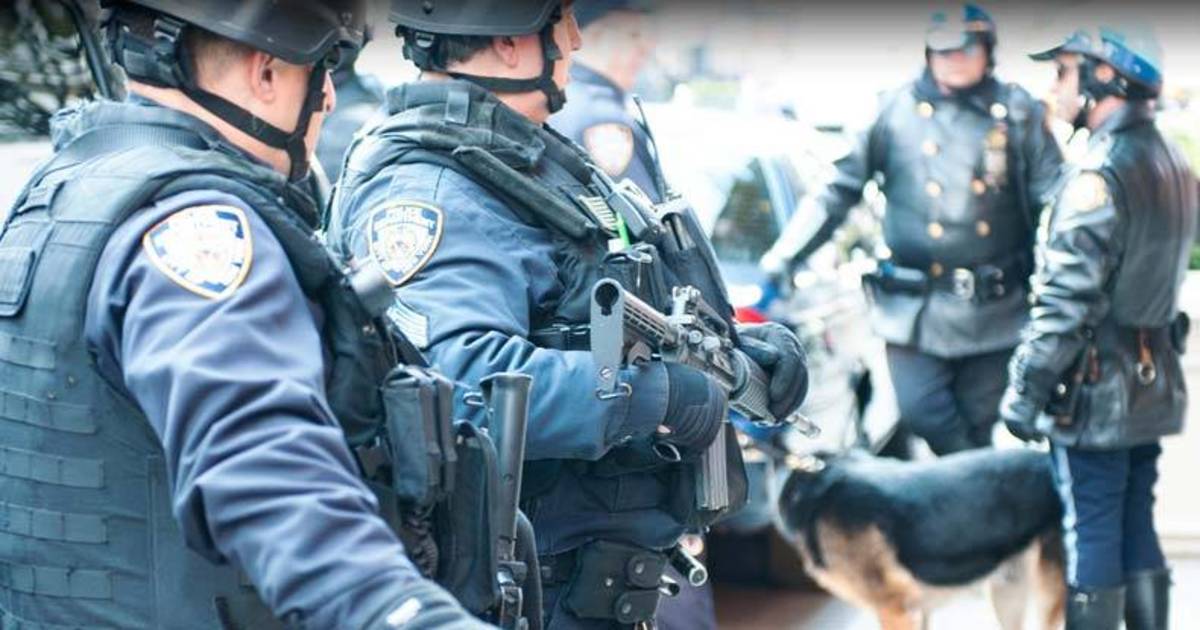 New York City, NY — Like an Orwellian wet dream come to life, the NYPD has announced that more than 6,000 cops will be herding Times Square attendees into spectator pens this New Year's Eve while violating their Fourth Amendment right prohibiting unreasonable searches and seizures. Instead of deterring further acts of violence, the excessive show of force merely reinforces the notion that the terrorists have already won by utilizing fear to turn the state against its own people.
Armed with rifles, radiation detectors, and bomb-sniffing dogs, over 6,000 uniformed NYPD officers will descend upon the one million spectators expected to attend New Year's this evening in Times Square. Roughly 1,200 probationary cops and plainclothes police will also be assigned to either watch the perimeter or infiltrate the crowds while working undercover.
Instead of being allowed to walk freely, the crowd must enter Times Square at one of the 14 checkpoints and submit to body inspections with magnetometers and hand wands as counterterrorism officers armed with long guns stand by. After enduring a secondary screening, people will be allowed to watch the ball drop from one of the 65 massive spectator pens while surrounded by snipers and K-9 units.
"We'll have over 5,000 officers assigned to Times Square," NYPD Chief James O'Neill stated. "There will be hundreds of traffic agents, plus additional mobile cameras, chemical and radiation detectors, specially-trained police dogs sniffing for traces of explosives, cops on horseback, helicopters, and police boats."
Although the NYPD and FBI claim that there are currently no threats against Times Square, the additional security measures are clearly a knee-jerk reaction to recent attacks in Paris and San Bernardino. With police militarization and mass surveillance both having failed to prevent a single terrorist attack, the state continues to justify using these vile weapons at home and abroad in the name of fighting terrorism.
On December 20, Lakeisha Holloway intentionally drove onto a sidewalk in Las Vegas, killing one and wounding 30 other pedestrians. On April 15, 2013, security at the Boston Marathon failed to stop two brothers from setting off bombs that resulted in 3 people killed and an estimated 264 wounded. Throughout 2015, several videos recorded Israeli soldiers failing to prevent multiple knife attacks throughout Jerusalem.
Even with Big Brother having access to over 1,000 surveillance cameras covering Times Square, the police cannot stop a psychopath armed with a gun, a car, acid, a homemade explosive device, a kitchen knife, or a Molotov cocktail from suddenly attacking the crowd. This excessive show of force is merely an illusion of safety that actually diverts resources from other parts of the city, leaving many neighborhoods virtually unprotected in areas with high crime rates. When asked about these vulnerable neighborhoods, NYPD Commission Bill Bratton replied, "The ability to protect everything all the time is not possible anywhere."