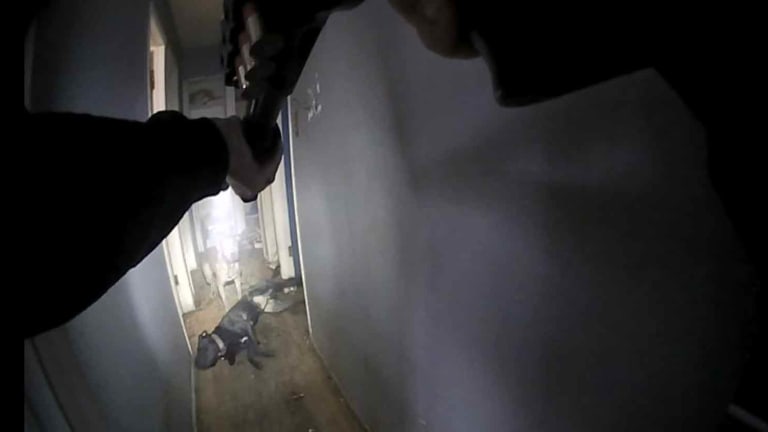 Horrifying Video Proves Cops Lied and Murdered Happy Dog for Walking in It's Own House
During a botched raid for drugs, cops shot a happy dog and lied in their report to justify it, but they were eventually caught.
Detroit, Mi -- It is no secret in the United States that cops kill dogs. It happens so often that there is even a term for it. It is called puppycide. For some reason, unlike package delivery drivers, pizza delivery drivers, and postal workers -- who interact with countless more dogs than police -- cops most often resort to deadly force with man's best friend. And, as the following case illustrates, it costs the taxpayers dearly.
Because American law enforcement is addicted to prohibition, cops conduct tens of thousands of militarized raids every year looking for banned substances. Detroit resident Kira Horne and her beloved pit bull fell victim to one of these tyrannical raids in 2018.
While many instances of cops killing dogs go un-reconciled because police officers are believed over the drug suspects, in Horne's case, there was video evidence that disputed the cop's argument that they were in danger.
As Reason reports:
The body camera footage shows several members of the Detroit Police Department's Gang Intelligence unit executing a narcotics search warrant. As Miller enters a hallway while clearing the house, a black pit bull comes out of a room and advances toward Miller before he fires his shotgun at it, mortally wounding the animal. But the dog was neither growling nor barking.

A second pit bull enters the hallway. Miller yells at it, and the dog runs back into another room before emerging again and standing next to the corpse of the first dog. It is not barking, growling, or moving toward Miller when he fires at it.
"It's a f**kin' homicide scene," one of cops remarks after they just blasted the life from the pit bull for absolutely no reason. Horne was not the target of the raid, and the "heroic" cops who busted down the door and murdered a happy puppy, did so to arrest a man who had a little bit of cocaine. Feel safe yet?
After the raid that left Horne's dog dead in a puddle of blood, police claimed the shooting was justified because the pit bull attacked or was about to attack the officer. However, as the video below shows, that is a lie.
In a "destruction of animal" report that Miller filed after the raid, obtained by Reason through a public records request, the officer claimed that he "observed a black pit bull and a tan pit bull showing his teeth, charging, and attempting to bite crew." In a separate incident report, Miller embellished a little more, writing that "a large black pitfall came charging at me down the hallway from the northwest bedroom. I fired two shots…neutralizing the threat. While still in the hallway, a second brown pit bull came charging down the hallway towards me."
Despite this statement being an utter lie, every one of Miller's supervising officers signed off on the report and their "investigation" of themselves ruled themselves justified in killing the dog.
It was an open and shut case until Horne and the man arrested for having the cocaine filed a complaint. Only after Horne showed them the body camera footage did police reverse their ruling in the "investigation."
The taxpayers of Detroit then shelled out $75,000 to pay for the cop's actions. For lying on the report and killing a dog, Miller was not fired and is still gainfully employed with the Detroit police department.
"As is typical in these cases, the officer falsely reported that the dogs attacked the police in order to justify the shooting," says Horne's attorney, Chris Olson. "Thus, this case is part of a pattern of Detroit police officers wrongfully shooting dogs and then lying about it. Fortunately, in this case, body camera footage showed the truth."
Warning: The video is graphic.