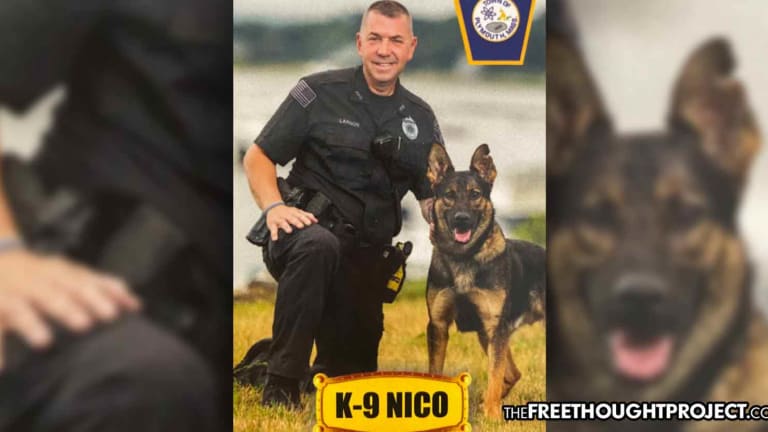 Cop on Leave After Deliberately Shooting His Own K-9 Partner 3 Times, Killing Him
A police officer in Massachusetts is on leave this week after he pulled out his gun and fired three shots into his own K-9 partner, killing him.
Plymouth, MA -- As TFTP has reported far too many times to count, police officers in America are unafraid of shooting and killing man's best friend. We've reported on cops "fearing for their lives" and shooting dogs on leashes as well as sadistic cops killing tiny pets out of pure spite. Police officer violence against dogs is so extremely common that we've even reported on cops beating and choking their own dogs. However -- outside of cops leaving their dogs in hot cars until they die -- we have never reported on a cop deliberately killing his own K-9 partner, until now.
This week, a Plymouth Police K-9 handler shot and killed his own dog -- on purpose. The incident happened when police were preparing the dog to track a suspect when the officer alleged that his K-9 bit him.
Officer Keith Larson said that his K-9 Nico, attacked him and he had no other option but to kill him. Police said Larson attempted to get the dog under control but was unsuccessful so he pulled out his gun and shot the dog "for safety reasons."
After he killed his own dog, the department asked the public to keep officer Larson in your prayers.
According to Boston 25 News, Officer Larson and K-9 Nico were just called to help track a person who ran from police. Officer Larson stopped at a parking lot to suit Nico up in his vest before they arrived on scene. That's when police said Nico attacked Officer Larson.
A bystander identified as Lori Medeiros heard the gunshots.
"I think it was about three gunshots fired. I looked out and I saw the police officer on the ground," Medeiros told 25 News.
Medeiros said she heard no screaming or yelling prior to the shot. This implies that the officer didn't even yell at his dog to get it to stop biting him before opening fire.
"I didn't hear any yelling or screaming. I just saw the officer down on the ground and I know he was obviously in distress," Medeiros said.
Police say because Larson couldn't get his hand free, he used his other hand to pull out his gun and kill the dog.
"It happened in less than 30-45 seconds, which is a long time that he had to go through that. I'm sure you realize it is difficult to for a K-9 officer to dispatch their own dog like that," Chief Botieri said.
Indeed, it is extremely difficult for anyone to kill their dog which is why most people don't do it. In fact, it would be illegal for someone who didn't have a badge and a gun to pull out a gun in public and kill their dog, even if it bit them.
According to police, Larson was injured and subsequently treated for injuries to his hands. Unfortunately for Nico, he was unable to be treated for his injuries.
"It's always difficult to see any of your officers injured. We feel bad about that," Chief Botieri said.
The news of Larson killing his K-9 partner comes the same week an officer in Vacaville, Calif. was seen on video savagely beating his K-9 partner.
The man who filmed the attack said the officer had been beating his dog for 5 minutes, hitting him multiple times before he pulled out his camera to film.
"He was straight up beating the dog on the face," Robert Palomino said. "It was hard to watch."