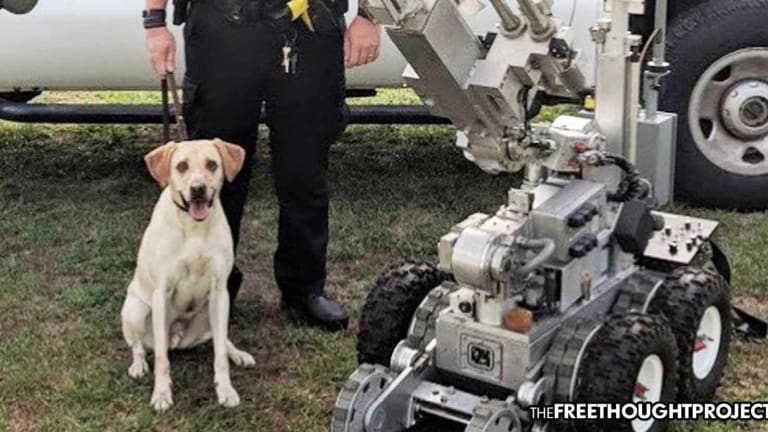 Cop Turns Off Heat Alarm, Leaves Dog in Hot Car Until He Dies, Not Charged Because He's a Cop
A cop in South Carolina deliberately turned off the heat alarm to his vehicle and then left his dog in the car until he died, and he was not charged with a crime.
Columbia, SC — Columbia police announced this week that a police dog handler who left his own K9 in a hot car until it died will not faces charges of animal cruelty, despite being entirely responsible for the animal's death. The officer left the K9 in the hot car for over six hours until it died from the heat.
Police K9 vehicles come equipped with special alarms that will roll notify the officer if the air conditioner goes out or the car becomes too hot. However, on that day, for reasons he was unable to explain, Master Police Officer David Hurt turned that alarm off. He also left the poor Labrador retriever mix named "Turbo" in the car for over six hours without returning to even let him use the bathroom. Had he done so, Turbo would be alive today.
Police Chief Skip Holbrook said in a news conference on Thursday that the officer's behavior and negligence to keep the dog alive was shocking.
"He didn't give any logical reason," Holbrook said at a news conference. Yet despite turning off the alarm and creating a ticking time bomb of death for the K9, the department chose not bring charges against one of their own. Instead, Hurt was given just five days of unpaid leave.
"It was a mistake of the heart he will have to deal with the rest of his life," said Holbrook, who added he didn't fire Hurt because he immediately took responsibility for his grave error, according to the AP.
As the AP reports:
Hurt also will be suspended from the bomb squad and can never handle a police dog again.

Turbo was the first dog given to Hurt, who was selected to be a handler and went through hundreds of hours of training. The 22-month-old explosive-sniffing dog had been with Hurt for seven months.

Hurt was at a high school July 26, getting active shooter training, and didn't take the dog inside because of the loud noises and crowd, Holbrook said.

Other handlers also left dogs inside vehicles because they could be needed for a call on a moment's notice but they all checked on their animals frequently, the chief said.

When Hurt returned to his vehicle at the end of the day, Turbo had white foam around his mouth and was listless. Hurt immediately recognized the dog was suffering from heat stress and took it to a veterinarian. The dog was put to sleep two days later after suffering organ failure, Holbrook said.
"It's like losing a partner or a family member," the chief said. "It is devastating."
Holbrook estimates that the cost of losing the dog, considering that it went through days of extensive training, was around $25,000. Yet still, the officer was not charged.
This lack of charges is also in spite of the fact that Hurt clearly broke the law. According to South Carolina Code of Laws, Title 47 - Animals, Livestock and Poultry, Section 47-1-40:
(A) A person who knowingly or intentionally overloads, overdrives, overworks, or ill-treats an animal, deprives an animal of necessary sustenance or shelter, inflicts unnecessary pain or suffering upon an animal, or by omission or commission knowingly or intentionally causes these acts to be done, is guilty of a misdemeanor and, upon conviction, must be punished by imprisonment not exceeding ninety days or by a fine of not less than one hundred dollars nor more than one thousand dollars, or both, for a first offense; or by imprisonment not exceeding two years or by a fine not exceeding two thousand dollars, or both, for a second or subsequent offense.
Just last month, a woman in Alabama was charged for doing the exact same thing. In June, a man in Florida was charged after his dog died in a hot car. And, this month, a woman was arrested in New Mexico for leaving her dogs in a hot car. All of these people were deeply sorry about what they did, but they were all charged. Coincidentally, none of them were cops.
While charging the cop with a crime will certainly not bring the dog back, it would show that the department is concerned about holding their own accountable. However, this is apparently not an issue for them as he wasn't even fired.