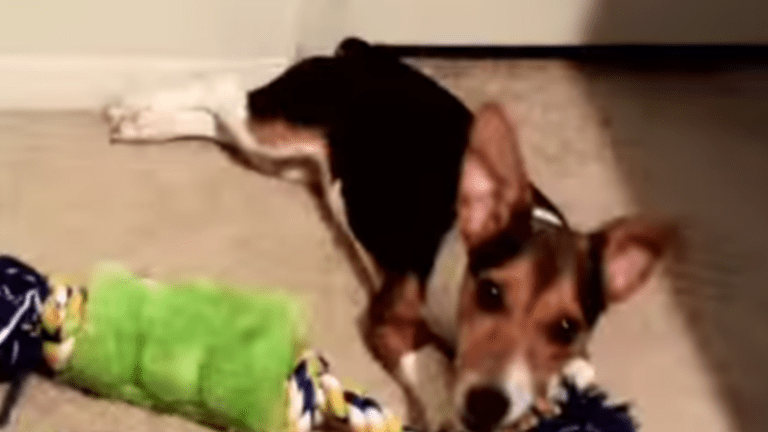 Cop Strangled Girlfriend's Puppy to Death Then Sent Her Pictures of It
A Maryland police officer will be spending a year in jail after he pleaded guilty to animal cruelty charges in a Montgomery County courtroom last week.
Earlier this year, 28-year-old, Baltimore city cop Alec Eugene Taylor became enraged when his girlfriend's seven-month-old Jack Russell terrier "Rocko" had an accident on the floor.
Taylor savagely beat the dog with a mop, and then strangled it until it was no longer breathing. Taylor then heartlessly took photos of the dead puppy and sent them to his girlfriend like it was no big deal.
According to the Washington Post, the following text message exchange took place between Taylor and his now ex-girlfriend, Deborah Avila.
"I almost killed rocko, he took a wet s*** all over the carpet after I let him outside." Taylor reportedly wrote late in the afternoon on Feb. 26.
He then sent a photo of the dog to Avila, who responded by asking,"Why is he laying like that?"
"I beat him, I might of paralyzed him," Taylor replied.
"Is he walking?" Avila asked.
"Nope... I think he's pretty much dead. Imma throw him out now," Taylor responded.
Cruelty to animals is part of The MacDonald Triad, traits that often are demonstrated in sociopaths from a young age. It says an individual who is able to engage in cruelty to animals may have no conscience and no remorse for their behavior.
Warren Brown, Taylor's defense attorney argued in court that work-related stress contributed to the violent outburst that ended in the dog's death.
"I think we all have unfortunately a little dark side in us, and sometimes it comes out, and I think for a variety of reasons, it showed itself at the moment that he inflicted the injuries to the dog that led to the dog's death," Brown said.
"On a daily basis [he] patrolled the very deadly streets of Baltimore, this man snapped, and this was out of character for him," he added.
Surprisingly, Judge Richard Jordan was not sympathetic to these arguments and he sentenced Taylor to a year in prison, exceeding the suggested sentencing guidelines, which was 3 months.
"We do know that you had to beat him out from his hiding place from behind the washer or the dryer with the mop, it's absolutely disgusting what you did," Jordan said in court last week.
Taylor's parents have called the sentence "excessive," and claim that the only reason that Avila pressed charges against their son was because their relationship did not work out.
John Vibes is an author, researcher and investigative journalist who takes a special interest in the counter culture and the drug war. In addition to his writing and activist work he is also the owner of a successful music promotion company. In 2013, he became one of the organizers of the Free Your Mind Conference, which features top caliber speakers and whistle-blowers from all over the world. You can contact him and stay connected to his work at his Facebook page. You can find his 65 chapter Book entitled "Alchemy of the Timeless Renaissance" at bookpatch.com.