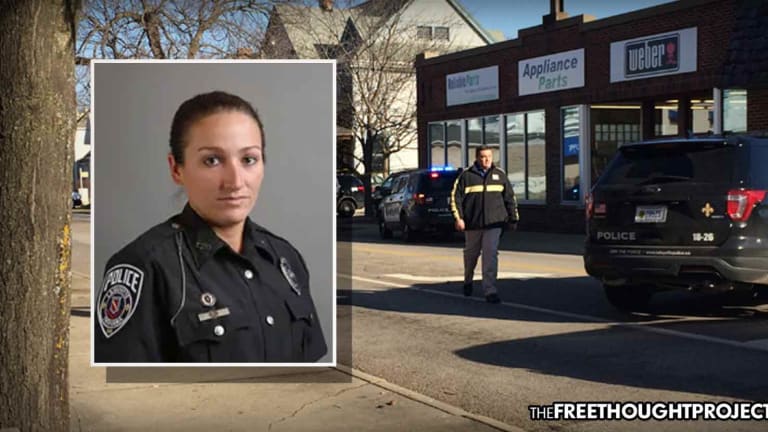 Cop Tries to Kill Woman's Dog, Shoots Fellow Cop in the Back Instead
An Indiana police officer is in critical condition after one of her fellow cops attempted to kill a dog and shot her instead.
Lafayette, IN — It is no secret that police officers are unafraid to put the lives of innocent people in danger and pull their guns out to shoot at dogs. The Free Thought Project has reported on multiple instances in which cops have attempted to shoot dogs and shot men, women, and children instead. As the incident below illustrates, even their fellow officers aren't safe from cops trying to kill dogs.
Officer Lane Butler is currently in critical condition in an Indiana hospital because one of her fellow officers tried to kill a dog and shot her instead.
According to police, officers were responding to a complaint of criminal mischief Tuesday morning when the shooting happened. Police were at a woman's apartment to see if a person wanted on a warrant was inside. Police noted that the woman was cooperative and let officers search her home.
Before the officers entered the home, the woman warned them that her large dog was inside and in a cage. Butler and two other officers then entered the home and began searching it. As they searched the home, however, the dog reportedly escaped from the cage and the officers then fled the residence.
As the officers fled, one of them felt it necessary to pull out their pistol and fire at the dog. Instead of shooting the dog, however, the officer shot Butler in the back. Butler was wearing a bulletproof vest, but the round went in just above the protected area in her upper back.
According to police, they took the woman's dog and placed it in the care of Animal Control.
"There's a lot of unpredictable variables as a police officer when you're out patrolling and replying to calls," Lt. Brian Phillips said. "You never know what you're going to encounter."
Police have yet to identify the officer who shot Butler and have noted that there is currently an investigation underway.
"It's a very difficult day for the Lafayette Police Department," said Phillips. "One of our own was injured today."
Police noted that once the investigation is complete, they will release all of the body camera footage.
Butler is only the second officer in the Lafayette Police department to be shot in the last two decades. Sgt. Matt Gard told the Journal and Carrier that the last officer to be shot in the department was Jeff Clark who was shot by an actual suspect, not a fellow cop.
As The Free Thought Project has reported, the phenomenon of police opening fire on dogs in neighborhoods where residents are susceptible to being shot is nothing new.
Many of these incidents are caught on body cam, such as when an Ohio officer called out to a dog to come to him and then shot and killed him, or when a Texas officer entered a family's backyard and shot and killed their dog in front of them.
While Butler looks like she will likely survive this shooting, other people haven't been so lucky.
Take for example the tragic case of Autumn Steele.
The tragic incident unfolded in January 2015 as Gabriel Steele, Autumn's husband, was loading up their 4-year-old son, when Autumn began yelling at Gabriel and the police were called.
"He's got my kid!" yells Autumn.
Officer Jesse Hill was at the Steele residence acting as an escort in their domestic dispute incident. During this commotion, the couple's dog came running out of the house.
"Hey, hey, quit fighting, stop it," says Hill.
In the video, we can hear the dog growl, at which point Hill says, "Get your dog." Only moments later, Hill fired off two rounds.
One of the shots struck Autumn Steele in the arm and another in the chest. The dog was also hit, but he recovered. Sadly, Steele would not recover and died at the hospital. Police and the DA then proceeded railroad Steele's family as they fought for justice. A tragedy from all sides.