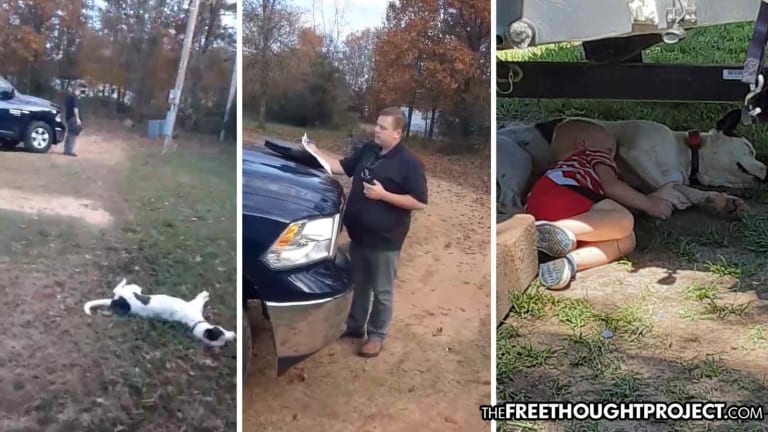 Cop Trespasses on Innocent Family's Property, Kills Their Beloved Dog for Barking at Him
An incompetent, and apparently trigger happy cop, walked onto an innocent family's property and killed their dog — he is still on the job.
Little Rock, AR — As frequent readers of the Free Thought Project know, cops have no problem killing family dogs. Innocent people, guilty people, bystanders, even fenced and leashed dogs are not safe from the barrel of a police issued pistol when a cop becomes frightened. Frequent readers also know that cops oftentimes go to the wrong home and harm or kill the innocent people in that home. As the following case illustrates, cops will go to the wrong home and harm or kill a dog too.
The Faulkner County Sheriff's Office says they are conducting an internal investigation this week after one of their investigators went to the home of Chris Coiner and killed their dog. Coiner had committed no crime and the investigator, James Freeman, was at the wrong address.
According to Coiner, Freeman came onto his property and shot his dog for no other reason than the dog barked at him. While the shooting was not caught on video, the heart breaking aftermath and subsequent scolding of Freeman certainly was.
"Wait right there. What is your name? What's your name?" Coiner asked the investigator in the video. "I'm investigator Freeman with the Faulkner County Sheriff's Office...I'm looking for Samuel," Freeman responded.
"At what address?" Coiner asked.
"72 A," Freeman responded.
At that moment, Coiner realized that this incompetent dog murderer was at the wrong house and proceeded to let him have it.
"That's over there you G****** moron. Get off my property! You shot and killed my dog!"
KATV reports that according to Faulkner County Sheriff's Office spokesperson Captain Erinn Stone, Freeman was conducting a sex offender compliance check at 72 Autumn Hills Road.
Coiner does not live at 72 Autumn Hills.
"I asked him why he was here, and he said he was looking for somebody named Samuel at 72 Autumn Hills Road which is the next-door neighbor," said Coiner. "I didn't know this at the time, but I had found out he had already been to 72 which was the right address, so he knew he was not at the right address and he shot my dog for barking at him."
KATV reports that even though Freeman went to the wrong house and killed an innocent family's dog — for reportedly no reason — that Chief Deputy Matt Rice confirmed Freeman is still on duty. Naturally, the fact that Freeman is still on duty doesn't sit well with Coiner.
"He's at work today and my protecting guard dog here will never work again because he killed him yesterday."
While this case is certainly infuriating on its own, the fact that we reported on the same department shooting another innocent family's dog just last year, is utterly maddening.
Unlike Freeman, another Faulkner County Sheriff's Office official, deputy Keenan Wallace was immediately fired after shooting Doug Canady's 9-pound Chihuahua-mix breed dog named "Reece's" in the head in January 2019. But the Sheriff's Office did not stop with Wallace's termination. They charged their own officer with animal cruelty. In March, in a follow-up to the story we brought you, Wallace pleaded "No-contest" against the charges and was sentenced to community service and a $640 fine.
Wallace responded to a 911 call about an aggressive dog from a resident who was walking by Canady's home. Canady is an emergency medicine helicopter pilot (Medivac). He's also a veteran who spent 21 years flying Black Hawks in the military. The veteran pilot refused to speak with Wallace when he arrived to investigate the 911 phone call. Canady says it was that action, refusing to speak with him, which caused Wallace to retaliate and shoot the dog the very second the officer believed he could justify killing the animal.
Unlike the Coiner's dog, luckily Reece's lived.