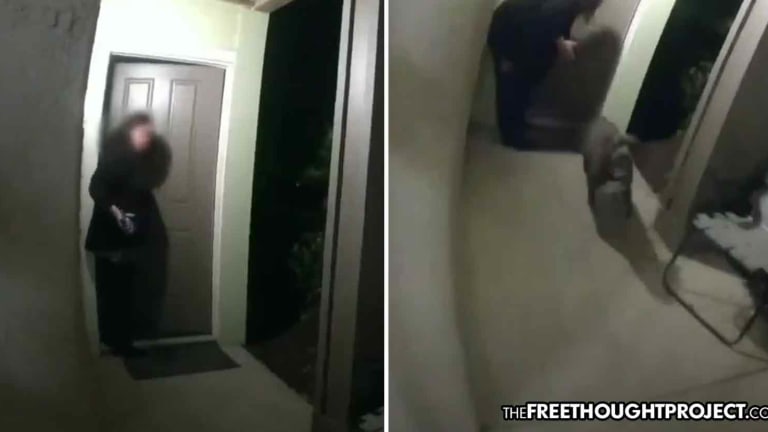 WATCH: Cops Knock on Innocent Woman's Door, Immediately Shoot Her Dog When She Answers
A woman called 911 to report a man with a gun in her neighborhood and when cops came to her house, they shot her dog when she greeted them.
Tampa, FL — Calling 911 in the land of the free is a dangerous decision. Time after time, those in need of help call 911 and instead of help they get baton blows, fists, tasers, and bullets. Rachel Robledo learned this the hard way after calling 911 to report a man with a gun only to end up with police bullet holes in her dog.
According to Robledo, she called police last week to report a suspicious person holding a gun on a balcony of a nearby apartment. She gave police the address and exact location of the person on the balcony but they could not find that person, so officers went to Robledo's home instead.
"I'm instinctive, I thought this is bad," Robledo told Action News. "See something, say something. I ran home and I called them. I expected them to help me. I explained many, many times the location. They had everything they needed."
Robledo's dog, Nala, was excited to see the police officers at the door so she ran toward the officers. She would not make it to the officers, however, as one of them immediately pulled out her gun and shot Nala twice.
"As I stepped out my door, my dog Nala inadvertently followed behind me before I could close the door. My dog Nala is the sweetest, most gentle, and docile dog. Without provocation, an officer immediately upon seeing Nala, who was not threatening her in any way, pulled her gun and shot my dog at least twice," Robledo said.
In shock, Nala took off running after being shot and Robledo thought she'd been killed. Naturally, Robledo became distraught and emotional and was subsequently worried that cops may now shoot her.
"She aimed for Nala's head and Nala's heart. Nala ran off after being shot in the head area. I was convinced Nala had just been murdered in front of my eyes. I had an understandably emotional reaction. I'm lucky to be alive," Robledo said.
Robledo's neighbors described Nala as a sweet and lovable dog who would never hurt anyone and were shocked when they heard gunshots and found out they were intended to kill Nala.
"Exactly, why a police officer would find it necessary to shoot a dog, why was that the first reaction? I cannot imagine that Nala would ever approach anyone in an aggressive manner," said Robledo's neighber, Andrew Gartrell. "I really just hope this never happens to any dog ever again."
Predictably, Tampa police have essentially justified the shooting of Nala, claiming she "charged toward" the officer.
"As the complainant came out of the door, her dog ran out of the front door toward one officer. The officer fired two shots, striking the dog as it charged toward her. The canine was struck by both bullets and was transported, by the owner, to an emergency veterinary hospital. The veterinarian reviewed the x-rays and advised that she did not see any metal fragments left behind, the wounds did not appear life-threatening, and the dog appeared to be doing well.

The officer responded to the threat of a pit bull running toward her and took immediate action to keep herself safe. While no officer wants to fire at a dog, it presented a perceived threat to the officer at the time.

Our Professional Standards Bureau conducts an internal investigation any time an officer discharges a weapon. This remains an ongoing investigation at this time."
Luckily, the two bullets did not kill Nala and she underwent surgery that night and is recovering. However, she barely made it to the hospital because police would not allow Robledo to bring her to the vet for over 20 minutes.
"The officers prevented me and a Good Samaritan from leaving with Nala for 20 minutes as I was desperately trying to get her to the emergency vet hospital. I feared my dog would die on the way to the hospital due to the delay," she said, noting that the bullets were so recklessly fired that one of them hit a person on the scene.
Robledo says her calls to the department have fallen on deaf ears and neighbors have since started a fundraiser for her on GoFundMe to pay for her vet bills.
When you watch the video below, imagine the thousands of pizza delivery drivers, parcel delivery drivers, postal workers, and others who experience dogs running up to them on a daily basis and don't kill them. But when the person at your door is a cop, their first reaction is deadly force. Troubling indeed.