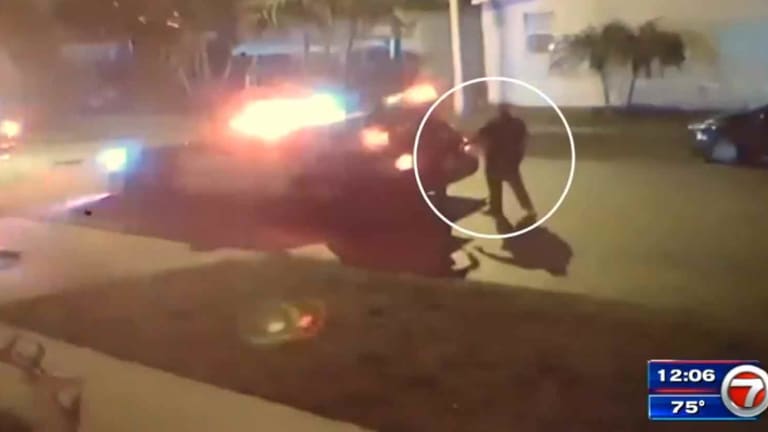 WATCH: Cop Furious After Trying to Shoot Family's Dog and Shot Himself Instead
While responding to a non-emergency call, a Florida cop attempted to kill a boxer but instead shot himself, which was apparently infuriating.
Davie, FL — Proportionately, cops kill exponentially more dogs than they do people. It's quite a strange phenomena because postal workers don't seem to have the same problems with dogs like cops do. It's so devious, the killing of family pets by those sworn to serve and protect the public, we actually keep an archive of stories of cops killing man's best friend. But one cop learned the hard way shooting a dog can be dangerous. He shot himself instead of the dog.
A Davie police officer, whose name has not been released presumably out of embarrassment, shot himself in the hand after a boxer named Bella allegedly charged at him. The officer raised his weapon out of fear for his life and fired one round which passed right through his left hand, the one he raised to protect himself from the charging dog. Bella was only grazed by the bullet and suffered only a minor injury.
The cop, however, was caught on home surveillance video pacing back and forth, even kicking the bumper to his squad car. Responding officers to the "shots fired" over the radio announcement quickly arrived with many using their flashlights to get a look at their fellow officer's wound. Moments later, an ambulance arrived and carted off the presumably humiliated officer. Fortunately, the family's pet did not suffer any life-threatening injuries from the man attempting to dispatch the protective boxer police say was "charging" at the cop.
Davie police spokesperson Lt. Mark Leone said the officer was responding to a non-criminal call inside a mobile home community on Southwest 116th Way. Leone claims the officer was in fear for his life which is why he felt compelled to attempt to kill the dog in front of its family. However, if he was in actual fear of his life, we would hear about many more people being killed by dogs on the news every day. In reality, however, this does not happen. 
When the police officer got to the front door of the residence, the family pet -- happens to be a female boxer named Bella -- ran right past him and went toward the officer...The officer was in fear, drew his firearm and fired one shot...Right now I'm being told that the dog is still at home with the family.
Cynical critics of police killing family pets quickly took to social media to express their pleasure the cop got injured. Others whose dogs have been killed by cops will likely share the same sentiment. Cop apologists, however, are quick to defend officers saying the decision of whether to pull the trigger is made in an instant and police officers should be supported. Unfortunately, the fact remains, the killing of family pets by cops has become an epidemic according to a 2018 report by the Justice Department (DOJ).
According to Criminal Legal News:
The DOJ estimates that around 25 to 30 dogs are killed by cops every day, with some numbers as high as 10,000 per year. The totals could, in fact, be higher, since most police agencies do not formally track officer-involved shootings involving animals.
Not only are officer-involved shootings of animals not being tracked but officer-involved shootings of people are only tracked by the FBI on a voluntary basis. In other words, if law enforcement agencies choose not to report their shootings to the FBI each year, it does not matter. There is literally no accountability at the federal level for officer-involved shootings of any kind, unless of course the feds are called in to investigate on a case by case basis.
We at TFTP are not a political organization and we do not condone violence of any kind. We are not happy the officer in this case was injured but we are ecstatic Bella can live to serve and protect her family another day and hopefully for many more days to come. Davie Police, however, may have other plans for Bella.
Under so called dangerous dog laws, Davie police may attempt to declare Bella a threat and confiscate and euthanize Bella. Fortunately, citizens have constitutional rights and can secure a lawyer to defend their family pets from euthanasia by cops. According to one article from NOLO:
Under the dangerous-dog laws in many states, animal control officers may also impound a dog during proceedings to decide if it's a risk to the public because of its history of biting or attacking people (or sometimes other dogs). These laws usually include provisions for ordering dangerous dogs euthanized in certain circumstances.
For more information about what you can do if your dog is shot and killed by police or if your dog has been deemed a threat and has been confiscated, please visit the Animal Legal Defense Fund (ALDF).
https://m.youtube.com/watch?v=vw1WbSrS1Lk