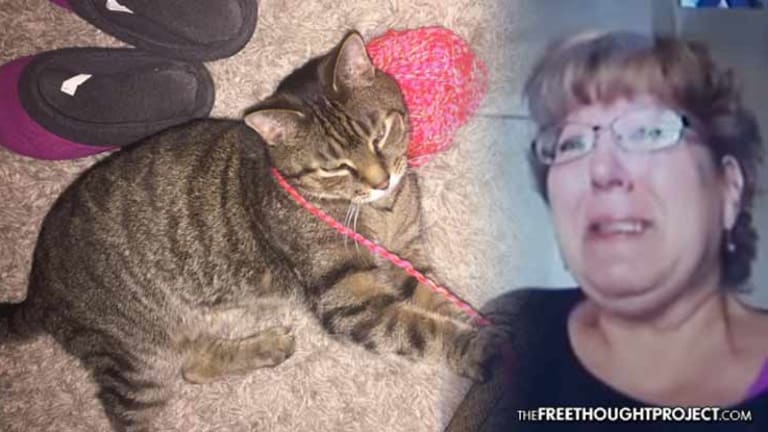 Heartbroken Family Files Complaint After a Cop Shot Their Cat, Threw It in Dumpster
A family has filed a complaint after an officer with the Stow police department shot their cat in the head and tossed it in the trash.
Stow, OH — The Stow police department is currently investigating a complaint made against their department this week after one of their officers shot a family's cat and then tossed it in the dumpster.
"It's not a complaint on the officer, but a complaint on procedure," Police Chief Jeff Film told the Stow Sentry on Thursday.
"I want to say I am totally responsible," Lynn Maganja, the owner of the 12-year-old cat named Marley, said. Maganja was out of town when her cat was shot. She admits that her son accidentally let the cat out of their home but questions the officer's response.
While Maganja takes responsibility for her cat getting out and then getting injured when it was struck by a car, she questions the officer's decision to shoot the cat and then throw it in the dumpster.
"This is all sort of heartbreaking to my family and I just think people need to be aware of it," said Maganja.
Pam Busch, an area animal-rights advocate, said Thursday that she submitted the handwritten complaint the day before. She said she believes that Marley should have been taken to a veterinarian to determine his condition and whether he should be euthanized, according to the Sentry.
"Even if it's bleeding, we don't know the severity of the injuries. We're not professionals," said Busch.
What's more, both Busch and Maganja also question the cop's decision to toss the family cat in the trash after he shot it.
"I don't think an animal should be thrown into trash like a piece of trash because they are not, no more than you would do it to a human," said Busch.
As the Sentry reports, Maganja said after her son told her Marley had gotten out, she went on Facebook and happened to see a photo someone posted of Marley, still alive at the time, in a cardboard box. Realizing the cat looked like Marley, she called the police and spoke to the officer, who confirmed that he had shot the cat.
"I was in shock," said Maganja.
The cat was apparently alive enough for someone to pick him up, put him in a box and post a picture to Facebook to see if anyone had lost a cat. However, the officer disagreed.
According to the police department's policy and procedures manual, in a chapter concerning "use of force," officers can use lethal force on an animal for several reasons, including "To relieve the animal of undue suffering after determining means of care would be ineffective or are unavailable," the Sentry noted.
"It's not that often that we have dispatched domestic animals, but it does happen and it's unfortunate," said Film. "The animal was suffering gravely, the determination was to end its suffering."
Surprisingly, TFTP has reported on officers shooting cats before. In December 2014, we reported on Officer Barry Accorti, who shot five kittens in front of terrified children.
Shortly after Accorti killed the kittens, another officer, with the Gorham Police Department in Maine shot a cat because he thought it was rabid. It was not. Lt. Christopher Sanborn opened fire on a cat after he called in back up mistakenly thinking that the feline was a danger. Luckily, the cat survived the bullet holes and made a recovery.