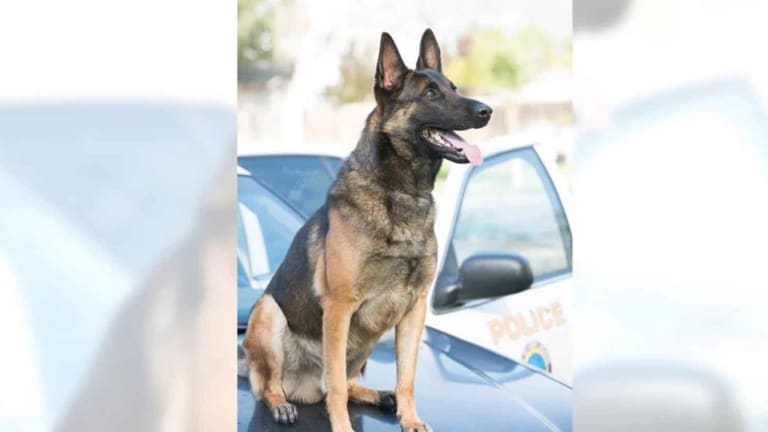 As Citizens Face Felonies For It, Cop Leaves K-9 in Hot Patrol Car Until it Dies and is NOT Charged
As citizens face felony animal cruelty charges for the same acts, a Long Beach cop escaped any charges after leaving his K-9 in a hot car until it died.
Long Beach, CA — In the ostensible land of the free, there are two sets of justice systems: one for all those within and connected to the system, and one for everyone else. A perfect example of this two tiered system is the fact that people are jailed all the time for leaving their dogs in hot cars. However, when a Long Beach police officer did the exact same thing and killed his police K-9 partner, he came out on the other end unscathed.
On August 14, 2019, Ozzy, a drug-detection dog with the Long Beach Police Department, was found dead in the K-9 vehicle by his handler officer Chris Thue. Thue and Ozzy were off duty at the time which makes the fact that the dog was in the car, entirely suspect.
After the dog died, veterinarians confirmed that Ozzy indeed died from heat exposure. But instead of facing arrest and felony charges — like all other regular citizens would have faced — Thue faced nothing.
According to a report in the Press Telegram, shortly after Ozzy's death, the Long Beach Police Department gathered and presented facts surrounding the death to the Los Angeles County District Attorney's Office for review of any criminal culpability.
Fast-forward to 2020, and on Monday, the Long Beach Police were notified that the District Attorney's Office and the Long Beach City Prosecutor's Office declined to file charges against Thue.
The Press Telegram reports:
The case was first rejected by the District Attorney's Office, and the city prosecutor's team came to the same conclusion: that the case did not meet the standards for "criminal negligence," Assistant City Prosecutor Randall Fudge said in an email.

The case was reviewed by three separate prosecutors in the Long Beach office with 40 years of combined experience, he added. The rejected possible charges included neglecting and/or abusing an animal.
"All three separately came to the same conclusion," Fudge said, "that there would not be enough evidence for a unanimous jury to conclude there was criminal negligence on the part of Detective Thue."
Patty Jackson, a local animal rights activist organized demonstrations to push for charges against Thue but after hearing the news he got off Scot free, she was not surprised.
"They should be held to the same standards that we are," Jackson said of law enforcement officers. "These animals are like toddlers, and we're sending them into the line of fire."
Thue claimed the cooling system in his car had "malfunctioned" but the report never confirmed it. It is entirely obvious that these government entities came to this decision because Thue is a police officer, especially considering similar cases that turned out entirely different for non-cops.
Last year, Crystal Marie Houk left her dog in her car with the air conditioner running when she went inside Walmart. The air conditioner was confirmed to be in the on position but had legitimately stopped working, leading to the death of her beloved pit bull. Despite the fact that the air conditioner was confirmed to have malfunctioned, Houk was charged with one count of animal cruelty, a third-degree felony, and arrested as she screamed hysterically in the parking lot after seeing her dead dog.
Just last month, right down the road from where Ozzy was left in a hot car until he died, a small dog named Boomer was found in his owner's car. Boomer was freed before he died, but unlike the special privilege granted to Thue, Boomer's owner was immediately found and arrested.
As people continue to take to the streets across the country, it is cases like this one that compel them to be there. On a regular basis, cops commit the same or worse crimes than their civilian counterparts and almost always escape accountability — even in instances of child rape. If this doesn't make you see the need for radical change then you are not paying attention.