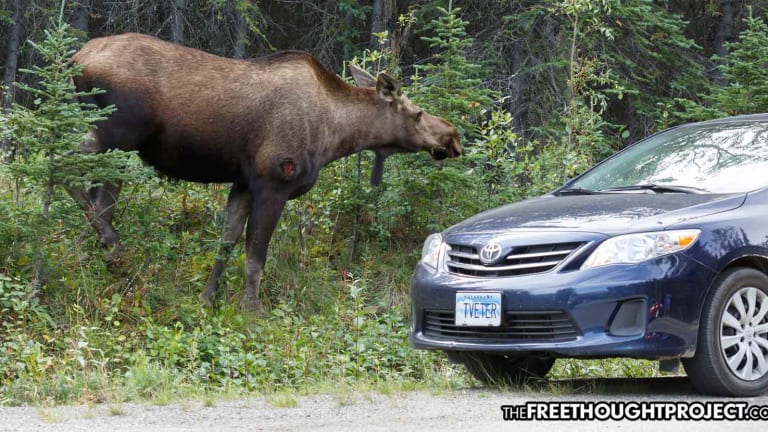 Woman Posts Video Feeding a Baby Moose, So Cops Show Up, Kill Moose, Arrest Woman
A woman posted an amazing video showing her feeding and petting a baby moose, so cops came over, killed the moose and arrested her.
Palmer, AK — If a docile baby moose walked up to your door and allowed you to pet and feed it without causing any disturbance, this would be an amazing moment. In the social media age, many people would film it and then upload that video online. This is exactly what 43-year-old Angel Bunch did over the weekend. But her amazing moment with nature would end in her arrest and a dead moose — killed by the police.
Bunch posted the video on Saturday and, apparently, one of her "see something, say something" neighbors was alarmed over the video of Bunch giving a carrot to a baby moose while petting it. So, they reported her to the police, who quickly showed up.
A spokesperson for the Alaskan State Troopers, Austin McDaniel explained that feeding a moose, even a baby one, creates a public health risk.
"When Alaska Wildlife Troopers responded to Bunch's residence the moose showed no apparent fear of humans and walked up to the Wildlife Trooper when he arrived," McDaniel said over email to the Anchorage Daily News. "This moose appeared thin and showed signs that it had been fed by humans for some time."
Because it relied on humans for food, the moose was deemed a threat and targeted for extermination.
"When humans feed wildlife it causes them to stop searching and feeding on their own in nature and rely solely on humans for food," McDaniel wrote. "When their human food source stops the animal can become aggressive towards other humans as it looks for food from them."
While this is certainly possible, bears, which pose a threat as well, are often times simply tranquilized and moved to other areas of the state when they become too dependent on humans. This could have been done with the moose.
Nevertheless, despite no reports of the moose causing any trouble in the area, police decided killing it would be the best course of action. To paint their killing in a positive light, police then donated the meat to charity.
"Troopers take great care in making decisions to dispatch any big game animal and do so when it becomes a matter of public safety," McDaniel said.
After they killed the moose, according to Anchorage Daily News, police then arrested Bunch on a misdemeanor charge for negligently feeding game. Her bail was set at $320 in Palmer District Court, according to police.
McDaniel said calls about negligently feeding wildlife are fairly common in the Mat-Su and Anchorage areas. Similar citations have been issued to people whose unsecured garbage attracted bears. Many of the encounters end in death for the animals, which become unafraid of people. A man was cited for feeding moose cabbage at his Hillside home in 2014.
For those who think that an officer killing a baby moose is some freak scenario, it is not. Over the years, TFTP has reported on multiple instances in which police officers have killed small, non-threatening animals.
Matt Minnick is a small farmer in Portland who watched a Washington County Sheriff's Office Deputy shoot and kill his top breeding goat after it squeezed through a small hole in his fence. The cop "feared for his life" over this notoriously calm goat, and killed it.
Another cop in Oregon, down the road in Clackamas County, shot and killed a family's beloved miniature pony.
The police initially claimed that the family's 30-year-old American Miniature Horse was hit by a car, so the deputy was kind and put it out of its misery with his police issued shotgun.
However, according to the family and their veterinarian, the horse was in good health when it was killed, and had no broken bones.
Before that, another cop in Ohio shot and killed several kittens as small children watched in horror. One year later, that same cop struck again. This time, he unloaded his pistol into a dangerous baby raccoon.