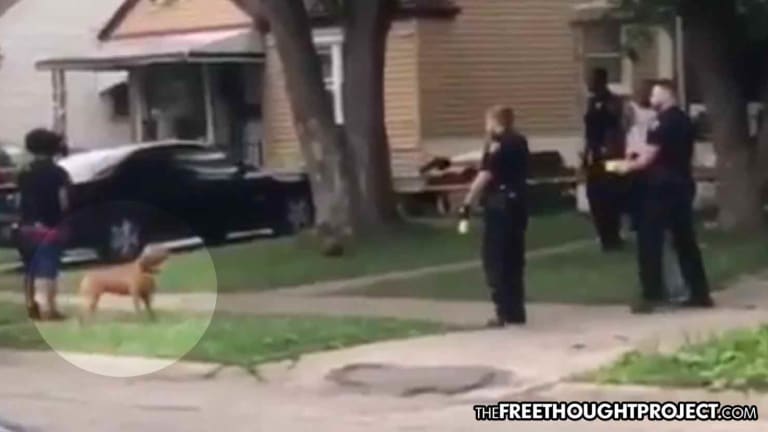 Heart Breaking Video Shows Cops Kill Dog for Barking At Them Putting a Dozen Lives at Risk
A disturbing video was shared with the Free Thought Project showing Detroit police shoot and kill a dog for barking at officers.
Detroit, MI — An utterly heart breaking video was shared with the Free Thought Project this week showing Detroit police shoot and kill a dog who barked at them. Naturally, police are claiming the dog barking at them was "aggressive" and they are justifying the puppycide.
According to police, they were responding to a report of an alleged burglary. When they arrived on scene, police found a man knocking on a door to a residence who they said had a warrant for his arrest. When officers attempted to take the man in, he walked away.
"The officers, when they got on scene, they informed him that he was going to be placed in custody for his two felony warrants," said Cmdr. Arnold Williams. "He proceeded to walk away from officers. The officers did attempt to deploy Tasers twice and it appears one may have taken effect."
When the officers tasered the man, he dropped the dog's leash. He then attempted to pick it back up again and was successful, but he was tasered once more. That is when the dog began barking at the officers.
"From the officer's body-worn camera it shows the dog barking at the officer, presenting aggressively, coming towards the officer and the officer firing shots at the dog as it's coming towards him," Williams said.
But witness video shows that the dog did not charge at the officers at all. Instead, the officer opened fire as the dog barked at him from ten feet away, dumping seven rounds into the dog as it yelps in agony. The dog made it across the street where it died in a neighbor's yard.
According to FOX 2 Detroit, Williams says officers did everything in their power to avoid shooting the dog. He says they spent 20 minutes pleading with the man to secure it.
"They're literally asking him to tie the dog to trees, to put the dog - I think the term they used was off - put the dog off. The officers did not want to do anything with the dog," Williams said. "They did not want to harm that dog, but it was not until the dog presented aggressively that they had to take action."
Clearly, the video says otherwise.
What's more, as the video shows, the officer unloaded 7 rounds in the dog's direction as it ran away, firing rounds in all directions in a crowded neighborhood with children outside playing.
"That could ricochet off the ground and hit a kid," said resident Richard Ravens. "There are so many kids around here. That's what I was worried about, the kids."
Indeed. As TFTP reported just this week, an officer in Georgia attempting to shoot a non-aggressive dog actually did shoot a child.
The family of an innocent 10-year-old boy filed a $2 million lawsuit on behalf of their son after he was shot by a trigger happy Georgia cop. The boy, Dakota Corbitt had his knee blown apart while officer Michael Vickers was attempting to kill his dog. Now, however, thanks to a system that is set up to protect abusive government employees, Vickers was granted "qualified immunity" and the federal appeals court threw out the family's lawsuit.
You read that right. The court ruled that a cop who tried to kill a non-aggressive dog in the home of an innocent family did nothing wrong when he missed the dog and shot a child instead. Rest assured that this case will likely play out in a similar manner.
Below is the news report from FOX Detroit, as well as the graphic video that was uploaded to social media. Warning, it is extremely upsetting.
Full video: