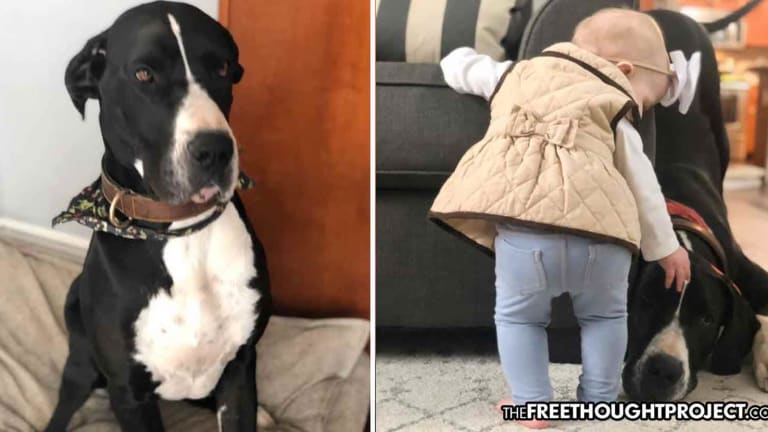 Police Threaten Family at Their Home After Complaining On Facebook That a Cop Killed Their Dog
After a police officer shot their beloved dog, a family made a post about it on Facebook and cops came to their home and threatened them.
Spring Hill, KS — A family says that they were harassed by police after they made a Facebook post complaining about how an off-duty officer shot and killed their dog and got away with it. Cops actually showed up to their home after complaining about their dog's death on Facebook.
Brittany Knudsen says that her dog was shot and killed while in the front yard of her home earlier this year. Knudsen says that on the day her dog Nala was shot, she went outside and saw Mark and Jessica Cantrell standing across the street. Mark Cantrell is an Olathe police officer and Jessica is an Overland Park animal control officer. The Cantrell's say that Nala attempted to attack them and their dog, but there is no evidence of any attack, and Nala was in her own yard at the time of the shooting.
According to the report, "when she got to the front, Brittany saw the family's Great Dane, Nala, collapsing into the arms of her husband, John. 3 year old Nala had a gunshot wound to her side. Air was pouring out, she was struggling to breath."
Darla Yamada, a neighbor who was nearby at the time of the incident, said that she didn't hear any commotion before the gunshot.
"I didn't hear any commotion. No growling, fighting, anything like that amongst the dogs. I heard nothing but the gunshot," Yamada said.
Knudsen called 911 and police arrived to interview the Cantrells, who claimed that they were attacked by Nala but admitted that they were not injured and neither was their dog.
Knudsen says that they lost a member of their family, and she is also upset that someone would be so quick to fire a gun in a neighborhood filled with children.
"It is concerning that, as a police officer, that would be his first thought, his first action. Rather than to de-escalate the situation and shoo her away or call for help, he decided to pull his gun and shoot her," she said.
There were multiple witnesses who disputed Cantrell's statement, but because he is a police officer, the other cops that were called to the scene sided with him. No charges were filed against Mark Cantrell, and the police report even listed him as the victim.
In the following weeks, the Knudsens tried to follow up with police about the incident, but they were ignored until they made a post on Facebook complaining about what happened.
After they made the post, an officer came to their home and threatened them with harassment charges for posting about the incident. The post was not threatening at all.
Knudsen's attorney Eric Crinnian told FOX4KC that people often have no choice but to take their grievances to social media when the police are ignoring accusations about one of their own.
"For an officer to show up at their house, even after a complaint by Officer Cantrell, was a little bit surprising and a little bit concerning. I don't think people understand why victims in these cases resort to social media. If it weren't for social media, they never would have met me and they never would have gotten the media involved," Crinnian said.
Crinnian was correct and after the family got their lawyer involved and shared their story with local media, the police have begun to take the situation more seriously, and the county's district attorney is finally considering possible criminal charges.
According to an unofficial count done by an independent research group, Ozymandias Media, a dog is shot by law enforcement every 98 minutes.